United Kingdom Bernstein, Gershwin: Chick Corea, Lang Lang, and Maxim Lando (pianists), Philadelphia Orchestra / Yannick Nézet-Séguin (conductor), Carnegie Hall, New York City. 4.10.2017. (BH)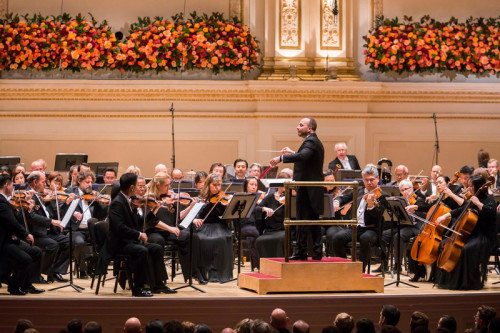 Bernstein – Symphonic Suite from On the Waterfront; Symphonic Dances from West Side Story
Gershwin – Rhapsody in Blue
Opening nights can be dicey affairs. Years ago, when Manuela Hoelterhoff's drily entertaining reports from the Metropolitan Opera appeared in The Wall Street Journal, fashion and gossip often superseded the evening's musical virtues. But in Carnegie Hall's case, marking the new season should be—truly—about the music. And with the Philadelphia Orchestra and Yannick Nézet-Séguin, Wednesday night's celebration was mostly a treat.
First, the non-mostly part. For Gershwin's Rhapsody in Blue, Ferde Grofé created a version for two pianos and orchestra, performed here not by two, but three pianists. After Chick Corea and Lang Lang were booked as soloists, the latter injured his left hand. Rather than bowing out, Lang Lang remained as "right-hand man," but with an added pianist, the young Maxim Lando, at his side at the lower half of the keyboard. It was a worthy experiment, perhaps, but the trudging results didn't represent anyone at his best.
Ricardo Morales, principal clarinet, opened with a deliciously rakish, elastic glissando, justifiably causing a few scattered audience laughs. On trumpet, principal David Bilger offered muted "wah-wah" phrases worthy of a 1940s cartoon. And the crisp underlining from the percussion section (more on their glory later) only heightened the effects of the entire ensemble.
But Nézet-Séguin seemed slightly overwhelmed, glancing right and left over his shoulder and trying to steer them all, and as a friend noted, versions with a single pianist have often sounded clearer and snappier. Lando is a Lang Lang protégé, and at a mere 14, already winner of numerous international awards. His exuberance dwarfed his mentor, who was understandably more physically restrained than usual, and Corea was focused and forceful, but the result didn't fulfill the promise of the opening pages.
Better were the bookends, starting with Bernstein's Symphonic Suite from On the Waterfront, the 1954 film by Elia Kazan. Nézet-Séguin coaxed stirring moments from all, especially principal horn Jennifer Montone and Bilger, both rapt in the score's broad arcs. The players' sleek sound—and yes, those Philadelphia strings lived up to their reputation—gave added weight to the composer's sumptuous orchestration.
To mark the centenary of Bernstein's birth—next year he would have turned 100—orchestras all over the country are playing the Symphonic Dances from West Side Story. If Nézet-Séguin seemed not to find quite the swing in the Gershwin, he returned with overwhelming vehemence here. The percussion section led the way, on fire with whistles and bongos, anchoring the entire orchestra who contributed percussive effects of their own, the crisp finger snaps in "Cool." In "Somewhere," the principal violins, viola, and cello made a touching quartet that only paved the way for the uproarious brass outbursts later. And in the celebrated "Mambo," the enthusiastic conductor turned to lead the audience, exhorting them to chime in, for an enthralling little party.
Bruce Hodges