United Kingdom Britten and Mahler: Janine Jansen (violin), London Symphony Orchestra / Semyon Bychkov (conductor) Barbican Hall, London, 5.10.2017. (JPr)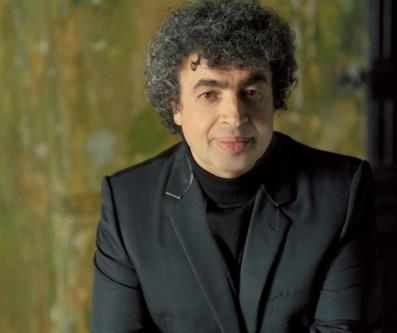 Britten – Violin Concerto
Mahler – Symphony No.5
Only a few days after some disappointing – for me – Mahler when the Philharmonia Orchestra performed his Third Symphony under Esa-Pekka Salonen (click here), everything came together in the most coherent Fifth Symphony I have ever heard from the London Symphony Orchestra conducted by Semyon Bychkov. Undoubtedly someone will have a different view, but then such is the joy of music; there is no totally right way to perform Mahler – or any other composer – and if there were, we might just as well stay at home listening to our perceived 'perfect' recorded interpretation over and over again. Salonen's Mahler – like his Finnish compatriots – was sincere and somewhat reserved, whilst Bychkov's comes direct from Mahler's life experience and personal geography of Bohemia and elsewhere.
Having started the symphony a decade earlier, only in one of his last letters written in February 1911 did Mahler concede that 'The Fifth is finished. I have been forced to re-orchestrate it completely. I fail to comprehend how at that time [1902] I could have blundered so like a greenhorn.' The Mahlers considered this 'their' symphony despite Alma never being too happy with the brass chorale at the end. It was composed during their first summer together, yet Bruno Walter has written 'Nothing in any of my conversations with Mahler and not a single note point to the influence of extra-musical thoughts or emotions upon the composition of the Fifth. It is music – passionate, wild, pathetic, buoyant, solemn, tender, full of all the sentiments of which the human heart is capable – but still "only" music, and no metaphysical questioning, not even from very far off, interferes with its purely musical course.' Mahler exclaimed once at a dinner-party 'Pereant die Programme!' ('Perish all programmes!') and never wrote a description of this symphony, as he had for earlier ones. The only indication along these lines is the first movement's title – 'Funeral March' – but even this is only indicating a relevant mood and may not be describing events. However, if we remember 'To live for you! To die for you! Almschi!' which Mahler wrote on the manuscript of the unfinished Tenth Symphony, we can get the idea that there is probably more to the Fifth Symphony than just music.
In fact, the distinguished Mahler conductor, Iván Fischer, has described this symphony as 'the most Jewish of all Mahler's symphonies. The first movement takes us to the unmistakable mood of Jewish lamentation, the finale to the childlike vision of messianic joy.' He considers the melodies of the Fifth as being generally Jewish, strongly influenced by Yiddish song, klezmer music, and cantorial chant. There is just not enough discussion of this and there was nothing about it in Stephen Johnson's programme note.
From the moment Maestro Bychkov lifted his baton, until he put it down after nearly 80 minutes, all the structural elements of this Fifth fell clearly into place – as they too seldom do – under his firm guidance to achieve the objectives he wanted. The result was that there was much finely observed detail and the music was allowed to move forward with less of the stop-start manipulation of Mahler's rising and falling tensions – until the finale, of course – which we sometimes hear.
Another much-neglected influence on Mahler was Wagner and the symphony's 'Funeral March' owes much to the same music from Götterdämmerung. There was a visceral sense of grief to the first movement before the second began with beautiful detail in the cellos – did I hear Tristan ever so briefly? – and Bychkov conjured up a maelstrom to suggest someone railing about how life is not entirely futile. The conductor seemed completely at home with the Viennese waltz-inspired frenzy of the Scherzo; there was light and shade and a strangely cheerful optimism. (With his twirling baton – and a hint of a smile crossing Bychkov's face – I wondered what his New Year's Day Strauss concert would be like.) The Adagietto was several seconds short of nine minutes – one the fastest I have heard in performance – and the heartfelt playing from the strings was sublime. This is so much better as a love song – rather than a dirge – and there was more than a hint of Wagner's Prelude to Tristan und Isolde.
The Rondo-Finale follows on immediately from the Adagietto and uses themes heard previously in the symphony. This is the last symphonic movement Mahler wrote where there is unalloyed joy as all his later symphonies are tinged with the troubles in Mahler's life. Bychkov whipped up the remarkable LSO – especially the horns – to a resounding and affirmative conclusion. For a fleeting moment, I wondered if they would all finish together: I should never have doubted that they would, and conductor and orchestra thoroughly deserved the audience's acclaim. The Fifth is a mighty test for any orchestra as it asks a great deal from a number of its individual players: I must note the contributions throughout the symphony of Philip Cobb's trumpet (amongst impeccable brass), Steven Hudson's oboe, Susan Blair's harp, and the leader Roman Simonovic.
Opening the concert Benjamin Britten's infrequently-heard Violin Concerto was given an equally fine performance. This concerto was once deemed unplayable by Jascha Heifetz yet has been championed in recent years by Janine Jansen, and certainly demands the formidable technique which she certainly demonstrated. There are a lot of double-stops and myriad high notes some dogs even would have trouble hearing. It is an unremittingly serious work, and deals with the issues that were important to the composer. I learnt nothing about the concerto from the programme note, but research shows how it was completed in 1939 after he arrived in the US just after the Spanish Civil War, and we seem to hear him lamenting those who lost their lives resisting the forces of fascism. We can perhaps credit Britten with the gift of prophecy – as some also claim for Mahler who he admired – as throughout the first and second movements it is possible to also discern the mechanisms, machinery, men and madness of WWII.
After a homage to Beethoven's Violin Concerto in the opening timpani strokes there was much influence from Mahler here (as became obvious in the second half of the concert) and Shostakovich and – to my ears – Korngold. The more tension there was in Britten's sombre music, the more Jansen – in the very best sense – percussively sawed away on her 1707 Stradivarius 'Rivaz – Baron Gutmann'. Juxtaposing this she played the more languid melodies with a quasi-jazzy inflection. The scherzo was increasingly anguished with mercurial interplay between soloist and orchestra, and in the final movement – with its Passacaglia and variations – Jansen and the LSO pressed on as if trying to ward off an implacable fate and there was longing and sorrow aplenty. Even if what we heard was occasionally like the soundtrack to a Hollywood war film at times; Jensen's intense and expressive violin ensured no one in the audience should have missed Britten's clear anti-war message. I cannot wait to hear this concerto again.
Jim Pritchard
For more about the LSO click here.