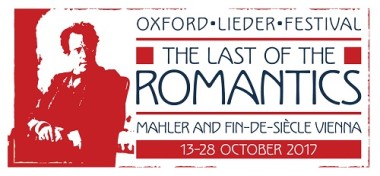 United Kingdom Oxford Lieder Festival [3] – Gustav & Alma Mahler, Zemlinsky, Korngold: Dame Sarah Connolly (mezzo-soprano), Eugene Asti (piano), St John the Evangelist Church, Oxford 20.10.2017. (CR)
Alma Mahler – Die stille Stadt, Licht in der Nacht, Waldseligkeit, In meines Vaters Garten, Bei dir ist es traut
Gustav Mahler – Lieder eines fahrenden Gesellen
Zemlinsky – 6 Gesänge nach Gedichten von Maurice Maeterlinck, Op.13
Korngold – Glückwunsch, Op.38/1; Alt-Spanisch, Op.38/3; Unvergänglichkeit, Op.27/1; Sterbelied, Op.14/1
The composers in this programme formed a tightly-connected circle, linked by professional as well as romantic ties, so it was fascinating to hear the different styles and influences at work in their compositions. Not the least interesting aspect of this recital was the opportunity hear songs by both Alma and Gustav Mahler side by side, although the selections from their respective oeuvres pre-date their relationship with one other. Unlike her future husband who, infamously, put a stop to her musical aspirations, Zemlinsky encouraged Alma in her composing, as a pupil of his and a romantic partner. Her songs certainly demonstrate an assured and competent style, imbued with considerable feeling, and Sarah Connolly and Eugene Asti took them seriously – in their variety and depth of feeling – with performances of steady commitment and quiet ardour.
Within the frame of Connolly's masterful focus in these songs, she brought out an admirable palette of colours as she gently modulated her voice to suit the character of each. She sustained a suitably open, lyrical sound for the Schubertian melodiousness of In meines Vaters Garten, belying the complicated and unsettling harmonic twists pointed up by Asti in the piano accompaniment; sounded tender hearted, even vulnerable in the Rilke setting Bei dir ist es traut; and marked the contrast of the light shining through the darkness of Licht in der Nacht by starting with a dark, chocolatey tone to describe the night that lies all around, before moving to a brighter sound in her higher register for the reference to the "little yellow light". All the while Asti's accompaniments were a model of discretion, conveying their own personality – such as a joyful rapture in the rushing ascending scales of the brief Waldesligkeit, and the lulling chords at the end of Die stille Stadt oscillating between apprehension and hopefulness – but entirely supporting the vocal line, not upstaging it.
Even in an early song cycle as the Lieder eines fahrenden Gesellen (1884) – incidentally, setting his own words – Gustav Mahler shows a more distinctive musical style which demands something more in terms of concentration and technical acumen, which neither Connolly nor Asti failed to appreciate. The first challenge to surmount was the irony and uncertainty expressed in Wenn mein Schatz Hochzeit macht (When my love has her wedding day) regarding what should otherwise be a happy occasion: that was achieved here by Connolly's yearning singing over Asti's deliberately tentative piano playing to convey that dichotomy. The jaunty abandon of Ging heut' Morgen über's Feld (whose melody many listeners will probably know better through its appearance in the First Symphony) culminated in a coda of intensified desperation, which mood then carried over in the pressing urgency of Ich hab' ein glühend Messer, rising to a dramatic fervour of some operatic, Wagnerian power. In contrast Die zwei blauen Augen von Meinem Schatz found some sort of tranquillity – at least as much as is likely to be found in Mahler's angst-ridden world – with a plangent, almost whining quality expressed by Connolly, as Asti threaded the continuous piano part around the song's three verses. Intriguingly the piano interlude before the final verse briefly toys with the same wavering motif in thirds that opens the Adagietto of the Fifth Symphony before the instrumental texture, in both cases, coalesces into a more clearly discernible melody, indicating that by the age of 24 Mahler had already identified in his mind some of the basic building blocks of his compositional voice which would be reworked and deployed in the vaster structures of his later symphonies.
Throughout the six songs after stories or tales by Maurice Maeterlinck (which evoke something of the same world of inner exploration and displacement set in a distant, mediaeval or mythological world, as in his play Pelléas et Mélisande) Connolly and Asti maintained a voice of greater narrative directness and cogency, remaining largely neutral in recounting the search for meaning on the part of various unnamed lovers and journeymen.
Mahler acted as a mentor to the young prodigy Erich Korngold, recommending him to Zemlinsky to be taken on as a pupil. The songs selected here bear traits of his earlier Romantic musical forbears – a touch of Schumannesque wistfulness in Glückwunsch tinged with the occasional ripe harmony, or the slow rippling effect of Sterbelied's piano part not unlike the accompanimental figure in the slow movement of Beethoven's 'Pathetique' Sonata – with comparatively little trace of the more sugary, richer harmonic language of his later orchestral music and scores for Hollywood. Again, Connolly matched the mood of each song with an unobtrusive facility and virtuosity, making these songs seem as though they are actual familiar and standard repertoire. The bolder tone of Unvergänglichkeit was particularly eloquent, as was her radiant but mellow realisation of the touching final verse of Sterbelied, setting a German translation of Christina Rosetti's 'When I am dead, my dearest'. Asti's strummed chords like a guitar in Alt-Spanisch and its impressionistic peroration were equally effective in conjuring an idiosyncratic atmosphere, testifying to the ability of pianist and singer to bring each number to life. To deflect the melancholy of the requiem of Sterbelied at the end of the recital, Asti and Connolly relinquished themselves with graceful charm to the warmly syncopated character of Kurt Weill's Ogden Nash setting, Speak Low.       
Curtis Rogers