Finland Verdi, Rigoletto: Soloists, Chorus and Orchestra of the Finnish National Opera / Pietro Rizzo (conductor), Finnish National Opera, Helsinki, 22.9.2017. (GF)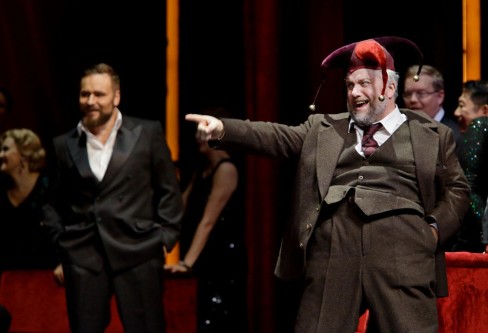 Production:
Direction – Georg Rootering
Sets and Costumes – Mark Väisänen
Lighting Design – Timo Alhanen
Cast included:
The Duke of Mantua – Rame Lahaj
Rigoletto – Olafur Sigurdarson
Gilda – Irina Dubrovskaya
Sparafucile – Koit Soasepp
Maddalena – Nina Keitel
Count Monterone – Heikki Aalto
Count Ceprano – Andrus Mitt
Countess Ceprano – Johanna Lehesvuori
Marullo – Jussi Merikanto
Borsa – Juha Riihimäki
Giovanna – Maria Lenast
This production was premiered in November 2008, and for some reason I must have missed it, since I covered most new productions at the Finnish National Opera at the time. Now that it is revived it was a splendid opportunity to catch up and I have no reason to be dissatisfied with what I saw. The action has been transported to late 1950s, to judge from the car that plays a central role in the final act. It is a shining red Volvo Amazon, as it was known in the Nordic countries, a model launched in the autumn of 1956. It is obviously brand new and its owner, Sparafucile, polishes it lovingly. The courtiers wear the dark suits of the period, even Rigoletto, in traditional jester's cap – a clear anachronism. The sets are built on a turntable, and the façade looks like an impenetrable fortress, but when it rotates, it reveals the various milieus where the action takes place. The Volvo is Sparafucile's bedroom, which he offers to the Duke for his nightly escapades. All the well-known ingredients are here: the hard-boiled playboy attitude of the Duke – though it seems he is honestly infatuated with Gilda during their first tête-à-tête – the sarcastic jester, who rough ways is anxious and vulnerable, and the cruel courtiers – although Marullo seems to feel some compassion for Rigoletto. The naivety of Gilda, the "honesty" of Sparafucile, who in the end yields to Maddalena's wishes to save the Duke. It is a cruel story and it unfolds mercilessly. The weakness of the libretto is that Gilda is still alive when Rigoletto opens the sack. A professional like Sparafucile would never be careless about such details. In this production the sack is merely symbolic. It holds a glass cage containing Gilda, the same cage she was locked into during the first act for her abduction by the courtiers. I take this to mean that having spent her formative years in a convent, she obviously had little experience of the real world.
The cast assembled for this revival is a good one. Icelandic baritone Olafur Sigurdarson has been hailed for his Verdi roles and Rigoletto is possibly his signature role. He is an excellent actor and his sturdy, dark voice is both expressive and sonorously attractive. His Cortigiani in Act II is spine-chilling, even more so the revenge duet Si, vendetta, tremenda vendetta at the end of the act, and his desperation in the final scene when he realises that he has lost his daughter is deeply moving. The Russian soprano Irina Dubrovskaya is, both visually and vocally, an ideal Gilda. I heard her ten years ago in the role at Dalhalla and she is even more beguiling now. Her acting has become more secure and she has retained the freshness of her light and flexible voice. Caro nome was ideally vocalised and her duets with Rigoletto and the Duke were truly touching. I heard the Albanian tenor Rame Lahaj as the Duke in Tallinn several years ago and he was brilliant then, free and effortless top notes, sensitive nuances and charismatic acting. His acting is still superb, his elegant pianissimos just as bewitching but he is pushing his forte notes unnecessarily, which makes his approach cruder and, probably, in the long run, unhealthy for his vocal chords. But Questa o quella is charming nonetheless, the duet with Gilda is ravishing, the big second act aria rings out with ardour and La donna è mobile has just the right bounce. Best of all is perhaps the quartet, in which Nina Keitel's Maddalena also is excellent. Koit Soasepp's Sparafucile is hair-raisingly frightening, his black bass thunderous. Heikki Aalto as Monterone is another bass to be reckoned with.
Pietro Rizzo, today in great demand at many opera houses including the NY Met, leads a full-blooded performance and his choral and orchestral forces are on their toes. Rigoletto is always a moving opera, and this revival is certainly worth buying a ticket to.
Göran Forsling