Argentina Offenbach, Ba-Ta-Clan: Soloists and Orchestra of Buenos Aires Lírica / Juan Casasbellas (conductor). Teatro Picadero, Buenos Aires. 16.10.2017. (JSJ)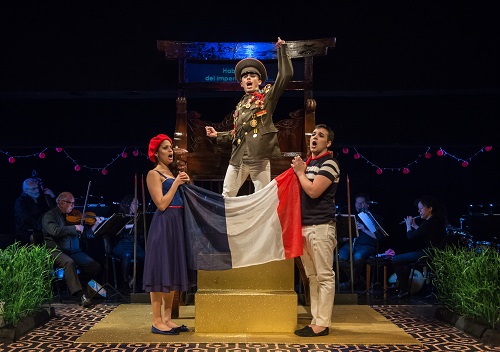 Cast:
Fé-ni-han – Josué Miranda
Fé-an-nich-ton – Ximena Farías
Ké-ki-ka-ko – Agustín Gómez
Ko-ko-ri-co – Sergio Carlevaris
Conspirators – Natalia Albero, Jorgelina Manauta, Sergio Vittadini, Juan Feico
Production:
Director – Ignacio González Cano
Sets – Matías Otálora
Costumes – Denise Massri y Mercedes Nastri
Lighting: Ricardo Sica
For its closing offering of 2017, Buenos Aires Lírica returned to the small Teatro Picadero and this time with another rarely performed gem – Offenbach's Ba-Ta-Clan.
Ba-Ta-Clan is a one act operetta dating from 1855, which is close to the end of the first decade of Offenbach's long career. While one of a number of such works he penned, it is significant in that it was his first major success as well as the first with a libretto by his long time librettist Ludovic Halévy under his own name (the earlier works were under the pseudonym of Jules Servières).
The action takes place in China, although none of the protagonists are Chinese and ended up there either by capture or shipwreck and now with dual identities. The storyline is one of love and power respectively between Ké-ki-ka-ko a viscount and Fé-an-nich-ton a singer and Ko-ko-ri-co chief of the guard and Fé-ni-han the emperor. But also it is a satire on the figure and times of the emperor Napoleon III, in which it was written, with political and other references, although here apparently rewritten (in Spanish) with a focus on grand opera.
The version presented here is Offenbach's original one, rather than the later expanded version, being well suited to the intimate and restricted nature of the Picadero. Making the most of the space, the chamber orchestra of just nine players was located on the back portion of the stage, with the action taking place in front in a space dominated by a giant throne.
Effective lighting and appropriate costumes added to the sense of place.
All of the parts were convincingly played by the small cast of young, up and coming singers, all equally praiseworthy, and the efforts put into the musical preparation by Juan Casasbellas were well apparent
The only downside was the surtitles, which were projected onto the back of the throne, where they were frequently unreadable.
A good part of the motivation for Buenos Aires Lírica to put on these chamber type productions is to bring opera to new audiences and it will be interesting to learn in due course to what extent this has been achieved.
Jonathan Spencer Jones