For London Coliseum First Night review click here.
AMORE starring Svetlana Zakharova and stars of the Bolshoi

November 21th, 24th and 25th at 7.30pm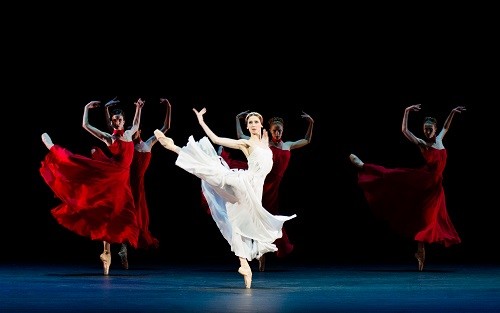 Venue – London  Coliseum, St Martin's Lane, London WC2N 4ES
Tickets – from £20; box office 020 7845 9300 www.londoncoliseum.org
Produced by MuzArts
Presented in association with Classical Events Ltd
The internationally acclaimed prima ballerina Svetlana Zakharova, Principal of the Bolshoi Theatre and étoile at La Scala Theatre Ballet brings her new triple bill AMORE to the Coliseum in November.
Svetlana will be joined by some of the Bolshoi Theatre's brightest stars including Mikhail Lobukhin, Denis Rodkin and Denis Savin as well as choreographer/dancer Patrick de Bana. Music will be performed by the ENO Orchestra conducted by Pavel Sorokin.
A towering figure in 21st century ballet, Svetlana Zakharova is as famous for her sublime interpretation of the great classical roles as for her embracement of contemporary choreography. With AMORE she has commissioned three world-renowned choreographers to create work which allow her to experiment with classical and contemporary genres.
The triple bill:
'Francesca da Rimini' by Yuri Possokhov: a 13th century love story whose central character was portrayed in the works of Dante, is set to Tchaikovsky's symphonic poem.
'Rain Before It Falls' by Patrick de Bana: danced by Svetlana, de Bana and Denis Savin to an eclectic score featuring music by Bach, the 19th century Italian violinist/composer Ottorino Respighi and the contemporary Venezuelan composer Carlos Quintana-Pina.
'Strokes Through The Tail' by Marguerite Donlon: a delightful piece performed by Svetlana and five male soloists (above left) variously costumed in tails, and grass skirts to Mozart's 40th Symphony.
"I love the challenge of creating something different, unpredictable," says Svetlana. "That's why I came up with the idea of making not just one new number, but a big project where I could perform different types of choreography in three distinct ballets. I've called the programme Amore because all three ballets are about aspects of love and love is present in all of the performances and as an international project the word 'amore' really needs no translation."
'This incontestable star of Bolshoi (without any taint of exaggeration) has the body, which may be possessed by one among ten millions of ballerinas' – Daily Telegraph
"Svetlana Zakharova's Odette may be the finest performance I've seen from her. Her adagio line is exquisitely fine-spun, yet there's a weight in her arms, a wildness in the movements of her head that pitches this Swan Queen eloquently between human and bird."  (Guardian)
AMORE at the Coliseum – programme:

FRANCESCA DA RIMINI / Running Time: 30 minutes
Music by PYOTR TCHAIKOVSKY
Choreographed by YURI POSSOKHOV
Set designer – MARIA TREGUBOVA
Video designer – YURY YARUSHNIKOV
Costume designer – IGOR CHAPURIN
Lighting designer – ANDREY ABRAMOV
Francesca – Svetlana Zakharova
Paolo – Denis Rodkin
Giovanni – Mikhail Lobukhin
Guardians of the Inferno – Alexei Gainutdinov, Anton Gainutdinov, Vladislav Kozlov
Court Ladies – Olga Barichka, Ekaterina Besedina, Olga Marchenkova, Ekaterina Smurova, Ana Turazashvili

RAIN BEFORE IT FALLS / Running Time: 25 minutes
Music by JOHANN SEBASTIAN BACH, OTTORINO RESPIGHI, CARLOS QUINTANA-PINA
Choreographed by PATRICK DE BANA
Costume designer – STEPHANIE BAEUERLE
Lighting designer – JAMES ENGOT
Svetlana Zakharova, Denis Savin, Patrick De Bana
STROKES THROUGH THE TAIL / Running Time: 30 minutes
Music by WOLFGANG AMADEUS MOZART
Choreographed by MARGUERITE DONLON
Costume designer – IGOR CHAPURIN
Lighting designer – ANDREY ABRAMOV
Svetlana Zakharova, Mikhail Lobukhin, Denis Savin, Vladislav Kozlov, Alex Gainutdinov, Anton Gainutdinov