United Kingdom Various composers, Rick Wakeman – Piano Portraits: Rick Wakeman (piano), Palace Theatre, Westcliff-on-Sea, Essex. 27.10.2017. (JPr)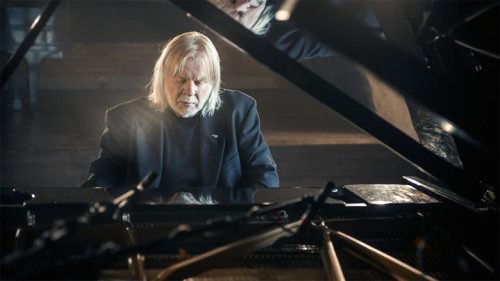 If you go to Rick Wakeman's website (click here) you can read: 'In the publicity for the October and November Piano Portraits tour, many theatres and sites are stating that this is my 50th year in the music business which is totally untrue. I am not sure where this stupid and inaccurate statement came from but it was certainly not from my side of things, but I am so incensed about this that I intend to find out the source and whoever is responsible will no longer be part of our "team" as we pride ourselves that everything that appears anywhere should be accurate and approved by either myself or the management office … 1969 was when I truly considered myself as a working professional musician. It was in 1969 that I started full time as a session musician and it was in that year that one of them was "Space Oddity", so that, as far as I am concerned, is the year when it all began.'
Now anyone not knowing Rick might expect the Grumpy Old rock star from the titles of his two autobiographies and his Twitter handle. What we had was a glorious evening with Rick at the piano celebrating his life and career in words and music. Despite the candelabra on the Steinway there is none of Liberace's flamboyance, but what we got was a 21st-Century reinvention of the late Victor Borge's famous one-man show Comedy in Music. Like 'The Great Dane' Wakeman is an incomparable classically trained pianist with a tremendous sense of humour; and someone bringing basically 'classical' music to audiences who wouldn't want to be there if they were told that is what they were expected to listen to! Like Borge, Wakeman also occasionally plays one composer's music in the style of another, but Borge's humour was never quite as risqué – or slightly non-PC – as Wakeman's is at times! Together with others around me I laughed out loud between the pieces Rick played, from his spotlit opening of 'I don't mind white light, at my age I get the urge to walk towards it', to the end of a show lasting over two hours that no one wanted to end.
Unlike Rick Wakeman, Victor Borge was never a member of one of the world's biggest prog-rock bands (Yes) or inducted (along with some fellow bandmembers) into the Rock and Roll Hall of Fame. The Piano Portraits tour celebrates the success of his release of a studio album earlier this year that was inspired by Rick performing David Bowie's 'Life on Mars?' live at the piano on the Simon Mayo BBC Radio 2 show following the singer's death in January 2016. A subsequent single of the track was released in aid of Macmillan Cancer Support. The very successful Piano Portraits features Rick's versions of music or songs that are personal favourites; ones he played on as a session musician or a member of Yes, as well as, classical music pieces and original compositions.
Though not one of those we heard, my favourite story about Rick involves Marc Bolan – of T. Rex fame – in 1971. Lacking the £8 a week for his rent, Rick was in London looking for session work and his friend Marc let him play on 'Get It On'. All he needed to do was a glissando on the piano. Rick said to Marc afterwards, 'You could have done that,' and he replied, 'Well, you want your rent money don't you?'.
This Piano Portraits tour began in May and has just resumed after a break when he toured America with former Yes bandmates Jon Anderson and Trevor Rabin. Whether addressing the audience – or at the piano – Rick's openness and joy of performing for us in the Palace Theatre was infectious. Surrounded by advertising for Piano Portraits Rick began by telling us 'I'm going to start with a piece not on that album.' With the first of several wonderful anecdotes he took us back to 1976 when 'I was 11 [much laughter] … let me finish … stone!'. He played 'After the Ball' from the soundtrack to White Rock, a 1977 documentary film about the 1976 Innsbruck Winter Olympics. Rick soon revealed that rarest of talents: the ability to shed new light on the most familiar music. At the piano he showed a still prodigious technique – if there was a mistake anywhere in the long evening I did not hear it – and expressive tone that transformed the simplest of melodies into something exceptional. 'After the Ball' was followed by 'Amazing Grace' and 'Morning has Broken' played as a pianistic mashup; then there was 'The Dance of a Thousand Lights' from Return to the Centre of the Earth as 'karaoke' to a backing track of orchestra and choir. Having spoken about his Yes days and reflecting on the 'great music' but 'ridiculous titles', we heard 'Wonderous Stories' and the first half ended with the 'Nursery Rhyme Concerto'. That was definitely Borge-like and included Mozart's 'Baa, Baa, Black Sheep', Debussy's 'Three Blind Mice', Rachmaninoff's 'Pop Goes the Weasel' and 'Twinkle, Twinkle, Little Star' – because he needed an English composer – by 'Dawson … Les'! Quite wonderful!
In between there were more stories … and more jokes. We heard how Rick found a restaurant serving genetically modified food and he ate there 'One of the finest legs of salmon I've ever had'. Whilst paying a heartfelt tribute to his father we learnt he was a failed Elvis impersonator because there was 'not much call for that in 1937'! Others I must leave to the imagination as children might(?) read this review.
In the second half there were more piano variation gems including two themes from Tchaikovsky's Swan Lake, the jazz standard 'Sweet Georgia Brown' and his tribute to Bowie with 'Space Oddity' and 'Life on Mars' (of course). We were told how John Lennon 'hated' the version of 'Help!' The Beatles released as it really was a ballad and Rick thinks his version in the style of Saint-Saens 'really does work'. He linked this with 'Eleanor Rigby' as Rachmaninoff might have conceived it. That Russian piano virtuoso of last century is clearly a major influence on a Rick – one of this generation's greatest keyboard virtuosi – along with other greats, such as Mozart, Beethoven, Liszt, and Debussy who we hear in his arrangements. Fittingly it was the latter's 'Claire de Lune' – unadorned and exquisitely played – that brought the evening to a close after yet another funny story, this time about his daughter, Jemma, to whom it was dedicated.
The now teetotal Rick began the second half with a long – but hilarious – account of the drunken antics and craziness before and during a concert with The English Rock Ensemble in Seattle back in their heyday. It nevertheless garnered a glowing review about how the performance was 'a revelation' and 'whatever you do don't miss this show'. Consequently, I am wary of Rick's view of reviewers …but whatever you do don't miss this show!
Jim Pritchard
For more about Rick Wakeman click here.