Germany Reimann – L'Invisible (world premiere): Soloists, Orchestra of the Deutsche Oper, Berlin / Donald Runnicles (conductor). Deutsche Oper, Berlin, 8.10.2017. (MB)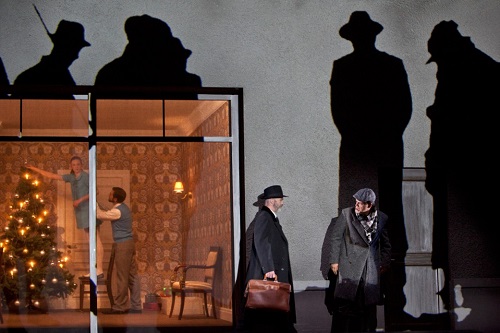 Cast:
Ursula, Marie, Ygraine – Rachel Harnisch
Marthe, Bellangère – Annika Schlicht
Handmaiden – Ronnita Miller
Father – Seth Carico
Grandfather, Old Man, Agiovale – Stephen Bronk
Uncle, Stranger – Thomas Blondellle
Child, Tintagiles – Salvador Macedo
Queen's Servants – Tim Severloh, Matthew Shaw, Martin Wölfel
Production:
Vasily Barkhatov (director)
Zinovy Margolin (set designs)
Olga Shaishmelasvili (costumes)
Robert Pflanz (video)
Ulrich Niepel (lighting)
Sebastian Haunsa, Jörg Königsdorf (dramaturgy)
Aribert Reimann has recently seemed fated to be remembered, if not quite only, then principally for his Lear. Its fortunes certainly seem to have picked up recently: I saw it in Paris last year; Salzburg staged it this summer too. (Alas, it simply did not fit into my schedule.) I can hardly talk of the need to look beyond a single work, for it is the only of his operas I can really lay claim to knowing – until now, perhaps. It was no one else's fault, moreover, that I missed the Berlin premiere at the Komische Oper of his Medea earlier this year on account of illness. Reimann's work as a pianist will surely survive too, the recordings of Second Viennese School repertoire with Fischer-Dieskau (the creator of Lear) invaluable; I have found myself choosing them several times for the discography to my forthcoming Schoenberg biography. So perhaps I am over-dramatising. At any rate, there was a keen sense of anticipation at the Deutsche Oper, a sense of the some time répétiteur returning home. And what we saw and heard seemed to me not only a convincing ninth opera, but a highly accomplished piece of musical theatre from all concerned: a model of advocacy for a new work.
For those who know a little more – if only, as for yours truly, through reading, rather than through real acquaintance with the works – Reimann has been especially associated with what the Germans call Literaturoper: that is, an opera based upon an already existing literary text. Indeed, he contributed a piece, 'Wie arbeite ich an einer Oper?' ('How do I work on an opera?') to a 1982 collection on works derived from literature, Für und wider die Literaturoper, ed. Sigrid Wiesmann (Laaber). It seems especially fitting with respect to the history of the genre, then, that here Reimann should have turned to Maurice Maeterlinck, whose play Pelléas et Mélisande offered Debussy the opportunity to compose one of the defining, as well as foundational, works in the genre. (Another instance, which ought to be far better known, is Maeterlinck's Ariane et Barbe-Bleu, set by Paul Dukas.) Here Reimann, drawing on a lifetime's experience, has put together with commendable economy a short – under ninety minutes? – work founded on three of Maeterlinck's relatively – surrounding Pelléas – early one-act plays, skilfully combined so as to prove considerably more, as the cliché has it, than the sum of their parts.
The three plays, L'Intruse, Intérieur, and La Mort de Tintagiles all concern themselves with death, children, and reactions to the deaths either of children or of those closely connected with them. A great strength of what we saw at the Deutsche Oper in Vasily Barkhatov's excellent staging was that one could never quite be sure what was 'work' and what was 'interpretation'. One had one's suspicions, of course, but even when it was clear that a stance was being taken to the drama, it may have been by the librettist-composer, by the director, or even by the performers – or indeed by a combination thereof. In this Kindertotenoper, the first section presents a family anxiously awaiting the deliverance of a mother from childbirth, news of her deliverance eventually more negative than they had hoped; we then move to the tale of an old man and stranger having to tell a family the news of the death of one of its daughters; and finally, to the story of an unseen queen who strives, and succeeds, the efforts of a child's sisters notwithstanding, to have her servants kill him. Fate looms large, of course, which may have been heightened by the practice – not followed here – of performing the second and third of the plays by marionettes.
However, what may have heightened the symbolism, and indeed the Symbolism here is responded to by a typical directorial – or is it creator's – edge. As time progresses through the three works, we first find ourselves in a stifling (high) bourgeois household from what would seem to be roughly the time of (Maeterlinck's) writing. Intérieur takes a step forward in time, somewhere between a generation or two, prompting us to ask about the identities of characters, both sung (all in French) and acted (the Staatisterie on excellent form too), or at least what connections we might draw between sections of the work. L'Intruse is written for strings only – as well, of course, as voices! Intérieur, by contrast, is set in the world of orchestral woodwind. When we come closer to the present day – although with certain disturbing questioning from the three countertenors who have helped punctuate our way between sections: who are they now as servants, and why are their 'dresses' made of rubbish bags? – we hear the full orchestra, brass and percussion included. But there are still many sections solely for strings or for woodwind; when those orchestral choirs come together, and when they are supplemented, we are prompted to ask what that might mean, musically, dramatically, and of course musico-dramatically.
Shadows – implicit puppet-play – play an important role too, almost as if a second orchestra. They seem to offer additional standpoints on the action, to comment on it, and perhaps to offer alternatives. A dream world is never far away; and like the best – or worst – dreams, we are never quite sure what is what. Not that there is anything vague about Reimann's writing, its precision clear, even as its clusters provoke immediate, dramatic effect. Its roots in serial processes may be felt, fatalistically, just as the hopelessness and fascination of the situations on stage works itself out, whether in a kinship, in parallel, and sometimes perhaps even in opposition. One never feels that the music is merely 'reflecting' the words or the characters; sensing its ever-changing dramatic role, like that of the staging, is the business of the drama – and indeed of the listener-spectator. And yet, those alternatives: were they alternatives at all? There was never any way out really, was there? Such seems to be the message of Barkhatov's multiple visual realisations of the potential demise of Tintagiles: car crash, noose, and so on. We persuade ourselves things might be, might have been, otherwise; often we have to. Sometimes, at least, we should not. (Not entirely incidentally, words of thanks should be offered to the production team for coming on stage to receive applause, wearing T-shirts with images of the imprisoned director, Kirill Serebrennikov. We must not forget, and here at least must not be fatalistic.)
Perhaps even more so than usually, this was very much a company effort. It seems invidious to single out members of an excellent cast, changing roles as they did, no one seeking the limelight. Let us just say that Rachel Harnisch offered a fine performance as first amongst equals – indicated also by the warmth of applause she received. One often came close to losing track of who was a 'singer' and who was an 'actor'; it did not matter. The Orchestra of the Deutsche Oper sounded fully prepared: not only prepared, but committed. Donald Runnicles led what sounded to me an equally prepared and committed account not only of the orchestral score but of the work as a whole. Its changing moods and colours, its 'internal' and 'external' musico-dramatic process, its moments of eerie calm and explosion: all those and much more registered powerfully, if mysteriously, even on a single hearing. I hope very much to have a second chance, to explore this work further, and have little doubt that it deserves such an opportunity, from and for many of us.
Mark Berry