United Kingdom Verdi, Les Vêpres siciliennes (1855 Paris version): Cast, Chorus & Orchestra of the Royal Opera House, Covent Garden / Maurizio Benini. Royal Opera House, London, 12.10.2017. (CC)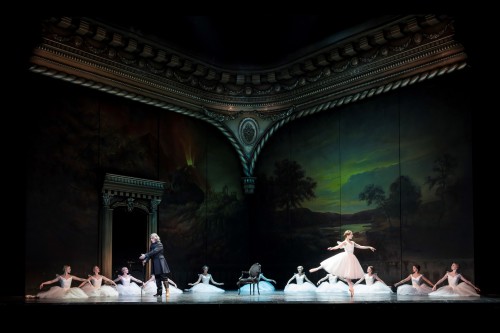 Cast:
Henri – Bryan Hymel
Hélène – Malin Byström
Jean Procida – Erwin Schrott
Guy de Montfort – Michael Volle
Ninetta – Michele Daly
Daniéli – Nico Darmanin
Mainfroid – Samuel Sakker
Thibault – Neal Cooper
Robert – Jihoon Kim
Sire de Béthune – Simon Shibambu
Comte de Vaudemont – Jeremy White
Production:
Director – Stefan Herheim
Revival Director – Daniel Dooner
Set Designer – Philipp Fürhofer
Costume Designer – Gesine Völlm
Dramaturg – Alexander Meier-Dörzenbach
Choreographer – André de Jong
Lighting Designer – Anders Poll
My colleague Jim Pritchard reviewed a cinecast of a performance in the 2013 run of Norwegian director Stefan Herheim's production of Les Vêpres siciliennes, the first at the Royal Opera and mounted in celebration of Verdi's bicentenary (here). The opera was Verdi's first original French grand opera. It is good to experience it in the theatre, and while Pappano was I am sure fervent in his belief in the score, this time it was that consummate master of this repertoire, Maurizio Benini, at the helm. Immersed in this repertoire, if there is anyone who was to make sense of Verdi's massive tapestry, he's the man. He seems to inspire his orchestra, whether in full-blooded tuttis or individuals (in particular the beautiful clarinet solo at the start of Act IV). The evening is a long one – 6.30 pm until around 10.40 pm – but Verdi's score is little short of genius. That the orchestra sustained such levels of detail and such beautifully considered clarity over that amount of time is testament to the standard Benini can elicit from his players.
The setting for this Vêpres is inspired by the time and place of the opera's premiere, the Paris Opéra in 1855 (quite a shift from the specified Palermo in 1282), and Dégas-like ballet dancers are but one part of its striking beauty. The dancers get their fair share of exercise during the four hours, but it should be noted that the 30-minute ballet in the third act has been cut. In an inspired visual gesture, the balcony audiences are "mirrored" by equivalents onstage, sandwiching the stage action between two separate audiences. There are intriguing twists: Procida (who for most of the opera is a ballet master with a club foot) appears in the final act in outrageous drag, using the French flag as a lance. A little child doubles as cherub/Eros and executioner. The sheer beauty of the setting is breathtaking; the often subdued lighting conspires to invite the audience into this world of conflict. Was I, I wonder, the only one to find the Health and Safety candles amusing, though, I wonder? (in fairness that does enable the flame colour to change colour to red, as it does before the opera's denouement).
As far as the singing is concerned, it varied from the extremely good to the exceptional. Hymel, Schrott, Volle, Daly, Darmanin, White and Cooper all return from the 2013 production (wherein Neal Cooper made his Royal Opera debut as Thibault). I was slightly disappointed – and in the minority for being so – by Bryan Hymel's recent Faust in Berlioz' Damnation de Faust at the Barbican as part of the This is Rattle! series (review). Yet his Meyerbeer Robert at Covent Garden was sublime, and he is tireless and eloquent in equal measure here, as well as being dramatically convincing; his phrasing was flexible, and he felt completely attuned to Verdi's mode of expression; the fourth act aria "O jour de peine" was lyric, long-breathed and wonderfully flexible.
As Hélène, Malin Byström was sweet-toned, powerful when required and intensely dramatic, her "Viens a nous, Dieu tutélaire" intensely convincing; her stamina meant she sounded just as strong in the final act as she did several hours earlier. Erwin Schrott was imposing as Procida (he will also sing that role later this season for the Bavarian State Opera), his Act II aria "Et toi, Palerme" superbly resonant (whether the ballet "fairies" around him helped is debatable). Michael Volle also lived his role of Guy de Montfort, supported superbly by Benini in his long scene at the beginning of the third act
The singers worked brilliantly together too, indicating clearly that vocal blending had been a high priority: the quartet towards the end of Act I was beautifully done.
In the smaller roles, Kim was a little unfocussed initially as Robert, but Sakker impressed for his strong contribution as the Sicilian Mainfroid. The chorus was on fine form, ensuring a huge sound for Verdi's big dramatic strokes. A tremendous, thought-provoking and musically satisfying evening. Herheim's production clearly invites in repeated viewings; and with a score like Verdi's, that's hardly a chore.
Colin Clarke
For more about what's one at the Royal Opera House click here.