United Kingdom Tchaikovsky, Eugene Onegin: Soloists, and Chorus and Orchestra of Welsh National Opera / Ainár Rubiķis (conductor), Wales Millennium Centre, Cardiff. 27.9.2017. (GPu)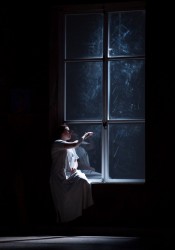 Cast:
Tatyana – Natalya Romaniw
Olga – Claudia Huckle
Mme Larina – Camilla Roberts
Filipyevna – Liuba Sokolova
Lensky – Jason Bridges
Onegin – Nicholas Lester
Captain – Laurence Cole
Zaretsky – Alastair Moore
Monsieur Triquet – Joe Roche
Streshnev – Gareth Dafydd Morris
Prince Gremin – Miklós Sebestyén
Choir Leader – Dimo Georgiev
Guillot – Philip Lloyd Holtham
Production:
Director – James Macdonald
Designer – Tobias Hoheisel
Lighting Designer – Andreas Grűter
Revival Director – Caroline Chaney
Choreographer – Stuart Hopps
Chorus Master –Stephen Harris
After the epic vastness (and confusion) of Mussorgsky's Khovanschina, Welsh National Opera continued its Russian season with Tchaikovsky's Eugene Onegin, very different in its neatness and clarity. Indeed, this production perhaps made it a little too neat and tidy, draining it of more than a little of its emotional impact in the process.
Tchaikovsky's source (Pushkin's great poem Eugene Onegin) has its political and social dimensions (though its way of exploring them is altogether quieter and subtler than Khavanschina's. The composer, however, in putting together his libretto (which often incorporates direct quotation from the poem) largely ignored such levels of significance, preferring to concentrate on character and relationship more completely than Pushkin did. What is lost, above all, however, in the translation from page to stage, is Pushkin's ironic narrative voice. Some of the characters seem, in the opera, over-simple, without Pushkin's ironic commentary on their attitudes and actions.
In some ways the resulting psychological flatness in the libretto was reinforced, rather than mitigated, by aspects of the production. Unlike David Pountney's theatrically inventive production of Khovanschina, James Macdonald's approach to Eugene Onegin offered relatively little in the way of real dramatic flair, in its essential straightforwardness. So, while Onegin may be, to quote Pushkin (in the words of Babette Deutsch's translation of the poem) "bored with everything he tried … surly and languid as Childe Harold" and "hollow-hearted", does he really need to be dressed throughout as if en route to a funeral?
Tchaikovsky's adaptation significantly shifts he story's centre of gravity. Pushkin's poem could only ever have been called Eugene Onegin – for he is the unmistakable centre of the narrative. Tchaikovsky's opera might just as readily have been called 'Tatyana', 'Two Sisters' or 'The Duel', titles which would, indeed, register an essential difference between the two works, poem and opera.
In fact the women are far more interesting than the men in Tchaikovsky's opera and, as far as the singers are concerned, are given more to work with, psychologically and emotionally speaking, than the male characters are. It was, therefore, no great discredit to the male singers concerned, if one says that the female characters were the more convincing and sympathetic.
This was especially true of Natalya Romaniw's Tatyana, beautifully sung and well-acted. Romaniw has a considerable dynamic range, equally sure at any point across that range and is able to draw on an impressively wide range of vocal colours. Her debut as Tatyana (for Garsington Opera in summer of 2016) was much praised. I saw the Garsington performance only online, which makes fair comparisons difficult, but my clear impression is that this was an even more successful interpretation of the character, especially in the later stages, where Romaniw's work had a greater maturity.
Claudia Huckle was a pert (initially) Olga, full of personality and vocally bright and assured. Camilla Roberts made a clear-sighted Mme Larina and had a convincing stage presence and achieved a motherly air as well as being persuasive in articulating her memories of her own youth. In a minor role which one often doesn't notice in a production of Eugene Onegin, Liuba Sokolova caught the eye and the ear as the nanny/nurse Filipyevna, alerting one to hitherto unnoticed possibilities in the character.
Among the men, Nicholas Lester's Onegin was largely stiff and aloof (presumably by design), only really coming to life as a character in the last act. Lester's voice, though not unattractive, was insufficiently varied. Jason Bridges was an inconsistently persuasive Lensky, often singing with real charm and elegance, but struggling to make the character live (Lensky's is a clear case of a character largely robbed of life once one removes Pushkin's narrative voice). Having impressed as Dosifei in Khovanschina, Miklós Sebestyén returned successfully as Prince Gremin, investing the character with dignity and intelligence and singing forcefully and thoughtfully. Indeed, his aria about love ("Love is no respecter of age") in the penultimate scene of the opera quite properly) drew from the audience a greater volume of spontaneous applause than anything else in the opera. (I was pleased to see that he has been engaged for the company's productions of La forza del destino and Don Giovanni in 2018.)
The conducting of Ainár Rubiķis didn't always seem fully alert to on-stage requirements, though he and the orchestra produced some lovely sounds in the various preludes to the individual scenes. After their outstanding contributions to Khovanschina, fewer demands were made on the chorus this time; although I am unqualified admirer of the singing of WNO's chorus, I have to say that they are less gifted as dancers, and parts of the ballroom scenes were decidedly stodgy.
So, overall, not a bad evening in the theatre, nor a really inadequate version of the opera, but one that provided real excitement and emotional involvement only patchily.
Glyn Pursglove