United Kingdom Various composers, Clare Teal with her Mini Big Band: St. John's Smith Square, London, 19.11.2017. (TStJP)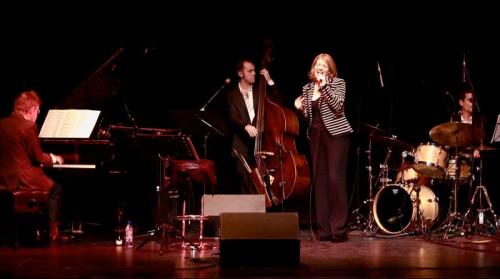 Song list: 'I'll Be Your Baby Tonight', 'I've Got You Under My Skin', 'Dream A Little Dream Of Me', 'Never Go Away', 'I'll Never Be Free', 'I Have A Secret Love', 'You'll Have To Swing It (Mr. Paganini'), 'Everything I Love' (Instrumental), 'That Old Black Magic', 'La Belles Dames Sans Regrets', 'My Funny Valentine', 'Let's Fall In Love', 'Ready, Willing and Able', 'The Folks Who Live On The Hill', 'I Just Want To Make Love To You'
St. John's Smith Square is not a venue normally associated with jazz. But this didn't prevent Clare Teal from storming the stage with her Mini Big Band (six musicians don't quite fulfil the definition of a 'big band'). However, this was not a standard 'biggest hits of swing' performance. While classics such as 'I've Got You Under My Skin' and 'That Old Black Magic' popped up periodically, there were also plenty of unexpected numbers, such as 'Les Belles Dames San Regrets' and 'My Funny Valentine'. Teal is undoubtedly a gifted singer, crooning au Sinatra with a smooth American accent which contrasts amusingly to her own Yorkshire inflections. Singing confidently and powerfully best suited her voice. During the softer and more subdued pieces it seemed desperate to break loose and project. But this is not to suggest that Teal's technique is flawed, far from it. Songs such as 'I'll Never Be Free' and 'Let's Fall In Love' were especially magnificent, showcasing the agility and breadth of her voice. Her scat in 'You'll Have To Swing It (Mr. Paganini)', based on Ella Fitzgerald's, was breath-taking. Special mention also goes to her Doris Day tribute 'I Have A Secret Love'. If I had closed my eyes I would have thought the star herself was before me, so convincingly did Teal mimic her voice. Of course like any good bandleader, Teal was happy to share the spotlight with her fellow musicians (who I cannot sadly name due to the lack of a printed programme). A minimum of one solo was applied to every piece while the trumpet and saxophone were bestowed with their own duet of Cole Porter's 'Everything I Love'. The encore of 'I Just Want To Make Love To You' featured every instrument, hence why it lasted an extra seven minutes.
Clare Teal is a born entertainer. Not only does she sing to her audience, she makes them chuckle too. Some anecdotes were so hilarious I needed to write them down. Promoting her candles – which admittedly does seem an odd choice of merchandise for a jazz singer – she described them as an improvement on tea candles, Teal-candles. She added that they are made of essential oils and, presumably, wax, but eagerly reassured us that the scent wasn't based on the band's odour. After recruiting the audience as chorus, leading us in 'oohs' and 'aahs', she remarked 'it's like being in Wales'. Teal wasn't only eager to shine the spotlight on her fellow performers, she was also enthusiastic to include her audience, whether it be clapping to the rhythm, 'oohing', or just chatting in between numbers. Like the music hall performers of yesteryear, she knows how much the public enjoys feeling a part of the action.
One of the pleasures of live performance is participation. Unlike recordings or radio, the audience is a part of the creative process. Clare Teal is an excellent singer, but she doesn't stop there. Including both her band and the audience, everyone is made to feel important. The concert was transformed into a communal ritual, where every celebrant contributed. If anyone has ever doubted the merits of live performance, Clare Teal will set them right.
Thomas St John Pierce
For more about Clare Teal click here.