Germany Berlioz, Les Troyens: Staatskapelle and Staatsoperchor Dresden / John Fiore (conductor), Semperoper, Dresden, 3.11.2017. (JMI)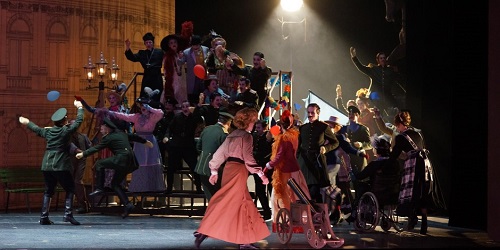 Cast:
Énée – Brian Register
Didon – Christa Mayer
Cassandre – Jennifer Holloway
Chorèbe – Christoph Pohl
Panthée – Ashley Holland
Anna – Agnieszka Rehlis
Narbal – Evan Hughes
Iopas – Joel Prieto
Ascagne – Emily Dorn
Hylas – Semeon Esper
Priam – Chao Deng
Hector – Alexandros Stavrakakis
First Soldier – Jiří Rajniš
Second Soldier – Matthias Henneberg
Production:
Director – Lydia Steier
Sets – Stefan Heyne
Costumes – Gianluca Falaschi
Lighting – Fabio Antoci
This Lydia Steier production premiered here in October. She brings the scenes set in Troy into the second half of the nineteenth century, with a stage dominated by a semicircular building that rises to reveal some metallic sets. This is where Emée's house is located, and where he receives the visit of Hector's ghost. The acts set in Carthage take place in a building full of impersonal iron structures that could be used for almost any opera. The funeral pyre at the end looks more like a mausoleum.
Ms. Steier has cut the third act so that it barely exceeds 30 minutes. The famous hunting music that opens the fourth act here becomes war music; and there is ballet music but no dance.
It would seem that Lydia Steier abhors a vacuum, and she makes Iopas sing his major aria while soloists and extras mill around, which is an awful distraction. The beautiful duet of Didon and Énée is accompanied by a series of ragged extras moving about the stage. I will end by saying that Cassandre is rather strange here: she is not a visionary but a violent madwoman who, in the final scene of Act II, is killing the women who accompany her.
Conductor John Fiore gave a somewhat irregular reading of the work, with too little nuance and an excess of volume. Things improved notably in Act V, which was clearly the best of the opera in musical terms. As always, the orchestra gave a strong performance and the chorus, upon which this opera places many demands, was excellent.
Brian Register as Énée had some problems in the first part of the opera, but things improved in Carthage. He has a powerful voice, one that is well-suited to the character. He had to resort to an ugly falsetto during Act V, but that happens to almost everyone and is mostly the fault of Berlioz who, like other composers such as Beethoven and Richard Strauss, seemed to dislike tenors. Something similar also occurs in La damnation de Faust.
Christa Mayer as Didon was the best in the cast. She really stood out, singing with gusto and plenty of emotion. She definitely triumphed in the role.
Cassandre was sung by mezzo soprano Jennifer Holloway, who doesn't really have the voice for this character. She does well in Baroque opera, but Cassandre's demands are very different, and Ms. Holloway's voice hasn't got the necessary amplitude.
Among the other singers, I would highlight the performance and the attractive voice of Agnieszka Rehlis as Anna, the sister of Queen Didon. Christoph Pohl did well as Chorèbe, as did Emily Dorn in the part of Ascagne, the son of Énée. Tenor Joel Prieto sang Iopas' aria with expression but seemed bothered by the stage direction. I would have liked him to double as Hylas, since Semeon Esper did not have the voice needed for the beautiful aria this character sings in the last act. Ashley Holland did well as Panthée, as did Chao Deng as King Priam. Alexandros Stavrakakis was a sonorous ghost of Hector.
José M. Irurzun