United States Various composers: Benjamin Millepied & Noé Soulier (choreographers), Dancers of L.A. Dance Project, Wallis Annenberg Center for the Performing Arts, Beverly Hills, 2.11.2017. (JRo)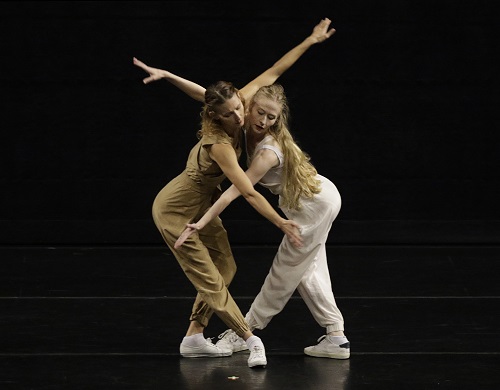 Dancers – Aaron Carr, David Adrian Freeland, Jr., Axel Ibot, Kaitlyn Gilliand, Daisy Jacobson, Nathan Makolandra, Rachelle Rafailedes, Janie Taylor, Miranda Wattier, Patricia Zhou
Production:
Closer
Choreography – Benjamin Millepied
Music – Mad Rush for Piano, Philip Glass
Piano – Richard Valitutto
Costumes – Lydia Harmon
Lighting – Roderick Murray
Second Quartet
Choreography – Noé Soulier
Music – Tom De Cock and Noé Soulier
Lighting – Victor Burel
In Silence We Speak
Choreography – Benjamin Millepied
Music – David Lang
Costumes – Ermenegildo Zegna
Lighting – Jim French and Benjamin Millepied
Orpheus Highway
Choreography – Benjamin Millepied
Music – Triple Quartet, Steve Reich
Costumes – Benjamin Millepied
Lighting – Jim French and Benjamin Millepied
Video – Benjamin Millepied and Trevor Tweeten
With its small company of ten dancers, L.A. Dance Project, in residence at the Wallis Annenberg Center through 2018, has found an ideal space to show off its eclectic ensemble. A stylish and intimate theatre, the Wallis embraces Millepied's brand of modestly scaled work.
Three of the four dances presented are by Millepied. Closer, created in 2006, and In Silence We Speak, which premiered in New York this year, are brought to life by Janie Taylor, former principal dancer with New York City Ballet, and a spellbinding performer.
In Closer, partnered by a magnetic David Adrian Freeland, Taylor clings onto and cascades over and around Freeland's powerful form. They feel permanently attached, rarely out of touch or reach of each other. In the mode of Balanchine, Millepied places a piano on stage beside the two performers, creating an intimate dialogue between instrumentalist and dancers. The simplicity of the costumes, austere backdrop and sensitive lighting allow the gaze to settle on the dancers who, as they interlock torsos, arms and legs, draw one into their private universe. Philip Glass's music, beautifully interpreted by Richard Valitutto, adds a pensive quality to a dance that deals with the most basic of human desires – the need to be loved.
A pas de deux for two women, In Silence We Speak pairs Taylor with Rachelle Rafailedes to sibylline music by David Lang. In neutral jumpsuits and white sneakers, their hair loose and long, they comfort each other in turn – a caress of the cheek here, an arm wrapped around shoulders there. Of similar height and scale, the two dance in close partnership, shimmering with an almost classical, religious aura. One moment they feel like sphinxes – still and solid – the next they're moving like Indian goddesses in a mythological realm. Millepied's intentions are somewhat puzzling. If this dance is meant to transcend modern fashion, why not put the duo in ballet shoes (also creating a better line) and less awkward street attire? Though Millepied is, in all probability, not asking his audience to ponder this question, the mere fact that it arises proves a distraction from an otherwise satisfying performance.
Between these two pieces is Noé Soulier's Second Quartet, too long at 28 minutes: what begins as an engaging and edgy dance for four grows wearisome. To a minimal, percussive score, the dancers take the mundane movements of walking, skipping, turning, kicking, falling and flopping and turn them into a series of choreographic stunts that express the frustrations of everyday life. Intricately timed lunges and plunges, often humorous in nature, lose their luster halfway through the piece. A duet, inserted in the middle, serves as a reprieve as two dancers make human contact in odd and entertaining ways: foot to foot, forehead to chin, chin to elbow, and foot to knee.
I found Millepied's final dance, Orpheus Highway, an unresolved experiment. A dance film is projected on a screen that encompasses the entire stage, and the same cast dances onscreen and live in front of the film. At times the performers dance in sync, at other times the 'live' cast watches the film, and sometimes they repeat steps moments after the filmed cast has executed the movements. High drama emanates from the screen through a modern dance interpretation of the Orpheus and Eurydice myth set in an abandoned railway yard in the desert near a freeway, then repeats live on stage with the same principals. It feels like dance for a multitasking age. Unfortunately, no matter how competent one is at multitasking, human scale cannot compete with filmed images ten times the size. The result: a disjointed and jarring mix. I wondered why Millepied wanted to minimize the importance of live dancers by putting them in competition with their supersized counterparts.
After its current run at the Wallis, the company will return in April with new offerings. Los Angeles, so long without a resident company, now seems to have a number of them – most prominently Los Angeles Ballet and now, thanks to Millepied, L.A. Dance Project. May they continue to thrive.
 Jane Rosenberg