United Kingdom Donizetti, Lucia di Lammermoor: Soloist; Chorus & Orchestra of the Royal Opera House, Covent Garden / Michele Mariotti (conductor). Royal Opera House, London, 30.10.2017. (CC)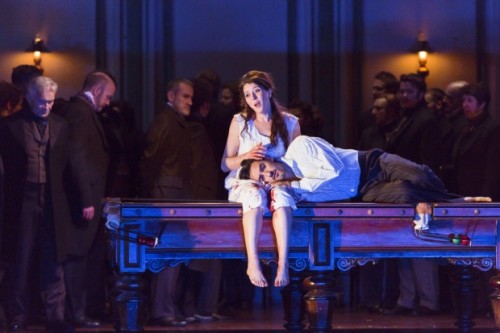 Cast included:
Lucia – Lisette Oropesa
Enrico Ashton – Christopher Maltman
Edgardo – Charles Castronovo
Raimondo Bidebent – Michele Pertusi
Alisa – Rachael Lloyd
Normanno – Andrew Tortise
Arturo Bucklaw – Konu Kim
Production:
Director – Katie Mitchell
Designer – Vicki Mortimer
Lighting Designer – Jon Clark
Movement Director – Joseph Alford
Revival Dramaturg – Cordelia Lynn
Donizetti's masterpiece Lucia di Lammermoor, based on a novel by Sir Walter Scott, received an extraordinary performance in this, the first revival of Katie Mitchell's production first seen in 2016. The setting is the 1840s, with costumes beautifully designed by Vicki Mortimer. The most notable aspect of the staging is a split set; it is also the most controversial. One part represents Lucia's rooms; the other the more public places. Add to this the surtitles and one's eyeballs move continually in a triangular trajectory; an unexpected aerobic exercise. It is not the sort of thing one gets too used to as the evening wears on, although there is in effect a decrescendo of distraction.
In this production, there is a pronounced feminist aspect in that Lucia rails against her 'fate' and the male entities that would control her, as represented by her brother Enrico. This is powerful drama that requires an expert cast and just as expert conductor and orchestra. With the Covent Garden orchestra on top form and with Michele Mariotti steering the dramatic trajectory with a real sense of urgency and, indeed, an underlying sense of oncoming inevitable tragedy, the effect is at times overwhelming. The figures of the ghosts of Lucia's mother and a murdered girl underline the gothic nature of the plot; in this setting it is perhaps unsurprising, although no less shocking, that the climax of Lucia's journey, her so-called 'Mad Scene', is a bloody miscarriage and that the murder of Arturo is shown graphically, with pronounced S&M undertones.
Mariotti seems absolutely at home in this repertoire, his way of balancing sections of the orchestra both within themselves and with other sections absolutely masterly. He also gives his singers space, something particularly important in this repertoire.  And quite some singers they are, too. The Cuban-American soprano Lisette Oropesa, making her Royal Opera debut, starts strongly and just continues to get stronger, inhabiting the part both in her actions and in her voice. No surprise she has taken on Gilda (Dutch National Opera), Violetta (Opera Philadelphia) and Marie (Donizetti's La fille du régiment in Washington); without hearing these, it would be completely believable if this Lucia were the climax of this particular handful of select roles. With Katie Mitchell taking a part that already goes through the emotional wringer and tightening the screw to almost unbearable heights, the challenges are clear. As clear as Oropesa's virtuosity, nowhere more than in the moments in the Mad Scene where she interacts with the flutes, her pitching impeccable.
The role of Edgardo is shared between Charles Castronovo (on this occasion) and Ismael Jordi. Castronovo has impressed previously as Alfredo Germont and Tamino; he returns to Edgardo after participating in the 2016 performances. There was indeed a sense of familiarity about his way with the part, a confidence that comes with that familiarity. His sound is confident and clarion. Just as well, as Christopher Maltman as Enrico threatens to upstage all around him with the exception of Lucia herself. Incredibly commanding, Maltman was on absolute top form in this role debut.
The Calvinist Chaplain Raimondo Bidebent is taken by the experienced Michele Pertusi (his Covent Garden debut was back in 2000). In a cast of strong characters, Pertusi towers, his resonant bass projected perfectly. The smaller roles are cast from strength, also: British mezzo Rachael Lloyd, who sang Kate Pinkerton in Madama Butterfly in 2011 here, as well as, Alisa in the previous runs (not to mention a Pitti-Sing Mikado for ENO) confirms her strength of voice and of character. Tenor Andrew Tortise is a strong Normanno and Jette Parker Young Artist Konu Kim makes a fine fist of Arturo Bucklaw.
There is an interesting dynamic that emerges from this performance: there is no doubting the dominating excellence of Lisette Oropesa, but concurrent to this is the impression of a strong ensemble, including the contributions of the superb chorus. Seeing (and hearing) multiple perspectives in Donizetti is clearly the theme of the evening.
There is no doubting the power of this interpretation of Donizetti's piece; Katie Mitchell's staging will doubtless return and repeated viewings (and perhaps tweaks) will reveal yet more depths to this tremendous score. From Jim Pritchard's review of the original staging (review), it looks as if Mariotti's conducting is a major step up, his terse and directional way with the music propelling the music ever onwards towards its tragic end.
Colin Clarke
For more about what is on at the Royal Opera House click here.