A Great Tradition Lives: Ann Murray's Masterclass at the V&A (Royal College of Music)
Like all the world's greatest teachers, Gioacchino Rossini was much more focused on what he could get out of a pupil than what he could put in. But the maestro was also a composer, in my spare time, he used to quip. So it was not unknown for him to to put something into the pupil too. 
Putting something in always came in the form of a challenge: What will she make of this?  he would ask himself as he handed a singer a new challenge which he was sure she had never been given before. In the case of his most famous pupil, Isabel Colbran (who became his wife) he rather overreached himself. Her performance as Semiramide seems to have been too much for her, and so, something of a flop.
This also frightened other singers away from the role. When Francesco Siciliani (La Scala) showed the score to Joan Sutherland in 1962, that lady told him to not be so ridiculous. Fortunately, Richard Bonynge was on hand and said, We'll take it away, look at it and let you know. The rest is history. Rossini was long dead but the world got its most dazzling Semiramide. That in turn gave other fine voices the courage to try the role. Some, but not all, were successful.
I mention the Rossini/Semiramide episode to show what a delicate, risky business the passing on of defining musical traditions can be.
So it was with immense, unprecedented pleasure that I heard and saw at this masterclass (15 November) that one of the greatest vocal traditions this country has ever known is very much alive and thriving.
Frederick Cox (1905 – 1985) had studied singing in Italy with Aureliano Pertile (Toscanini's preferred tenor). The Pertile voice was beautiful in tone colours (bel canto) but could turn on and off at will the most powerful (I shall need to come back to that word) dramatic effects.  But Turn on and off at will gives the wrong sense: it was more a question of the dramatic requirements in all their powers, arising spontaneously. Or seeming to do so.
All this the young Cox absorbed and set himself up as Britain's finest voice teacher at the Royal Manchester College of Music, where in his later years he also became Principal. John Mitchinson, Joseph Ward, Anne Howells, Elizabeth Harwood, Rosalind Plowright and, of course, Ann Murray were among his pupils.
Some of the phrases Ann Murray used were straight out of the Cox gospel. She began with the briefest possible introduction. All these singers will know exactly what they have to do she said, all I can do is to invite them to try out different ways of thinking certain passages, which may be more suited to their individual voices. Therein the Rossini type challenge I mentioned.  Fun. This is the opposite of Gwyneth Jones's approach (click here). Ann was clearly trying to put something in. 
Enter soprano number one, Louise Fuller, blond, slender, beautifully groomed with not a hair out of place, and carrying it off as her gift of nature, which indeed it is. Louise and the later soprano, Milly Forest, made the mistake of wearing high heel shoes. I hope that they both noticed that Ann was wearing flat plimsolls, which facilitate darting round the stage. And for Ann, movement in opera is always part of singing, not something imposed upon it: the two arts complement one another. A bit of Cox credo there too, I fancy.
Idomeneo was Mozart's third and most successful foray into opera seria. The music is daringly expressive and the challenges enormous. How did these young singers meet these challenges? It didn't take Ann long to tell Louise Fuller that she was trying too hard. Allow the sound to sing itself. (The ghost of FC again.) But Louise had some trouble trying to do this. And those damned shoes were causing her to be unbalanced and even menace her intonation, which had started out as perfection.
Louise's second piece was the Schumann lied, 'Singet nicht in Trauertönen' which let us hear her fairly easy command of German. However, the lower notes gave her some problems. Sing through these notes, advised Ann, shape them and articulate them as you go. 
I've never bought into the countertenor voice as a stand-in for the castrati voice. Give me Ann Murray any time in these roles. But my prejudice was broken by Timothy Morgan's performance of 'Empio, dirò, tu sei' from Handel's Giulio Cesare. What did the castrati really sound like?
In 1902 the Gaisberg brothers of the Gramophone and Typewriter Company (later HMV) set out to Rome to record the voice of Pope Leo X. On arrival in Rome they were advised that their papers were not in order to be received by the Pope. While this was being sorted out, they were tipped off that the last of the castrati, Alessandro Moreschi, was living in retirement in the Castelli Romani, just outside Rome. Maybe they could record Moreschi's voice? They did on 3 and 5 April 1902. Moreschi was now in his forties and retired. But whatever you may think of the voice, one thing which is indisputable is that it was enormously powerful. Yes, it can sound strained (he was long past his prime) but power was one of the defining qualities of his voice. It was also perfectly focused; even the Gainsberg's primitive recording apparatus could not obscure that. You may dispute the ornamentations; but that is a field which changes as regularly as other fashions. One begins to appreciate the slogan in use at the time of Handel: There is only one God and only one Farinelli. 
And within my limited experience there is only one Timothy Morgan. Timothy laughed when I told him this. Actually, my teacher at the RCM Masters Course, Ben Williamson, is my model, he said. Appropriately enough, both these young men began their careers as church choristers: Morgan at Norwich cathedral and Williamson at King's College, Cambridge.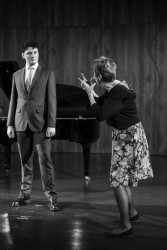 Ann was marvellous with Timothy, getting him (by illustration) to polish his notes as his voice wove through them; such is the resulting glitter which the composer demands. It was a great compensation for the audience too, to hear a little of Ann's ever-secure voice.
Tim's second option was exactly the opposite of Handel's virtuosity: Poulenc's Le Bestiaire –six vignettes based on six animals. All six depend on Poulenc's dry wit, always understated and to be delivered po-faced. Tim's intellect was up to this challenge. And a word of praise for Chad Vindin, here, the excellent pianist. He had impressed with his finger dexterity in Handel, but his Poulenc too showed him as master of understatement –arguably the musically more difficult of the two pieces.
Samuel Dewese is possessed of an outgoing, golden personality, which effortlessly fills every corner of a large hall: he possesses his audience without making any apparent effort to do so.  A gift indeed! He intertwined da Ponte's words with Mozart's music, making them one, delivering with the finest Italian of any singer of any age that I have heard –'Hai già vinta la causa … Vedrò mentr'io sospiro' from Le nozze di Figaro. 
In contrast he presented Strauss's 'Traum durch die Dämmerung'. With the sun gone in, Samuel's exuberant charm was much diminished. Quite right too. But it seems to me that the soul's dark night is not for his voice. Ann tried to convince him that there were a lot more notes much lower than those notes he was struggling with as though they were the bottom of the barrel. But the advice fell on deaf ears. At least until he has time to ponder it.
Like Louise Fuller, Milly Forrest had an Idomeneo aria: 'Padre, germani, addio' in which she was also most ably accompanied by Chad Vindin. Her high notes were somewhat screechy. Ann tried to get her to think over the top of the notes and come down on them carefully from above; an enterprise in which she had a limited success. The high heels also played havoc with her balance, and thus with her intonation. The Mahler Rückert lied, 'Ich almet' einen linden Duft' also lay somewhat outside Milly's cultural baggage. As Ann had made clear in her introduction, there is little that can be done in this unfortunate situation in a masterclass.
Baritone Peter Edge has beautifully rich, ringing tones, admirably employed with a perfect command of Italian in a fine display of comedy, irony and drama in 'Se vuol ballare' (Le nozze di Figaro).  He was much less comfortable in 'Wenn dein Mütterlein' (Kindertotenlieder) The German language was presenting problems, almost resisting him. Ann brought out her advice of earlier in the afternoon: Allow the sound to sing itself. But for the moment, the sound evaded Peter.
Following the class, when I asked Ann Murray about Cox, she said she remembered him as always having a very high-pitched voice. I don't recall this particular of the maestro. When I looked doubtful, she gave an imitation: You might consider this singing but I don't think I do. Imagine that! Freddy used shock-tactics to get the best from his pupils' depths!
Jack Buckley
For more about the V&A's Opera: Passion, Power and Politics click here.