United States Elgar, Beethoven: Emmanuel Ax (piano), Cleveland Orchestra / Vladimir Ashkenazy (conductor), Severance Hall, Cleveland, Ohio, 3.11.2017. (MSJ)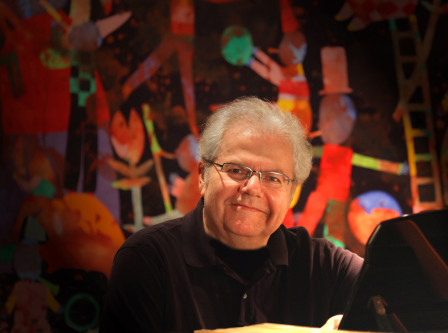 Elgar – Serenade for Strings in E minor, Op.20; Enigma Variations, Op.36
Beethoven – Piano Concerto No.1 in C major, Op.15
Vladimir Ashkenazy and the Cleveland Orchestra made Sir Edward Elgar's Enigma Variations come to life, easy as pi. Not "easy as pie," as the old American colloquialism has it? No, sweet though it was.
For over a century, mad hobbyists have been obsessed with solving the enigma of Elgar's variations. The composer said that a theme runs through the work, but is never actually heard. Fruitless attempts to match known melodies to Elgar's oddly asymmetrical original theme have led nowhere. But in 2010, an American music enthusiast named Charles Richard Santa made an interesting observation in the Spring 2010 edition of Current Musicology, pointing out that the original theme's phrase structure is eleven bars, repeated, followed by seven bars. In other words, 22/7, which is how the mathematical value of pi, the ratio of a circle's circumference to its diameter, was usually expressed as a fraction before the age of computerized calculations.
But the more familiar digital representation was there, too. Santa noted that the first four notes of the theme—which reappear as a motif, particularly powering the grand "Nimrod" variation to its stirring peak and capping the closing bars of the finale—are a musical equivalent of pi. If one labels the notes of the scale one through eight, this motif is "3-1-4-2," a rounded equivalent of pi's numerical value, 3.1415.
Is it possible that the solution to Elgar's elusive mystery has been hiding in full view all these years? It makes sense, for Elgar is one of classical music's great tricksters, often hiding personal expressions in plain sight in pieces that have been misunderstood for decades.
In his first return to Cleveland since 2010, beloved conductor Vladimir Ashkenazy, now 80, did not hesitate to plunge into Elgar's fleeting moments of emotional volatility, and the orchestra savored his expressive approach. It wasn't exactly a traditional reading, but truer to the composer, and fell perfectly into Ashkenazy's wheelhouse.
There's no point in complaining about what Ashkenazy isn't as a conductor. He's not a baton technician. He doesn't fuss infinitely over textures and blends. He doesn't conduct before the beat to allow the musicians to react instead of having to meet him on each beat. Indeed, he sometimes barely beats time at all, trusting that musicians of this caliber don't need a human metronome.
Ashkenazy is more open-hearted and interested in the shape of phrases, rather than whether or not everyone enters with razor-edged precision. Engagement comes from the musicians' keeping on their toes and listening closely to each other to keep in sync, but it also comes from Ashkenazy's tendency to keep a loose leash and give the players room to explore. Instead of a restrained, ambiguous Enigma Variations, Ashkenazy brought wondrously intense characterization. Every section became a fully fleshed out portrait, yet the aggregate was greater than the sum of its parts, particularly when the tummy-wobbling organ pedals kicked up the final variation onto a cosmic plane.
In Variation VI, Lynne Ramsey handled the string-crossing viola solo in with both elegance and humor, while Richard Weiss was poignant in the key cello solo in Variation XII. In both variations the sections joined their leaders with rich sonority. In No. XIII, the orchestra's new principal clarinet, Afendi Yusuf, brought acute longing and dusky tone to his solo.
No less fine was Ashkenazy's handling of the opener, Elgar's Serenade for Strings. The surfaces were beautifully elegant, showing off this orchestra's peerless strings, but again Ashkenazy probed deeper, unleashing Elgar's wells of emotion. It had been over twenty years since the work was last performed here—led by Ashkenazy then, too. But the composer's Symphony No.2 is on tap for later this season (in March, conducted by Nikolaj Znaider), so perhaps this elusive master's music won't be a rare visitor in the future.
The eloquent "Nimrod" variation from Enigma was inspired by a conversation between Elgar and his friend August Jaeger about Beethoven slow movements, so programming the master's Piano Concerto No.1 in between the Elgar works was a deft move. Emmanuel Ax was the pianist, another long-time Cleveland visitor.
As soloist, Ax doesn't draw attention to himself. Indeed, he was so diffident about taking his final bows, it took Ashkenazy's prodding to lure him into a most-deserved solo encore, "Des Abends" from Schumann's Fantasiestücke. Ax has a rare ability: Where others strive for effect, he channels the composer. One never thinks about the pianist as the conduit.
This was a Beethoven First for the ages. Broad, yet light on its feet, Ax balanced Beethoven's homage to Mozart with a true sense of the revolutionary. One sensed the bold new vistas Beethoven would soon be unleashing in his symphonies, simmering just beneath the surface, especially in the long first movement cadenza and in the spellbound slow movement. Ashkenazy led the orchestra in vigorous, insightful support, with Daniel McKelway offering a lovely clarinet solo in the Largo.
It would have been nice to see a modern work in the mix as well as these endearing classics, but there's no questioning the glory Ashkenazy and Ax kindled. They had the perfect ratio of grasp to insight—circumference to diameter.
Easy as pi.
Mark Sebastian Jordan