United Kingdom Delibes, Sylvia (choreography by Frederic Ashton): Soloists, corps de ballet and Royal Opera House Orchestra / Simon Hewett (conductor). Royal Opera House, Covent Garden. 23.11.2017. (JPr)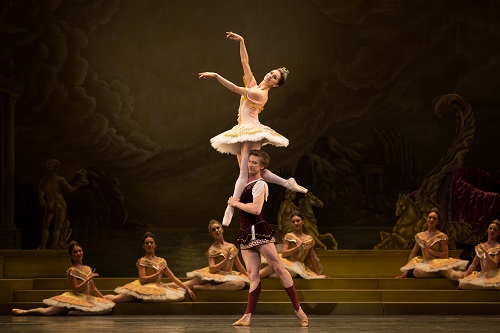 Production:
Choreography – Frederick Ashton
Production realization – Christopher Newton
Original designers – Christopher Ironside and Robin Ironside
Additional designs – Peter Farmer
Lighting designer – Mark Jonathan
Staging – Christopher Newton and Christopher Saunders
Cast included:
Sylvia – Marianela Nuñez
Aminta – Vadim Muntagirov
Orion – Thiago Soares
Eros – Valentino Zucchetti
Diana – Itziar Mendizabal
'Who is Silvia? what is she'. As the woodland creatures gambol about to Mendelssohnian-like gossamer fairy music at the opening of Act I the mind wanders to more Shakespeare and this time it is not one of his poems, but his play A Midsummer Night's Dream. That also has its roots – at least in part – in Greek mythology, as does Frederick Ashton's Sylvia. This three-act ballet was lovingly exhumed – and I mean that as a compliment – in 2004 by Christopher Newton, and I was seeing it for the first time. As we read in Clifford Bishop's fascinating programme essay, Reconstructing Sylvia, 'The original story, by Tasso, is already complicated: a huntress nymph, sworn to chastity, is compelled by Eros to fall in love with a shepherd whom she believes she has just killed, before being kidnapped by a besotted hunter whose attentions she has to deflect until the god can rescue her and bring about a happy ending'. Ashton was more succinct describing the plot as 'Boy loves girl, girl captured by bad man, girl restored to boy by god'!
This was Ashton's second full-length work and was first put on in 1952. Its lead role is very demanding and was Ashton's tribute and showcase for Margot Fonteyn, his first Sylvia. The famous critic Clive Barnes noted how, 'the whole ballet is a garland presented to the ballerina by her choreographer'. It allowed Fonteyn to display all her gifts; in the first act Sylvia goes from Amazon huntress to love-struck – literally – woman and there are bounding leaps and tremulously bourrées; in Act II she is a seductress, tempting and tricking Orion; and in the final act, the quintessential classical ballerina. Her solo is full of Ashton's trademark intricate footwork and changes of direction to Delibes' famous Pizzicato and there is the pas de deux with Aminta that – whilst full of fish dives, bravura lifts and steps – is achingly tender.
Ashton however never seems to have been satisfied, cutting it down first to two-acts, and then one. When he died in 1988 all that was left was the Act III pas de deux. The choreography was never notated, and the only record seems to have been a poorly lit black and white film. The job of 'reconstructing Sylvia' fell to former dancer and ballet master, Christopher Newton, who danced Sylvia during the 1950s and kept handwritten notes of the choreography, also recreating some of the steps from memory. Alongside existing paintings and photographic records of the original sets, costume designs were found in The Royal Ballet's archives in a mislabelled box. The result of all this 'dance archaeology' was put on in 2004 to commemorate the centenary of Ashton's birth.
You won't really be drawn to Sylvia by the story, but its best feature – Ashton's choreography notwithstanding – is Delibes' glorious score. Having seen and heard the ballet, it made Tchaikovsky – who had recently completed Swan Lake – doubt himself. The Russian composer's three great full-length scores have subsequently dominated nineteenth-century ballet's legacy, nevertheless, he still humbly complimented Delibes on his 'melodic, rhythmic and harmonic richness'. Some of the orchestration is ahead of its time, especially with the use of the alto-saxophone that heralds the arrival of Sylvia and Eros in Act III and accompanies the subsequent barcarolle at Diana's temple. The symbiosis of Delibes the composer with Ashton the choreographer is a marriage of music and dance made in heaven and to be treasured despite the creakiness of the plot and concerns over how much is genuinely Ashton, and how much Newton. After a rather prosaic march to open the Prelude, Simon Hewett and the virtuosic orchestra did full justice to Delibes' melodic masterpiece.
In the first of three casts this performance was led by the exceptional partnership of Marianela Nuñez as Sylvia and Vadim Muntagirov as Aminta. Muntagirov's opening adagio solo, was suitably confident and eloquent. Nuñez entered with her entourage, in triumph after a successful hunt and in defiance of Eros. She is a ballerina of great virtuosity; capable of performing tricky and physically challenging choreography with consummate elegance, giving the spectator the illusion of absolute lightness, and that no effort is required. She is exactly what a great performance of Sylvia needs and Nuñez negotiates her entrance solo, with its slow, connecting steps, including bourrées (mentioned earlier), changements en pointe and arabesques. She embodied what drama there was when she believably mourns Aminta's apparent death after shooting him with an arrow.
Act II is basically all Nuñez and Thiago Soares as Orion. The act might be brief but there is still a lot going on, though most of it is familiar from Le Corsaire. Orion tempts Sylvia in vain with fine jewels and clothes trying to gain her affection. Sylvia strives to find a way to escape his clutches and dances seductively for Orion, encouraging him to drink wine until he is senseless. Nuñez was alluring and technically excellent, and – as throughout the entire ballet – Soares fleshed out his scenery-chewing and skulking evil hunter with great energy and passion, even if the role is essentially a one-dimensional one.
Act III brought the performance to a captivating conclusion. Muntagirov's partnering of Nuñez was impeccably strong and unwavering. His solos were typically solid, with nice turns, high stag leaps and soft landings. Nuñez matched Muntagirov step-for-step with the refined pointe work of her enchanting pizzicato solo. The Act III dances were the highlight of Nuñez's Sylvia and showcased the musicality and expressiveness of her dancing.
Another wonderful feature of this revival of Sylvia was the excellence of the corps de ballet, their response to the music and en masse movement was impeccable. I wasn't wanting them to lose timing or wobble but was watching for it, and their unison was commendable. This was particularly important in Act I when they danced energetically as the woodland creatures and members of an Amazonian tribe dancing in celebration of their hunt and of female empowerment. With their bows and arrows in hand and with Marianela Nuñez's strong central performance, I was reminded – perhaps inordinately – of the modern cinema incarnation of Wonder Woman. Valentino Zucchetti was Eros and he is another reliable dancer who always makes any role his own. He moved with a swift unearthly authority and gave considerable charisma to the mysterious stranger who saves Aminta's life in Act I. It is Eros who makes Itziar Mendizabal's imperious Diana relent at end the ballet to herald the happy ending – that no one thought was in any doubt – as she blesses the union of Sylvia and Aminta.
Jim Pritchard
For more about what is on at the Royal Opera House click here.