United Kingdom Tim Watts, Kepler's Trial (opera preceded by panel discussion with Prof Ulinka Rublack, Tim Watts, Aura Satz, Dame Marina Warner, Prof Simon Schaffer): soloists, chorus and orchestra / Graham Walker (conductor). Victoria & Albert Museum, London, 9.11.2017. (VV)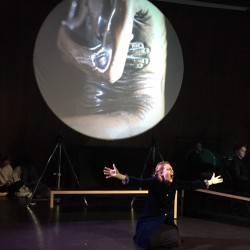 Orchestra: Charlotte Eves (flute), Rachel Becker (oboe), Jeremy West and Darren Moore (cornets), Ellie Chambers (sackbut), Carl Wikeley (percussion), Tanya Houghton (harp), Richard Gowers (organ and harpsichord), Julia Hwang, Stephanie Childress, Laura Rickard, Margaret Faultless (violin), Ghislaine McMullin (cello)
Production:
Producer – Kate Romano
Music and Libretto – Tim Watts
Director, Sets and Costume design – William Ashford
Video sequences – Aura Satz
Cast:
Katharina Kepler – Cerys Purser
Johannes Kepler – Theodore Platt
Einhorn/Magistrate – John Lofthouse
Daemon – Hugh Cutting
Schoolmaster/Gabelkhover – Michael Bell
Ursula Reinbold – Lynette Alcántara
Dorothea Klebl – Ana Beard Fernández
Young Johannes – Osian Guthrie
Chorus: Gesualdo Six & Guests
Tim Watts' Kepler's Trial is based on Prof Ulinka Rublack's The Astronomer and the Witch, and is the result of cooperation not only between their respective faculties of Music and History at the University of Cambridge, but also of input from colleagues (in Cambridge and beyond) in the faculties of History and Philosophy of Science and of Mathematical Sciences, amongst others. The opera tells the true story of Katharina Kepler (1546-1622), accused of witchcraft in 1615, and of her son Johannes (1571-1630), the famous astronomer, who defended her throughout the ensuing six-year trial.
The work premièred in October 2016 at the annual Cambridge Festival of Ideas. It is highly appropriate that it should now feature in the V&A's programme of events around the current Opera: Passion, Power and Politics exhibition. Both initiatives distil and bring the results of uncompromising scholarship to a wider public. Furthermore, Kepler's Trial engages with the history of opera at two levels: it blends early-modern and twenty-first-century musical idioms (more below); and it's partly a riposte to Paul Hindemith's (1895-1963) opera, Die Harmonie der Welt, and other portrayals which presented Katharina as a disturbed old woman, a narrative unequivocally disproved by Prof Rublack's research. Kepler's Trial thus also reinforces one of the connecting threads of the V&A's exhibition: namely, that opera as an art form reflects and engages profoundly with contemporary discourses, sometimes by re-visiting history from a fresh perspective.
The production boasts remarkable intellectual, musical and staging coherence. The opera contains more layers of multi-disciplinary insights than can be done full justice here. That is undoubtedly the merit of Tim Watts, who seamlessly condenses and conveys them in music and libretto, but also of the regular scholars' meetings led by Rublack, and of a production team and singers able to interpret the result. The opera tackles old women's vulnerability to injurious representations, but also explores the disconcerting indefiniteness of the line between reason and delusion, science and magic, light and darkness, the personal and the cosmic, harmony and dissonance, which feature in Kepler's life and work.
History is brought to the present and viewed from varying perspectives both in the music and in artist Aura Satz's film elements. Watts cites the variety of forms in Monteverdi's L'Orfeo (1607) as an influence on the structure. He also incorporates 'found materials', such as a sixteenth-century drinking song and two Lutheran chorales. He then transforms the song: a new vocal line is 'like graffiti of a sort on a historical musical object' which thus acquires new meanings and force as the opera progresses. For example, it evolves to convey the unsteadiness of the ground on which Katharina and Johannes unexpectedly find themselves. That sense is conveyed also in video clips, by the instability of poignantly chosen objects on a turntable: a Renaissance statuette of a naked old woman; an armillary; an orrery. History and the present coalesce in the choice of instruments, too: cornetts, a sackbut and a harpsichord play alongside a flute, an oboe, violins… Katarina and Johannes are introduced by the sonorities of their time. Under Graham Walker's assured baton, the orchestra conjures all the shifting states of the characters' internal worlds and relationships.
The revolutions of the planets and of points of view are explored in the music, in Aura Satz's film elements and in William Ashford's direction. The idea of interlocking orbits permeates the score, both in the instrumental and vocal textures. The characters regularly move in circles, replicating planetary motion. Katharina is confined and tormented by the chorus revolving around her. Their masks and ritualistic movements aptly embody dark, archaic fears. The Gesualdo Six and Guests are outstanding, shifting impeccably from Renaissance polyphony to twenty-first century music.
A work about Kepler could not fail to foreground harmony and dissonance. His idea of these two concepts encompasses a worldview according to which nature, including human beings, can sense changes in the universe. All too aware of the world's imperfections, he thought that traces of the harmony of God's creation could inspire perfectibility. Watts makes astute use of these notions. For example, fairy-tale harmony accompanies the fabulation of one of Katharina's accusers, only to morph into sinister dissonance.
All of these elements flow into a musically and dramatically compelling production. At the core of the emotional tension are Katharina and Johannes's relationship with each other, and their clash with the superstitious society around them. The relationship between the illiterate mother – at first bewildered by the charges of witchcraft, and, gradually, fatally weakened by her ordeal – and her brilliant son is complex but fundamentally close. That closeness probably also accounts for Johannes's unfounded fear of having unwittingly stirred Katharina's attackers through his youthful fictional story, The Dream, which featured a daemon and an old woman.
Cerys Purser, for whom Watts previously wrote two song cycles, gives an intense performance as Katharina. Her horror at the fantasies in her neighbours' minds, her sense of deep isolation, and her bond with her son, come across strongly. Purser's vocal and expressive ranges are a perfect match for the part.
Theodore Platt gives us a fittingly complex Johannes Kepler: powerful and yet wistful, practical and visionary, moving and tortured. He is currently a scholar at the RCM. It will be exciting to follow the evolution of his warm tone and stage presence.
Hugh Cutting endows the Daemon with a bright counter-tenor voice, John Lofthouse is a convincing Governor Einhorn and Magistrate, and Lynette Alcántara an aggrieved and deluded Ursula Reinbold. Michael Bell doubles as the accusing Schoolmaster and Gabelkhover and Osian Guthrie sings a touching young Johannes.
The panel discussion which preceded the performance enhanced the experience. A film of the 2016 première (NB this and the V&A production are different) is available on the project website (http://keplers-trial.com/), which also contains further background and the complete libretto.
Valeria Vescina
For more about the Opera: Passion, Power and Politics exhibition click here.