United Kingdom Birmingham Royal Ballet's Aladdin: Soloists and artists of Birmingham Royal Ballet, Royal Ballet Sinfonia / Philip Ellis (conductor), Sadler's Wells, London, 31.10.2017. (JPr)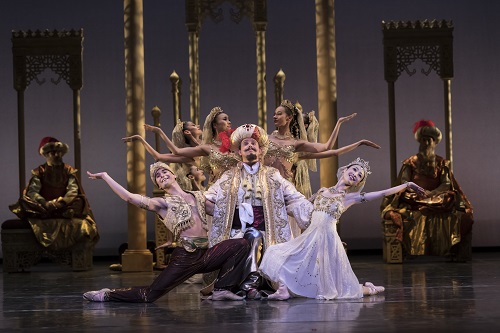 Production:
Music – Carl Davis
Choreography – David Bintley
Costumes – Sue Blane
Sets – Dick Bird
Lighting –  Mark Jonathan
Cast included:
Aladdin – Mathias Dingman
Princess Badr al-Budur – Momoko Hirata
The Mahgrib – Valentine Olovyannikov
The Djinn of the Lamp – Tzu-Chao Chou
Aladdin's Mother – Marion Tait
The Sultan, the Princess's father – Jonathan Payn
Aladdin's Friends – Kit Holder and Lachlan Monaghan
It was a delight to be reacquainted once again with the dancers of Birmingham Royal Ballet all showing great confidence, technical skill and the sheer joy of dance. I just wish – sorry! – that on a rare visit to London they had brought a better full-length showcase for their considerable talents. Every company needs a crowd-pleasing – and therefore income-generating – family show in their repertoire and so Aladdin is one of those. How family-friendly it is can be debated as the evening lasts till 10.30pm, long after the bedtime of many who it should be attracting to come and see it. I still cannot understand why it takes over 40 minutes for Aladdin to get his hands on the lamp.
BRB's Aladdin is what it now is, and if anything could have been done about it this should have been several years ago. Certainly, the familiar plot is spread very thinly over more than two hours of almost nonstop dancing and just two substantial acts and one interval would have been so much better. In the programme Susan Turner reminds us how the choreographer – and BRB director – David Bintley describes his Aladdin as 'possibly the least "deep" ballet I've ever made' and when first conceived – for The National Ballet of Japan in 2008 – it was done very quickly 'using a choreographic language familiar to them'. What they knew clearly included Bintley's homage to other famous ballets and their original choreographers.
Aladdin opens with the eponymous street-urchin and his two friends making fun of the Sultan's Palace guards; though what we see is Romeo, Mercutio and Benvolio larking around in 'A souk in old Arabia'! The Mahgrib, a magician, conjures up the female 'Desert Winds' who seem to be the captivating Willis from Giselle; the vision he shows Aladdin of Princess Badr al-Budur is from The Sleeping Beauty; the divertissements in 'The cave of riches' is a nod to Balanchine as well as Petipa. Elsewhere there is much we have previously made the acquaintance of in La Bayadère, Scheherazade and Le Corsaire. I wonder how ironic Bintley is also being when during Act III two swans 'fly' back and forth across a night sky, before Aladdin goes hunting and eventually the Mahgrib meets his end in a very similar way to Von Rothbart in Swan Lake.
It is only people like me who have been to the ballet (too?) many times will be thinking about this and audiences – as I honestly did – will thoroughly enjoy Bintley's 'take' on the age-old One Thousand and One Nights' tale, which is full of his trademark charm and wit. It all looks sublime thanks to Sue Blane's costumes and Dick Bird's resplendent – if relatively two-dimensional – sets. It is unfortunately showing its age a little as there is relatively little real 'magic' on show, and children will see more – such as 3D or use of video – in their local pantomime this Christmas. All we get is the Djinn of the Lamp appearing, disappearing or hovering in the regulatory puff of smoke – and a much-anticipated 'magic carpet ride'.
Bintley gives us plenty of high-energy – especially from the hard-working corps de ballet – jumping, pirouetting, lifting and posing, but – and he freely admits this himself – there is a lack of 'big acting performances' …which can be translated as characterisation. Aladdin is a bit of a Jack the lad who is infatuated with the Sultan's daughter as soon he sets eyes on her, especially when in 'The bathhouse' with six equally scantily-clad attendants. The romance between them is assumed rather than explored. Also, there is no real sense of menace from the Maghrib either, who strongly reminded me of Catweazle from the TV show of the 1970s.
Carl Davis originally composed his score for Scottish Ballet's own 2001 Aladdin, though it was subsequently much revised. It is very cinematic and often I could imagine hearing it behind the end credits of a film or during some action sequences of the latest fantasy or Sci-Fi film. What I describe as Davis's 'Princess's theme' – used when the heroine dances on her own and for the more romantic moments Bintley allows her with Aladdin – is a tribute of a sort itself: it owes much to Gilbert Bécaud's music for the well-known song 'What Now My Love'. Davis's eclectic musical orientalism is in part some of Richard Rodgers's waltzing from The King and I and some ominous passages from Puccini's Turandot, amongst many other influences. The always reliable Royal Ballet Sinfonia warmed to the task under Philip Ellis and provided the ideal accompaniment to what we saw.
What is indisputable is that Bintley's choreographic 'cherry-picking' gave plenty of opportunities for several members of Birmingham Royal Ballet to shine and they appeared to relish any challenges and rose to the occasion. Mathias Dingman was an ebullient and charming Aladdin and his dancing was refined rather than whirling dervish. His acting was understated, though this might not – as hinted above – be his fault. What was not in doubt was his perfect partnering of his Princess, Momoko Hirata, whose dancing was fragile, expressive and technically assured. Valentine Olovyannikov chewed the scenery and emoted as a suitably villainous Mahgrib. Tzu-Chao Chou whizzed around as a gravity-defying Djinn of the Lamp. He looked like a Blue Man Group version of Yul Brynner as I remember seeing him in the aforementioned The King and I. Kit Holder and Lachlan Monaghan proved a couple of cheeky chappies as Aladdin's friends and even got to perform a Chinese Lion Dance – mimicking the traditional 'horse' in pantomime – in Act II …though what that was doing in Arabia I am not sure.
Aladdin's mother was portrayed by the petit Marion Tait (BRB's assistant director) whose performance was a masterclass in miniature whether pleading for her son's life or in eager amorous pursuit of Jonathan Payn's more reluctant Sultan, father of the Princess. However, I thought Tait's portrayal – like some others – was just a little non-PC for 2017 and would not be allowed in straight theatre or even opera! Also catching the eye with appropriately sparkling performances were Jenna Roberts in Sapphire; Nao Sakuma and Tyrone Singleton proved a class act in their Rubies duet with some of the best dancing of the evening; and Céline Gittens was another priceless gem as Diamond.
Jim Pritchard
For more about the Birmingham Royal Ballet's forthcoming performances click here.