China Bruckner: Hong Kong Philharmonic / Jaap van Zweden (conductor), Poly Theatre, Beijing, 28.10.2017. (LPL)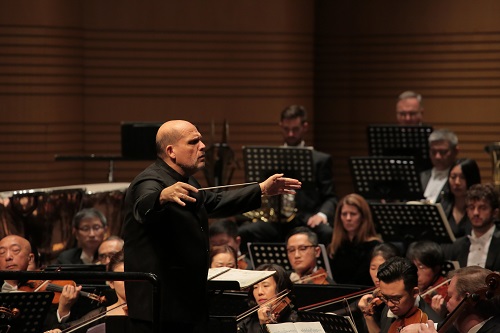 Bruckner – Symphony No.8
Embarking on his sixth season as music director of the Hong Kong Philharmonic, Jaap van Zweden has taken the orchestra – and its audiences – far and wide, both musically and geographically. For their guest appearance at the 20th Beijing Music Festival, the musicians performed Wagner's Die Walküre on Friday and then did Bruckner's Symphony No.8 as a stand-alone piece in a sold-out concert on Saturday.
One of Bruckner's mammoth symphonies, the Eighth is also one of his most expansive and personal in terms of orchestral colours, architectural acuity and spiritual communion. It underscores the composer's search for truth, profundity and transformation in the course of the 90-minute musical journey. The symphony demands gargantuan efforts by both conductor and musicians – wind instruments in triples, multiple pairs of horns, four Wagner tubas, and strings that invite direct comparisons to the typical complement seen in the symphonic works of Mahler and Strauss. The musical language of Bruckner is new and fresh to a vast majority of the Chinese audience. But, to the great surprise of many, including tonight's musicians, it was greatly appreciated by both disciplined and educated Chinese listeners and their cohorts aged 10 and younger.
Understanding the merits and demerits of the different versions associated with Bruckner's symphonies, and the Eighth in particular, van Zweden chose here to perform a hybrid that encompassed the other editions, including that of Robert Haas.
Throughout the symphony, conductor and orchestra kept their poise, moving from one passage to the next with fluidity and great care. The highlight of the evening was the brass playing, where van Zweden exerted a panoply of expressive tone colours, vivid dynamics and bright contrasts to make his points. It drew comparisons to the landmark performance of the Vienna Philharmonic Orchestra under Carlo Maria Giulini or, more recently, that of the Montreal Metropolitan Orchestra under Yannick Nézet–Séguin.
In Beijing's Poly Theatre, orchestral sounds had to be calibrated as much as possible to counter the dry, sub-optimal acoustics. In the famous Adagio, the dryness of sound was exacerbated by the string sections delivering a timid, lukewarm performance; van Zweden regularly signalled the strings for greater vibration but the outcome varied. The Finale, with its magnetic buoyancy and brassy statements pointing to the wide-open gates of the Almighty, provokes an imagery of limitless boundaries. The audience responded with ecstatic applause, and it is partly for this reason that van Zweden and the HK Phil have expressed their interest in returning to future Beijing Music Festivals with more Bruckner symphonies.
Lam Pak Ling