Canada Haydn, Beethoven, Brahms: Paul Lewis (piano), Vancouver Playhouse, Vancouver, 19.11.2017. (GN)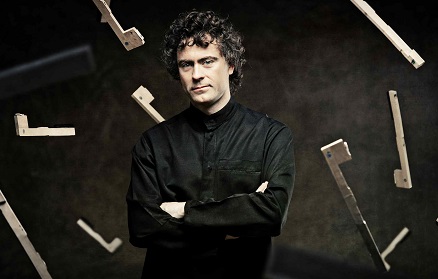 Haydn – Sonata No.60 in C major Hob.XVI:50; Sonata No.54 in G major HobXVI:40
Beethoven – Bagatelles Op.126
Brahms – Piano Pieces Op.118
Pianist Paul Lewis's new odyssey into Haydn and Brahms is off and running: four concerts in total for the Vancouver Recital Society, two this year and two the next. After playing a great deal of Beethoven and Schubert over the past decade, this is an inspiring project and a freshness and sense of discovery definitely informed Lewis's playing. The first concert was cunningly designed: a Haydn sonata on each end with the Beethoven Bagatelles Op.126 and Brahms Op.118 Piano Pieces in between. What impressed is the way the pianist mixed dramatic awareness, playfulness and lyrical restraint to reveal differences in the two Haydn sonatas, while showing the Beethoven and Brahms miniatures were closer in spirit than one might have thought. Always on display was enthusiasm – and that proved infectious.
It comes as no surprise that Paul Lewis would play Haydn well. His clean articulation, sense of line and strong rhythmic address are naturals in negotiating this composer and, of course, some of the most discerning performances of Haydn have come from Lewis's teacher, Alfred Brendel. On the basis of this concert, what distinguishes Lewis's Haydn is its alertness, sharpness of focus and immediacy of expression.
The delightfully playful figure that opens the late Sonata No.60 presaged a storm of witty insight and striking dramatic contrast, superbly negotiated by Lewis, that kept everyone on the edge of their seats. For all the ensuing twists and turns, one noted the pianist's sensitive retreats into the composer's minor-key modulations – affecting moments indeed. The Allegro received full treatment, with all the repeats taken: the endless fertility of the master's imagination could not have been better displayed. The following Adagio cultivated another inviting range of textures at a moderate (but not slow) speed, and the pianist found a nice sense of personal conversation to make it special. The finale crowned the work with a characteristic whirlwind of stops and starts. Moving back ten years to the two-movement Sonata No.54 took one briefly to a different world –  a suspending, galant-like lyrical progression in the opening Allegretto – before invoking another Presto that could not fail to amuse. The patience and charm of Lewis's exposition at the beginning and his sense of contrast and timing at the end were beguiling.
One of the pianist's apparent objectives was to draw a parallel between the sets of small pieces of late Beethoven and late Brahms, both of which alternate settings of burgeoning energy with those of inward restraint to fashion a cohesive whole. I found the development of this link most instructive: the Beethoven Bagatelles turned out more strongly etched and serious than usual, while the Brahms Piano Pieces were drawn closer to the Beethoven by being more tightly argued.
I have always thought of Beethoven's earlier Bagatelles as intriguing slices off the master's chopping block, but ultimately unassuming in character. The later Op.126 Bagatelles entice through their intellectual ingenuity, caprice and economy of means, but seldom make a pretense to a larger pianistic or emotional scale. Given the composer's defining economy of utterance in his final works, there are indeed strong reasons to treat the latter parsimoniously – yet is this missing a depth of utterance that lies just below the surface? Paul Lewis evidently thinks so and treats these miniatures less as examples of drawing-room artfulness and more as works of real inward fiber, perhaps akin to the composer's very last sonatas. There was a greater air of profundity in the easeful No.1 (sounding less like a 'moment musical'), and the famous Nos.2 and 4 had striking buoyancy, weight, and dramatic contrast; the searching No.6 also seemed to storm the celestial heavens with greater insistence. I have no doubt that these pieces can take a more serious approach. I don't think Lewis lost much of the composer's playfulness, and he definitely established a richer dramatic and emotional reach, finding a special tenderness at points. Though not the only way through these pieces, it was the pianist's cunning sense of balance over the whole that made it very satisfying.
Equally, I had never thought of a strong emotional kinship between the Brahms Op.118 pieces and the Beethoven, but this performance drew me closer. One possible reason is that the scale and weight of the pianist's projection were similar. The opening Intermezzo literally flew from the gate with enormous joy and energy while the wonderful Ballade (No.3) contributed blossoming strength and ardour. The contrasting Intermezzi found clear inward reach, but they were marginally tighter and more purposive than usual, less given to finding Brahms' 'endless spaces' of withdrawn wistfulness, whim and delicate musing. At the quicker speeds in the last three pieces, I was sometimes reminded of the younger, more vital Brahms, the composer of the Piano Concertos perhaps, where a rich romantic flowering tends to dominate more fragile postures. At the close, there was compelling power and determination in the E-flat major Intermezzo though, again, the retreat into ruminative musing was less noticeable.
So, like magic, these two sets of pieces become family friends: a tighter late Brahms somehow holds hands with Beethoven and his last piano explorations. Combined with the insight in the Haydn sonatas, this was another adventure that kept everyone captivated, and it's hard to think of a concert that created so much delight out of essentially modest repertoire. Just for the record, I do not think of 'late' Beethoven and 'late' Brahms as occupying exactly the same psychological space: the former's pain came out more in fragmented utterance, often moving between intimate and external worlds with bursts of aggression, removal and eccentric fantasy, whereas the latter sat more firmly in the pain of his old age, using fitful moments of pent-up energy and more pronounced spells of nostalgia to redress the balance. Nonetheless, for this concert, I was a believer.
Geoffrey Newman
Previously published in a slightly different form on http://www.vanclassicalmusic.com.