Argentina Rossini, Le Comte Ory: Soloists, Chorus and Orchestra of Juventus Lyrica / Hernán Schvartzman (conductor), Teatro Avenida, Buenos Aires. 3.11.2017. (JSJ)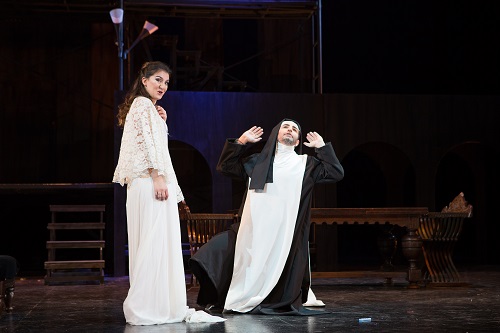 Cast:
Count Ory – Sebastián Russo
Countess Adèle – Jaquelina Livieri
Isolier – Victoria Gaeta
Raimbaud – Gabriel Carasso
Governor – Luis Gaeta
Ragonde – María Goso
Alice – Natalia Salardino
Production:
Director/costumes – María Jaunarena
Sets/lighting – Gonzalo Córdova
Chorus – Hernán Sánchez Arteaga
Compared with such popular masterpieces as Il barbiere di Siviglia and L'italiana in Algeri, Rossini's Le comte Ory is almost unknown. In over 30 years of opera going in southern hemisphere cities, I haven't encountered it – until now.
Yet there seems no obvious reason for that. As a work it forms part of Rossini's later operatic oeuvre, written during his Paris years and hence its appearance in French. Musically it is attractive – some of it drawn from Il viaggio a Reims – and it has plenty of humour, perhaps if not always as consistently so in these other works.
So a big thumbs up to Juventus Lyrica for putting it on. The hand programme doesn't give any information on the production history in Buenos Aires but the Teatro Colón opera database lists just one production in 1983.
This production is a coproduction with Opera2Day, marking a continuation of the partnership with this Hague based foundation led by Hernán Schvartzman, which aims to present works with instruments replicating the sound of the time. The previous collaborations were the three Da Ponte works of Mozart in which this distinction was more apparent than in this one. Still Schvartzman led an energetic reading with the 'mixed' orchestra with members from various parts of the world in addition to Argentina.
Juventus Lyrica always manages to do a lot with a little and the simple sets of Gonzalo Córdova, accompanied with his lighting, were effective. As were the costumes of María Jaunarena, whose direction also kept the action and humour flowing without becoming banal.
All the main protagonists performed well – Gabriel Carasso as Raimbaud setting the scene for what was to follow, Sebastián Russo as a suitably scheming Count and Jaquelina Livieri a powerful Adèle.
Victoria Gaeta was a cheeky Isolier while Luis Gaeta with years of experience a fatherly governor.
Hernán Sánchez Arteaga's chorus also gave of their best – all in all bringing another successful season – its 17th – to an end.
Jonathan Spencer Jones