Argentina Dvořák, Rusalka: Soloists, Chorus and Orchestra / Julián Kuerti (conductor), Teatro Colón, Buenos Aires. 14.11.2017. (JSJ)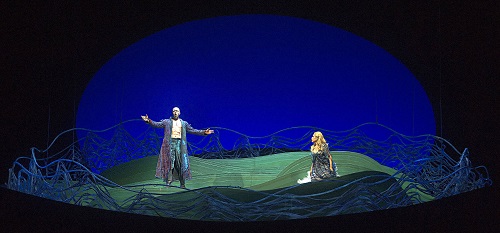 Cast:
Rusalka – Ana María Martinez
Prince – Dimitry Golovnin
Ježibaba – Elisabeth Canis
Foreign Princess – Marina Silva
Vodník – Ante Jerkunica
Forest Nymphs – Oriana Favaro, Rocío Giordano & Rocío Arbizu
Kitchen boy – Cecilia Pastawski
Gamekeeper – Sebastián Sorarrain
Hunter – Fermín Prieto
Production:
Direction – Enrique Singer
Sets – Jorge Ballina
Costumes – Eloise Kazan
Lighting – Víctor Zapatero
Choreography – Franco Cadelago
Chorus – Miguel Martínez
After the Buenos Aires premiere of Dvořák's best known opera, Rusalka in 2015, we have now had another production just two years later.
This one, from the Teatro Colón, and an adaptation from Teatro de Bellas Artes production in Mexico, could not have been more different from the earlier Buenos Aires Lírica version. But it did draw on several of the same cast, giving these young local singers the opportunity, often previously denied, to perform on the illustrious Colón stage.
Rusalka is a fairy tale with nymphs (in Slavic mythology a Rusalka is a water nymph or female spirit, according to Wikipedia), a witch, a handsome prince and foreign princess and emotions of love and death.
This production by Mexican Enrique Singer with sets by Jorge Ballina and bright colourful lighting from Víctor Zapatero wonderfully captured this fairy tale aspect. As the curtain opens we are looking into a lake with the nymphs within and as the story unfolds, with imaginative use of this 'structure' and the lighting, the scenery is transformed into the various different successive vistas.
Of course, this fairy tale aspect is also very present in Dvořák's music, here magically conveyed by an attentive orchestra under Canadian Julian Kuerti.
Rusalka seems to be something of a calling card for Puerto Rican soprano Ana María Martínez and her command and sensitivity to the role is apparent. As the Prince Russian tenor Dimitry Golovnin brought alternatively ardour and pathos, while Croatian Ante Jerkunica was a powerful if one-dimensional Vodník.
Elisabeth Canis well fitted the role of the witch Ježibaba in looks and voice while Marina Silva was a full voiced Foreign Princess. Oriana Favaro, Rocío Giordano and Rocío Arbizu made for a tuneful trio of forest nymphs and Cecilia Pastawski, no stranger to trouser roles, was an appropriately boyish kitchen boy, while Sebastián Sorarrain was a solid gamekeeper.
Nice choreography too from Franco Cadelago.
Jonathan Spencer Jones