United States Feldman, Take a Chance: Tribute to Morton Feldman: Soloists, Microscope Gallery, Brooklyn, NY. 20.11.2017. (DS)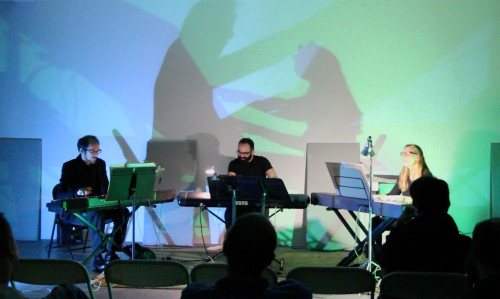 Morton Feldman – Piano Four Hands (1958), Two Pieces (1954), Ixion (1958), Two Pianos (1957), For Aaron Copland (1981), Projection 1 (1950), Intermission 6 (1953), Last Pieces (1959)
Musicians – Matteo Ramon Arevalos (keyboard), Tom Chiu (violin); Zach Layton (keyboard), Sandra Sprecher (keyboard), Ray Sweeten (modular synthesizers) & Adam Tendler (keyboard)
Morton Feldman's music is known for exploring density through its sparse qualities. To listen to it best, the compositions require equally sparse surroundings, devoid of clutter or distraction. In Brooklyn's Bushwick gallery scene, where a barren warehouse is often split into white, boxed spaces, Feldman's music made an appearance on a new series at the media-focused venue, Microscope Gallery.
Take a Chance was a full program tribute to the composer, featuring short pieces performed mostly through new means. Instead of a piano, musicians played on electric keyboards that emanated Feldman's selective notes through speakers from the sides or the back of the room. For works like Piano Four Hands and Intermission 6, the set-up did not hinder the need for silence between chords or pitches to make the texture stay true to the composition. But for denser chordal layers, as in Ixion, which if played on traditional pianos would have stacked like delicate lace threads, the loud spatial reverberation rattled the musical constructions too much.
For a Feldman purist, Tom Chiu's performances of For Aaron Copland and Projection 1 on a non-electronic, hand-carved, and slowly varnished wooden violin were two impeccable interpretations. While the audience sat in the barren darkness of the gallery (except for a sultry red light shrouding the entrance), Chiu was under a simple spotlight, and played each note as if painting a Fabergé egg. There is no need for melody when sound and time work together to feel out a path before them – pitches standing alone yet simultaneously responding forwards and back to one another.
Chiu's performance evoked an imaginary sonic statue, appropriately experienced in an art gallery. Bringing music from the New York School modernists into contemporary emerging art venues like Microscope Gallery, creates a relevant connection to the history of art and performance in New York City. Those who flocked around Feldman, John Cage, Merce Cunningham, and Robert Rauschenberg would have likely experienced this mid-century creativity in intimate studio or gallery settings, like the 'Bosa Mansion' apartment near the Williamsburg Bridge. In such locations, the freedom for avant-garde experimentation gave birth to works that would live beyond their time.
The Bushwick gathering ended with an improvisational work by Ray Sweeten, who took Feldman's Triadic Memories as his starting point. While he went far beyond the quality of Feldman's own style, that's what these types of events are for – not sticking to an established program, but letting expression emerge into the need to experiment. Let's hope more New York emergent spaces follow in the steps of Microscope Gallery.
Daniele Sahr