United Kingdom Ravel and Satie: Fidelio Trio [Mary Dullea (piano), Darragh Morgan (violin), Adi Tal (cello)], Dora Stutzker Hall, Royal Welsh College of Music and Drama, Cardiff. 17.11.2017. (GPu)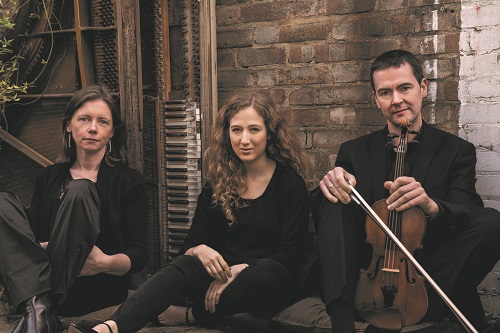 Ravel – Piano Trio
Satie (Arranged John White) – Le Piege de Meduse, Prière pour le salut de mon âme
The Fidelio Trio are a highly accomplished and adventurous ensemble, well-deserving of the high reputation they have. All three of its members are also much in demand as soloists, but they certainly work exceedingly well together as an ensemble, listening attentively and responsively to one another. On this particular occasion, however, there were times when the balance within the group left something to be desired. More than once the cello of Adi Tal was difficult to hear. I don't know why this should have been so, and it happened only intermittently; it was rather disconcerting when it did but didn't spoil the overall impact of the concert.
Only one of the three works the Trio played in this all-French programme was actually written for Piano Trio – Ravel's only contribution to the genre. The other two pieces were arrangements of music by Satie, the arranger in both cases being John White, born in Berlin in 1936, but based in Britain since his early childhood.
Ravel's Trio is, for all its individuality (and seems to speak very personally out of a specific set of circumstances – i.e. the beginning of the First World War) essentially traditional in form. With its two outer movements in modified sonata form, and a second movement which is, to all intents and purposes, a scherzo (despite its exotic and enigmatic title, 'Pantoum'), the structure of the sonata is closely related to that of piano trios by such earlier masters as Haydn, Mozart and Schubert. Yet Ravel's musical language, especially in the use it makes musical 'resources', is far more wide-ranging. So, for example, the first and last movements both make use of the rhythms of Basque folk-music (Ravel drafted much of the work in the Basque town of Saint-Jean-de-Luz). The third movement ('Passacaille') employs a personal modification of a pre-classical form, the baroque Passacaglia. Though the second movement has a clear ABA form, Ravel also finds ingenious ways of echoing, simultaneously, the Malaysian poetic form of the Pantoum, which had been borrowed and imitated by a number of 19th Century French poets, such as Hugo, Verlaine and Baudelaire. The fact that Ravel was one of the great masters of orchestration is almost everywhere evident in this Trio, in the way in which he demands extended techniques from the players, and uses the extreme range, from top to bottom, of each instrument. The whole makes a challenging, but rewarding, work for those who perform it (and those who hear it).
The Fidelio Trio were certainly on top of the work and its many complexities. The performance had admirable fluency and sense of shape, though one never felt that its many striking details were neglected. In the first movement, Darragh Morgan's playing of the fine violin melody had a particular grace, and there were vivid colours throughout the movement as well as an impressively unified responsiveness to the many harmonic and rhythmic shifts. It was a thoroughly pleasing account of a marvelous movement. It was, thus, unfortunate that it contained one or two of those aforementioned moments when the cello of Adi Tal suffered in the ensemble balance. I was initially inclined to blame this on the beginnings of a problem with my hearing as I grow older, or on a freak effect of where I was sitting in the hall, but later conversations with two (much younger) friends, who had been sitting elsewhere in the hall, confirmed that they had had the same experience. There were, fortunately, no such problems in the ensuing 'Pantoum', in which full justice was done to Ravel's exotic rhythms; Mary Dullea played the fiery music for the piano with passionate accuracy, while in the insistent repetitions of this movement the sense of group unanimity was impressive. The arch-like shape of the Passacaille, was well delineated, starting with piano alone, at the bottom end of the keyboard, and eventually returning to the same state of affairs after introducing the other two instruments and building up to an intermediary climax. The dialogue between violin and cello in the middle passages of this movement was beautifully played and Adi Tal's fine work on the cello was, fortunately, completely audible on this occasion. The last movement was properly full of vitality, of vigorous energy and shifting rhythms, with its final section bringing things to a close on a note of qualified triumph.
After the fecundity of musical and technical invention in Ravel's Trio, listening to the spareness of Satie's work, in arrangements by John White made for a difficult adjustment. Le Piege de Meduse – comédie en un acte de M.Erik Satie (avec musique du même Monsieur), to give it its full title, had a private performance in 1913, but received no public performance until 1921. The details pf this proto-surrealist play, a splendidly silly piece, need not concern us here. The only relevant consideration is that one of the 'characters' in the comédie is a mechanical toy monkey (called Jonas), who dances during scene changes. The only time I heard this work was a long while ago, but unless my memory is at fault, it was two of the dances for Jonas which John White has arranged. Satie's original score was for three strings (violin, cello and double bass), three winds (clarinet, trumpet and trombone) plus percussion. A version for piano was published posthumously in 1929. The first of two pieces making up White's arrangement had the wit characteristic of Satie and both were elegantly (and delightfully) playful. The first piece begins with an upbeat melody, includes some attractive pizzicato work for the violinist and exudes a slightly mischievous charm. The second has a jauntiness which (appropriately enough) has a somewhat mechanical quality in its jerky rhythms and melodies. The Fidelio Trio treated both pieces neither too solemnly nor too lightly and the result was entertaining and engaging, even if, inevitably, the music seemed pretty slight, heard after Ravel's masterly Trio.
Prière pour le salut de mon âme, the second of John White's Satie arrangements, was receiving its first performance; 'Prière pour le salut de mon âme' is the final movement of Satie's Messe des Pauvres. This 'Mass' was written after Sati had founded, in 1893, his own church – the Église Métropolitaine de l'Art de Jésus Conducteur'; whether this 'church' ever had any adherents other than Sarie seems very doubtful! The 'Messe' was written between 1893 (when Satire composed the 'Prière') and 1895, when the completed work was performed. It was scored (the original title being Grande Messe de l'Église Métropolitaine d'Art) for organ and mixed choir. The 'Prière' which closed the work was written as an organ solo. It is music of considerable solemnity and stillness, the kind of unironically beautiful music which Satie sometimes chose to write, having a real if quirky spirituality. I only know the Messe from recordings, but I have to say that I have found the 'Prière' more satisfying when heard (on the organ) as the last of the Messe's seven movements than, as here, as a stand-alone piece for piano, violin and cello, for all the skill and sympathy evident in John White's arrangement.
Reflecting on the concert, I was slightly disappointed that the Fidelio Trio had not given us, perhaps, just one of the Satie arrangements and found room for a second 'canonical' trio. But what they did play for an appreciative lunchtime audience, received performances of a high order.
Glyn Pursglove