United Kingdom Leoncavallo & Mascagni: Soloists, Chorus and Orchestra of Opera North / Tobias Ringborg (conductor). The Lowry, Theatre, Salford Quays. 15.11.2017. (RJF)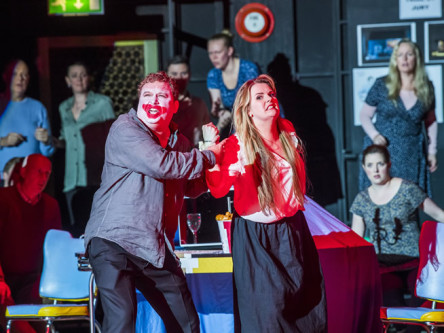 Leoncavallo – Pagliacci
Cast:
Nedda – Elin Pritchard
Canio – Peter Auty
Tonio – Richard Burkhard
Peppe – Joseph Shovelton
Silvio – Phillip Rhodes
Production:

Director – Charles Edwards
Set Designer – Charles Edwards
Costume Designer – Gabrielle Dalton
Lighting Designer – Charles Edwards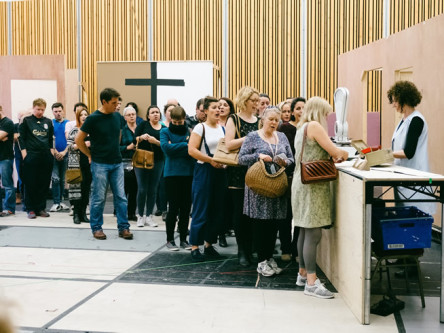 Mascagni – Cavalleria rusticana
Cast:
Santuzza -Giselle Allen
Lola – Katie Bray
Turiddu – Jonathan Stoughton
Alfio – Phillip Rhodes
Lucia – Rosalind Plowright
Production:
Director – Karolina Sofulak
Set Designer -Charles Edwards
Costume Designer – Gabrielle Dalton
Lighting Designer – Charles Edwards
This duo, cast together in Opera North's season of so-called The Little Greats, each a double bill of short works, started the season at the Lowry. It might have been a marketing strategy to cast these together and first on the roster with a repeat on Saturday, certainly a well-supported house would keep the tills at The Lowry happy especially with more obscure offerings to follow. The two have been so billed since shortly after their respective premieres, Pagliacci in 1892 and Cavalleria rusticana two years before. In terms of this duo in the Opera North season the former was presented first, probably because the set was more complex to set up. Whilst the simpler set for Cavalleria rusticana would be easier to set up in the interval.
Italian composer and librettist Ruggero Leoncavallo is best known today for Pagliacci, his one act verismo masterpiece and for which he also wrote the libretto. Born in Naples he began his studies there in 1866. In the late 1870s he wrote both music and libretto for his first opera Chatterton (not premiered until 1896). After a peripatetic life he lived in Egypt, moving on the outbreak of the Anglo-Egyptian War in 1882 to Marseilles and then to Paris, where he worked as a pianist in café-concerts. He found some success with the symphonic poem La Nuit de Mai, and was also commissioned by the publisher Ricordi to write a planned trilogy Crepusculum (of which only the first part, I Medici, was completed). After the success of Mascagni's Cavalleria rusticana he was inspired to write Pagliacci, which was a triumph on its 1892 premiere and led to stagings of Chatterton and I Medici. His La bohème in 1897 was overshadowed by the success of Puccini's version the previous year. His last major success was Zazà in 1900. Around this time he was increasingly popular in Germany, leading to 1904's Der Roland von Berlin. He was an early supporter of recording, and that year composed the song Mattinata for Enrico Caruso and the G&T Company. Caruso also made the aria 'Vesti la gubba' famous and something of a signature tune for himself. Towards the end of his life Leoncavallo turned increasingly towards operetta, starting with La Jeunesse de Figaro (1906, New York). His later operas included Goffredo Mameli (1916) and the incomplete Edipo.
Both operas were presented in updated to the present-day versions in terms of costumes and set, the latter being a modern rehearsal studio. In costume terms there was no sign of Italian peasantry with British style stage managers and a general melee of artistes, soloists and chorus mixing around. From this melee Tonio the clown, in mufti and with no sign of the physical deformity – which disturbs Nedda in the libretto – emerged to sing his prologue aria in English. Similarly, he sang his concluding 'The Play is Over' at the end. In between these two the play itself emerged among the rehearsal cast and leading to the stabbing and killing of both Nedda and her lover.
Whilst lacking any physical deformity, except perhaps a bald head (mea culpa) Richard Burkhard's skulking around the rehearsal set was creepy whilst his singing was of a high order and smarmily apt as he wound up Nedda's husband. The latter was sung strongly and acted with agonized virility by Peter Auty with his descent into paranoiac madness chilling. His singing of 'Vesti la gubba' was justifiable applauded. Elin Pritchard as the woman who moved hearts and sanity was a little slow to show the seductive quality that would drive men to the brink, but sang well. As her would be lover, Silvio, Phillip Rhodes acted well and looked suitable suave and sang with a smooth refulgent lyric tone.
Did this mélange update staging work?  Knowing the opera intimately I could work out was going on, but have to say that the conclusion when Tonio stabs Nedda should be played in front of the stage audience as Leoncavallo intended, not the theatre audience with a lot of the others casually looking on.
It is often suggested that Mascagni singlehandedly founded the verismo school with this work. The term is used to describe operas that moved away from myth or historical stories to draw on the rawness of contemporary real life instead. While myth was the basis of Wagner's operas, those of the Italian 'belcantoists', Rossini, Donizetti and Bellini, along with Verdi, being the most prominent, were restricted by political censorship with composers forced to eschew anything vaguely contemporary or religiously controversial. Verdi tried to break the pattern with La traviata (1853), based on a contemporary story set in France, but was thwarted at the premiere when despite his wishes the opera was set in an earlier period destroying much of its impact. By the period of the composition of Cavalleria rusticana such restrictions, in the unified state of Italy, were gone and composers had a free hand with only public decency constraining them
Mascagni hit the big time with Cavalleria rusticana by winning the first prize in a competition sponsored by the publisher Sonzogno, at a sensational debut at Rome's Teatro Costanzi on May 17th, 1890. At age twenty-six it was not his first opera, nor would it be his last. What is true is to say is that were it not for Cavalleria rusticana the rest of his operatic compositions would be unknown. As it is only L'Amico Fritz (1891), and of which there is a recording featuring Pavarotti and Mirella Freni, Isabeau (1910) and Lodoletta (1917) are performed, and then only very occasionally. Unusually for the time, Mascagni composed Cavalleria rusticana in set numbers – arias, duets and ensembles – rather than making it through-composed. He turns this structure to great advantage, using this formalism to detail the lives of his doomed characters within their religiously repressive and repressed community, and to turn the screw as the opera hurtles towards its tragic end. Turiddu's brindisi 'Viva il vino spumeggiante', Santuzza's melancholic 'Voi lo sapete, o mama' and the Easter Hymn are among the musical highlights. The story is set in a Sicilian square in front of a church and concerns adultery, jealousy and murder. It is made up of nine numbers that trace the mounting tension and conflict between the peasant girl Santuzza and Turiddu, the man who, having made her pregnant has deserted her for Lola, a former inamorata, who married Alfio, the local carter, whilst he was away.
As with the foregoing performed Pagliacci the setting was updated. However, the set was much simpler, comprehensive and more easily understandable. There were two major incongruities that grated on me. First Mama Lucia's shop was not a bakery, but a liquor store set outside in the square shared with the entrance to the church and the mirrored entrance to Lola and Alfio's house. I suppose that to stop pilfering was the reason that the old lady had a set of wheeled ladders to stock her shelves. However, I did not figure out why Turiddu wheeled them over to the cross and splay himself against it in crucifixion mode, other than sick symbolism more associated with European concept productions and Regietheatre than common sense clarity or cohesion of the story. Likewise, the redeployment of Alfio as a taxi driver not a carter. This necessitated the pushing of a car onto the square in front of the church and the gratuitous opening of the bonnet to see why it could not propel itself. Later the car reappeared as Alfio returned to learn of Lola's assignations with Turiddu and be location of their duel when Alfio simply shoots Turiddu in the head and his dead body is pulled from the car for his mother and the populace to see.
The musical performance was quite superb with Tobias Ringborg finding Sicilian warmth in the music and dramatic vigor in the various confrontations. The overall standard of singing was of the highest with Giselle Allen outstanding in her vocal strength, tonal beauty and enunciation of the words.  Although I prefer a mezzo's warmer tone in the role hers was among the best acted and sung performances of Santuzza that I have seen for many of my past sixty odd years of opera going. The two would-be lovers of Lola (Jonathan Stoughton as Turiddu and Phillip Rhodes as Alfio) had a similarity of hairstyle that could have caused confusion. Obviously, Lola fancied the tousled dark to any other. Both men sang with strength alongside excellent characterization and phrasing. Lola herself looked the part of desirable 'totty' to perfection and sang and acted well. It was a pleasure to see and hear Rosalind Plowright on the stage again. It is many decades since she was a student at the Royal Northern College of Music in Manchester and later bestrode the world stages and recording studios as a spinto soprano, but she can still act and sing. Last but not least in a memorable musical performance was the singing of the chorus, notably in the Easter Hymn.
Robert J Farr