United Kingdom Men in Motion: Ivan Putrov and dancers, Paradisal Players, Zara Benyounes (violin), Rebecca Gilliver (cello), Ana Šinkovec Burstin (piano) / Samuel Burstin (conductor). London Coliseum, 22.11.2017. (JO'D)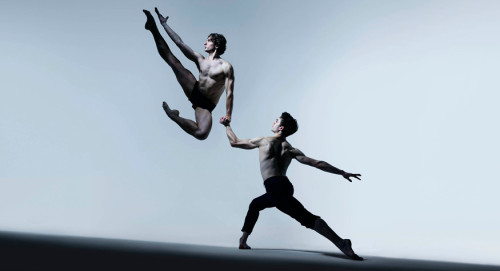 Dancers: Matthew Ball, Mathieu Ganio, Francesca Hayward, Anton Lukovkin, Irek Mukhamedov, Giovanni Princic, Daniel Proietto, Ivan Putrov, Alessandro Staiano, Marian Walter
Production:
Artistic director and producer – Ivan Putrov
Lighting design – Anthony Hateley
As the audience took its seats for Ivan Putrov's Men in Motion at the London Coliseum in 2014, male dancers were doing warm-up exercises on the stage. In what must be the very different world of Men in Motion 2017, the arriving public was subject to a camp and risqué monologue from dancer Daniel Proietto on the theme of Donald Trump, Vladimir Putin and the threat to democracy.
The Mockracy (world premiere), with its monologue written by Andrew Wale, made what can only be an intentionally perplexing start to Putrov's 'exploration and celebration of the role of the male dancer from the post-Romantic era up to the present day'. Shouts of 'Get off!' as the monologue showed no signs of stopping were possibly staged, but a lot of people obviously thought, like King James I during a Twelfth Night masque that bored him: 'Why don't they dance? What did they make me come here for? … Dance!'
After a musical palate cleanser (by a live ensemble) there were any number of male dancers, and one female dancer, to make an audience understand why it came. Proietto himself, at the end of the first part, gave a really memorable performance of Russell Maliphant's Afterlight (Part One) (2009): he brought out the beauty and the sadness.
Before that, Marian Walter, arms covered, legs bare, shifted between outward and inward-directed movement in Ludovic Ondiviela's thoughtful Berlin (2014). Matthew Ball's sustained balances in Christopher Bruce's Excerpt from Swansong, third movement (1987) stilled you as you looked. In a costume designed by Philip Treacy, Mathieu Ganio was resplendent in Alastair Marriott's Clair de Lune (2017). The spangles and feather-like strands attached to the gauze on his upper body were not only spectacular, they also highlighted the breadth of his port de bras. Weber's music itself seemed to drip from Ivan Putrov's fingers as he held them above his head in Fokine's Le Spectre de la Rose (1911). Francesca Hayward was spellbinding, in arabesque and bourrée, as the girl who dreams the 'spectre' into existence.
The second part of the evening opened with virtuosic display by bare-armed, bare-legged Giovanni Princic in Eric Gauthier's ironic Ballet 101 (2006), but neither of the works that followed, Fokine's Petrushka (1911), performed by Anton Lukovkin, and Nureyev's Prince's Variation from Swan Lake Act I (1964 ), Mathieu Ganio (again), ended with the impact they seemed to promise at their start.
In Ludovic Ondiviela's world premiere, System/A.1, Ivan Putrov removes the wrapping from an apparently robotic Matthew Ball and both men embark on the second, searching dance piece of the evening by this choreographer. Like a work Ondiviela created for a Draft Works programme at the Royal Opera House in 2014 (for two female dancers), it shows an individual uncomfortably confronted by a second self.
After Daniel Proietto had returned for a third time to perform Alan Lucien Øeyen's endlessly spinning Sinnerman (2014), to songs by Nina Simone, Alessandro Staiano and Marian Walter took up their places for Roland Petit's Pas de deux from Proust ou les Intermittences du Coeur (1974). One of only two works (out of the programme's thirteen) to show men dancing together, it uses all the resources of the ballet-trained, male body in an intense expression of homosexual desire. Especially so when Gabriel Fauré's music is played live.
The curtain then fell to rise, after an arrangement of Boney M's 'Rasputin', on the figure of Irek Mukhamedov. Grizzly-haired, in braces and vest, he sits on a wooden chest with arms raised in humorous acknowledgement of the audience's veneration or surprise. The Men in Motion of 2017 might have started off in an odd way, but in Jingling from the Zills, the third of the evening's new works, choreographed for Mukhamedov by Arthur Pita, it ended on a note that is both witty and humane.
JohnO'Dwyer