Spain Donizetti, La favorite (concert version): Soloists, Orchestra and Chorus of the Teatro Real / Daniel Oren (conductor), Teatro Real, Madrid, 6.11.2017. (JMI)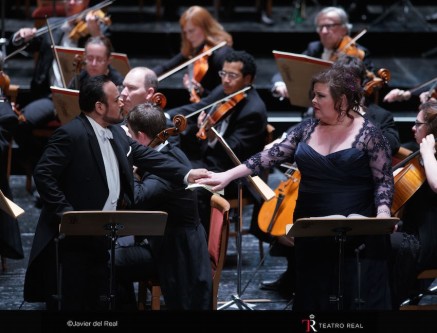 Cast:
Léonor de Guzmán – Jamie Barton
Fernand – Javier Camarena
Alphonse – Simone Piazzola
Balthazar – Simón Orfila
Inès – Marina Monzó
Don Gaspar – Antonio Lozano
To celebrate the twentieth anniversary of its reopening, the Teatro Real has staged a concert version of La favorite, the first opera performed in the theatre when it opened in 1850. The original French version was used and the ballet music was included, though obviously without dancers. It was a marvelous concert, and featured two exceptional principals.
The musical direction was entrusted to Daniel Oren, who has returned to Teatro Real after his Les pêcheurs de perles four years ago, which was also done in concert form. There is no doubt that he is a remarkable conductor who especially shines in this repertoire, as he demonstrated here. I find his gestures and continuous jumps on the podium excessive, but there's no doubt that many spectators love it. Under his baton the Teatro Real's orchestra and chorus once again gave a praise-worthy performance.
The protagonist who gives the opera its title is Léonor de Guzmán, the mistress of King Alfonso XI of Castile, although the work is more identified with the character of the tenor, Fernando. In Madrid we had the debut of Javier Camarena in the role, as well as the presence of mezzo-soprano Jamie Barton as Léonor. Both were excellent, though one must acknowledge that La Favorita del Re was also the audience's 'favorita'.
Jamie Barton, who was making her debut in Madrid, has a wide and very beautiful voice, well-handled and expressive, and an outstanding top register. Her Léonor was superb from start to finish, and her interpretation of 'O mon Fernand' and the subsequent cabaletta were the highlights of the concert. She represents the continuation of the great tradition of American mezzo-sopranos, following in the footsteps of Marilyn Horne and Dolora Zajick. There's really no comparison to Jamie Barton in this role today, except Elīna Garanča.
Javier Camarena showed that the sceptre of Alfredo Kraus is now well covered by him and by Juan Diego Flórez. Personally, I prefer Camarena to Flórez: in the most dramatic moments, especially at the end of Act III, Camarena's voice seems more suited to the role than Flórez's. The always expected 'Spirto gentil' – or 'Ange si pur' in the French version – was quite good, but it did not reach the height that can be expected from this great singer.
Alphonse was played by baritone Simone Piazzola, who once again left me a little indifferent. His voice does not seem as impressive as a few years ago, and he did not go beyond a correct rendering. Simón Orfila, the good professional that he always is, showed power and sonority in the character of Balthazar. Marina Monzó did well as Inès, and sang her Act I aria with gusto. Antonio Lozano was adequate in the role of Don Gaspar.
José M. Irurzun