Carly Paoli Announces Headline Concert at London's Cadogan Hall
Thursday 15th February 2018
Tickets available from carlypaoli.tmstor.es/ and cadoganhall.com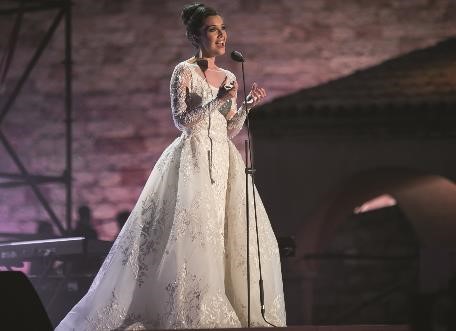 '[Carly Paoli] effortlessly straddles two countries – Britain and Italy – and two musical genres, classical and popular….What a talent" **** David Mellor, Event Magazine, Mail on Sunday
Carly Paoli has been delighting audiences throughout the world, shared stages with Andrea Bocelli, José Carreras and Elaine Paige, and can count Pope Francis and Prince Charles amongst her fans. Now, following the release of her acclaimed debut album 'Singing My Dreams', the classically trained singer is looking forward to this special concert at London's Cadogan Hall.  
'I'm so excited that I will be performing my own concert with orchestra in the stunning Cadogan Hall. This will be my opportunity to share the music from 'Singing My Dreams' – plus other songs close to my heart – with the audience. I can't wait!'
Carly will be performing with the Abiah Symphony Orchestra conducted by Grammy-award winning composer Steven Mercurio. Her special guests are Grammy-award winning flautist, Andrea Griminelli, Italian tenor Fredrico Paciotti and Tring Park 16 choir. The evening will provide an opportunity to experience the emotional, sincere and dramatic performances that have captured audiences wherever the young artist has appeared.
Speaking about Federico, Carly said 'I am fascinated by the innovative way that Federico has chosen to showcase his twin talents – singing and playing the rock guitar. It is something completely new and the combination of his guitar playing and then his magnificent operatic tenor sound is absolutely stunning. Federico was part of 'La Dolce Vita', a concert devoted to Italian film music, and I am thrilled that I get to be on stage with him again.'
Maestro Mercurio is an internationally acclaimed conductor, composer and arranger whose musical versatility encompasses the symphonic and operatic worlds. 'I first met Steven in the wonderful Rome Auditorium when we were rehearsing 'La Dolce Vita'. Straightaway I was aware of his charisma and energy and his love and complete passion for the music. He is fantastic to work with as he seems to really empathise and understand what a singer needs. I am so excited that I get to work with him again in music that I am also passionate about.
On its release in 2017 Carly's debut album 'Singing My Dreams' drew praise around the world, with classical critic David Mellor awarding it 4 stars and declaring 'the operatic quality of her voice shines through'. The album reached number 2 in the UK classical charts where it continues to ride high. Sky Arts broadcast Music For Mercy, a unique concert held at the ancient Roman Forum headlined by Carly and featuring Andrea Bocelli, with special guests, Elaine Paige, David Foster, The Tenors and Giovanni Caccamo.
'However exhilarating it is to create an album the thing that affords me even greater joy is to perform the music from that album to a 'live' audience. Privately, I'm reserved, but since childhood I've lived to sing on stage. I'm sure most artists would agree that there's something extra special to live music, especially when accompanied by an orchestra. I think it's a delight for both performer and audience to experience everyone on stage moving as one, playing and singing in complete harmony.'
In Italy, Carly's achievements in art and culture were recognised when she was awarded with the prestigious Premio Barocco award (previous recipients include Dame Helen Mirren and Luciano Pavarotti). In 2016 'Ave Maria', a song from her album, was chosen as the official song of the Pope's Jubilee celebrations.