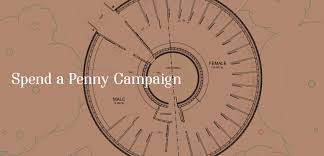 Grange Park Opera's Spend a Penny Campaign
Phase two of the Theatre in the Woods Appeal announced
The summer of 2017 saw the beginning of something truly extraordinary taking shape in the woods of West Horsley Place when Grange Park Opera opened for its debut season in its glorious purpose-built theatre – the first new opera house of the 21st Century.
Created entirely by private donations and built in the space of 11 months, Grange Park Opera proves how much can be achieved with unflagging determination and broad support.
With this in mind, GPO is now ready to announce phase 2 of its launch appeal which will see the full vision realised in time to welcome more visitors to this magical venue.
Phase one saw GPO achieve donations of £10m and 90% of the building works accomplished – creating a functioning opera house in under one year in time for the grand opening in June 2017.
Phase two aims to raise a further £4m in order to complete the beautiful theatre and ensure the future of Grange Park Opera with a £2.5m endowment fund. Improvements will include cross- gartered brickwork for the exterior, a fanfare balcony, larch cladding around the dressing rooms and 'tweaks' to the interior staircases and vestibules under the expert eye of Nicky Haslam.
We couldn't hang on any longer . . .
The centre-piece of the Phase two appeal is the creation of the marvellous Lavatorium Rotundum: a circular masterpiece of a lavatory, built around a black poplar tree in the venerable orchards of West Horsley Place.
With more than 14,000 visitors in the opening year, we wouldn't want anyone to be caught short and the Lavatorium Rotundum provides a masterpiece in response to an absolute necessity, following the axiom of the great William Morris "Have nothing in your house that you do not know  to be useful, or believe to be  beautiful."
Everything will be in place in time for the opening of the 2018 season: 7 June – 14 July
Rogers & Hammerstein's masterpiece, Oklahoma!
Gounod's heart-rending Roméo et Juliette
Verdi's dramatic tale of intrigue Un Ballo in
The orchestra of English National Opera will be playing for the two operas.
More about the campaign visit grangeparkopera.co.uk/spend-a-penny.
For more about Grange Park Opera in 2018 click here.