United Kingdom Nico Muhly, Marnie: Soloists, chorus and orchestra of English National Opera / Martyn Brabbins (conductor), London Coliseum, 18.11.2017. (JPr)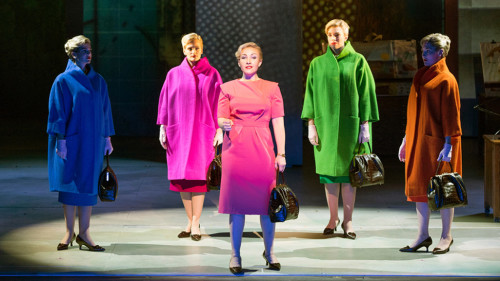 Production:
Director – Michael Mayer
Set and projection designers – Julian Crouch & 59 Productions Ltd.
Costume designer – Arianne Phillips
Lighting designer – Kevin Adams
Movement director – Lynne Page
Cast included:
Marnie – Sasha Cooke
Mark Rutland – Daniel Okulitch
Terry Rutland – James Laing
Mrs Rutland – Lesley Garrett
Lucy – Diana Montague
Mr Strutt – Alasdair Elliott
Marnie's mother – Kathleen Wilkinson
Six years ago English National Opera staged the world premiere of Nico Muhly's first opera Two Boys; now his third one is seen for the first time at the London Coliseum, and again it is a co-production with the Metropolitan Opera, New York. That is especially significant for this new work, Marnie, as I will explain in due course.
The title will be familiar to some, perhaps not to others. It could be from Winston Graham's original 1961 novel, whist for me it is Hitchcock's 1964 film adaptation. The story aside, as a piece of cinema it is simply appallingly executed and vastly overrated, as is much of the director's oeuvre, regardless of how much I have always enjoyed watching The Birds. Within the first few minutes there is some ridiculous horse-riding against back projection, and quickly thereafter we see a risible matte shot of a huge cartoon-like ship. It doesn't get much better from then on, despite fine performance from Tippi Hedren and Sean Connery, who incidentally, rarely seemed to have actually been filmed together at the same time. As Muhly reminds us in a programme essay Hedren has stated 'Hitchcock had sexually assaulted her' even though adding he 'was brilliant. The story is always the thing and he managed to find intriguing scripts.'
It was stage director Michael Mayer's idea that Marnie would make a 'fabulous opera'. You can also read Paul Cremo's 'Exploring Marnie' which include the concise CliffsNotes about the leading character: 'Marnie, a serial thief and liar haunted by childhood guilt, moves from town to town, changing her identity with every job and stealing from each employer, and avoiding all intimacy, only to end up blackmailed into marrying Mark Rutland, the boss who catches her stealing from his firm.'
Against a background of daily news coverage of (often) men (often) in positions of power being accused of sexually inappropriate behaviour, Muhly's Marnie should have something more to 'say' to us in 2017 than it actually does. The composer writes that – together with the director and librettist Nicholas Wright – 'The three of us quickly agreed to focus on the original book with its subtleties and nuances that are missing from the movie. As is necessary with filmed adaptations, characters in the Hitchcock adaptation had been cut or consolidated, locations changed, plotlines simplified.' They bring Marnie back to England in 1959, but I will explore soon whether it really is England. Incidentally the film's running time is 130 minutes only a few minutes shorter than Muhly's opera, and which is the better story, surprisingly it is Hitchcock and his screenplay by Jay Presson Allen!
The performance itself is a remarkably company achievement and is well-staged, with singers, chorus and orchestra on top form for Martyn Brabbins making his debut as ENO's music director. Unfortunately, all this effort is ultimately wasted on a work that is often dramatically inert and where the 'sex pest' Terry Rutland, Mark's brother, is a countertenor and, as such, sounds no real threat to anyone whatsoever. The story races through Act I to climax(?) with Mark's attempt to rape Marnie on their honeymoon, followed by her attempted suicide which is never mentioned again. Then after the interval there are too many longueurs, including an opening scene where Mark rambles on about a deer in a meadow trying to entice Marnie into his bed by bringing back 'home' Forio, her much-loved horse.
There are plot holes in the film of course; but here Marnie's fraught – uncomfortable – relationship with her mother (the splendid Kathleen Wilkinson) is not properly established, nor is her fear of thunder and nor is her frigidity. Hitchcock does this much better …and I am surprised to find myself writing this.
I suspect Michael Mayer does the best he can with what he is given to work with. There are some interesting ideas such as multiple Mark Rutlands and the four additional 'Shadow Marnies' to embody her repressed and conflicting emotions, especially during her Act II analysis in the psychiatrist's office. The fine ENO Chorus is used extensively as office workers, party guests, members of a hunt and attendees at a funeral, and often comment on what we see. They are not always given something very meaningful to sing until their very affecting rendition of 'Praise, My Soul, the King of Heaven' right at the end as Marnie achieves redemption and release. She comes to terms with her actions and gives herself up to the police with her final words, 'I'm free'.
The production looks superb, with designer Julian Crouch's sparse use of furniture and some interesting projections from 59 Productions Ltd on screens and flats moving smoothly about the stage for the changes of scene. The pivotal Act II fox hunt was always going to be difficult to pull off successfully – as Muhly himself readily admits – so despite the slow-motion visuals of the legs of a running horse, some writhing dancers, and the chorus's interjections, the 'hunt' outstays its welcome and doesn't quite work. Arianne Phillips's costumes are simply stunning, with excellent period detail. Here they are clearly a homage to the film and Marnie appears at Mark's house looking like Tippi Hedren, with Mark – when in his business suit and wearing a trilby – looking as Sean Connery did.
I don't know if I am the only one to suspect that if Muhly's Marnie (by special arrangement with Universal Pictures) does get to the Met (supposedly next season) it will set the action again on America's East Coast. Wasn't that an American safe I saw and just how many after work office poker evenings were there in Britain in 1959? There is a pool table in Mark's home and he is seen in an American tuxedo rather than the English 'dinner jacket' at one point. I doubt a New York audience would understand references to Birmingham, Beaconsfield, Barnet, Bournemouth, or the Watford Playhouse. They would also scratch their head when Marnie is told to 'keep her hand on her ha'penny' to protect herself from Terry. Generally, Nicholas Wright's libretto is somewhat prosaic and fails to bring a sense of realism to the characters, their motivations and relationships.
Muhly's music is Brittenesque with a hint – from my limited knowledge of his work – John Adams. It allows pay homage to Bernard Hermann's original film score in the more suspenseful moments in this opera, of which there are too few. It sounds like each character gets its own orchestral instrument – an oboe for Marnie, a trumpet for Terry and Mark has trombones – to illuminate their essential nature.
All the singers do well with what they are given, and it is not Sasha Cooke's fault that she cannot bring Marnie to true life despite singing wonderfully well – particularly in her more reflective soliloquies –  and she certainly 'looks the part'.  Daniel Okulitch's eloquently sung Mark is too much of a cypher in this Marnie and is a bit dull …though again it is probably not his fault. Their troubled marriage never particularly engages us. Terry is another underdeveloped character and another excellent singer, James Laing, is miscast as I hinted above. Amongst a solid supporting ensemble there are good performance from Diana Montague as Lucy, Marnie's mother's neighbour, and Lesley Garrett – on a rare return to ENO – as Mark's domineering mother. Ms Garrett is however occasionally sorely tested by Muhly's musical leaps and tessitura as was young Leo Sellis singing the Little Boy we see at Marnie's mother's house.
If it lost a few minutes and was performed as a one-act opera it might allow tension to build better, so Marnie being set free at the end would be a more cathartic experience for her as well as us in the audience.
Jim Pritchard
For more about what is at ENO click here.