United Kingdom Janáček, From the House of the Dead: Soloists, Chorus and Orchestra of Welsh National Opera / Tomáš Hanus (conductor), Venue Cymru (North Wales Theatre), Llandudno, 26.10.2017. (RJF)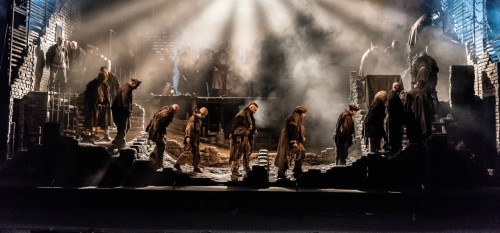 Cast included:
Goranchkv – Ben McAteer
Filka Morozov – Mark Le Brocq
Alyeya – Paula Greenwood
Skuratov – Alan Oke
Shishkov – Simon Bailey
Shapkin – Adrian Thompson
Commandant – Robert Hayward
Big Convict – Paul Charles Clarke
Small Convict – Quentin Hayes
Don Juan – Julian Close
Production:
Director – David Pountney
Designer – Maria Björnson
Lighting Designer – Chris Ellis
Tomáš Hanus, having conducted Khovanshchina on Tuesday evening in Llandudno, flew to Vienna for another engagement at the Volksoper and then flew back to conduct this work on Thursday evening. As there is no International Airport within eighty miles I guess he had a hectic couple of days! Born in the same city as the composer he perhaps felt a debt fulfilled by conducting what is essentially a World Premiere series of performances of this final and uncompleted work by the composer and now brought to fruition for the first time on stage, or elsewhere, in John Tyrrell's critical edition of the score. Hanus's hectic personal preparation might be considered ideal for an opera such as this, lacking as it does much semblance of melodic line, in the traditional sense, on which the singers can sit their voices and create a character. The structure of the work seems to be built round a series of solo vocal contributions backed by a sequence of orchestral sounds as the prisoners variously declaim their experiences and the violence within the prison, such as scalding water being poured on the head of a female visitor, perhaps a prostitute. Played without interval the ninety minutes were challenging for many of the audience.
Several of the solo singers were appearing in their second work of the week and were probably relieved that it was given in English and not the original language. All managed their contribution in this difficult work, for want of a better description, with distinction. The contribution of Paula Greenwood's soprano lightened the darkness of the male dominated cast. Of the latter there were several distinctive and notable contributions. Alan Oke was a characterful Skuratov, whilst Mark Le Brocq's as Luka Kuzmich was worthy of note as was Simon Bailey as Shishkov. Members of the choral ensemble of WNO, which is outstanding in every respect as was seen and heard in Khovanshchina, took several of the smaller vocal parts wholly commendably.
The story is based around Dostoevsky's account of his years spent incarcerated in a Siberian prison camp. Maria Björnson's set of the jail is naturalistic and Pountney's production uses it effectively to reflect the claustrophobic ambience as well as the violence perpetrated within. The release of an incarcerated falcon, represented by projection, seemed somehow incongruous.
At the conclusion, a claque among the small audience made a lot of stamping of approval, whilst others looked bemused. It is certainly not music or story for the faint hearted, but an extreme example, in his ultimate operatic composition, of the direction of Janáček's earlier work that Sir Charles Mackerras (1925-2010) did so much to promote in the West and which is represented in his extensive discography.
Robert J Farr