United Kingdom Schubert and Liszt: Llŷr Williams (piano), The Dora Stoutzker Hall, Royal Welsh College of Music and Drama, Cardiff. 9.11.2017. (GPu)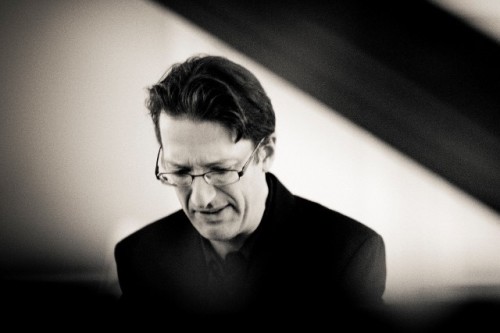 Schubert – Sonata in G major, D.894; Sonata in C minor, D.958
Schubert / Liszt – Ständchen, S. 558, No.9; Auf dem Wasser zu singen, S.558, No.2; 'Ave Maria', S. 558, No.12
For all the grandeur of many of its buildings, all the beauty of the cathedral of St. Stephen, the paintings by Klimt and others, the impressive installations in the Haus der Musik, and the interesting exhibitions in the Mozart Haus, for me the most memorable (and moving) thing to be seen in Vienna is a pair of broken spectacles. The spectacles in question belonged to Franz Schubert and are on display in the house in which he was born on Nussdorferstrasse. With their metal frames and spherical lenses they are familiar from many of the surviving portraits of Schubert, such as the sketch by Moritz van Schwind or the engraving by Pasini (based on a water colour by Rieder). This particular pair has strong horizontal cracks across the centre of each lense.
The Birthouse Museum as a whole makes clear the very straitened circumstances in which Schubert was born. But the spectacles in particular are powerfully emblematic of the human frailty which Schubert's brief life seems to embody, given his history of repeated illness, his times of poverty, his failed relationships and his struggles with music publishers, his relative neglect, during a life the last years of which were lived in the knowledge that he would die young. As such, Schubert's music, great and profound as it is, rarely, if ever, has that Olympian quality which so often characterises the work of, say, Mozart and Beethoven – a sense of having come from a realm above the world of human suffering, however difficult we know the composer's actual circumstances to have been at the time of its writing.
For reasons such as these, I am somewhat uncomfortable with the ease with which Schubert's late piano sonatas are regularly described as 'Beethovenian'. There is, of course, no doubting Schubert's admiration of Beethoven's music, particularly at this stage of his life. Nor can one deny the presence of 'borrowings' from Beethoven in works such as the Sonata in C minor, D.958, where the Allegro opens in a manner very reminiscent of the theme used by Beethoven in his 32 Piano Variations (WoO 80). But I suspect that Brendel was close to the truth when he wrote that 'Schubert relates to Beethoven, he reacts to him, but he follows him hardly at all. Models are concealed, transformed, surpassed'. No doubt the very grandeur of conception which marks Schubert's last three sonatas (D.958- D.960) is a sign, albeit a rather vague one, of his indebtedness to the example of Beethoven. Yet, at a profound level, the temper of the two men's music remains distinct. Schubert's, far more than Beethoven's, is deeply stamped with that sense of human frailty of which the broken spectacles speak so powerfully. Beethoven often makes one think of Michelangelo; listening to Schubert's late sonatas always makes me recall Salvator Rosa's astonishing painting L'Umana Fragilita (now in the Fitzwilliam Museum in Cambridge).
In this exciting recital by Llŷr Williams (the first of a series devoted to the late piano music of Schubert), the pianist sometimes seemed in danger of overemphasising the Beethovenian impulse towards the transcendence of mere human frailties, at the cost of Schubert's grounding in L'Umana Fragilita. For the most part, however, he articulated and balanced both dimensions of this remarkable music.
Williams, in a brief introduction, called D.958 'the most Beethovenian of Schubert's sonatas'. True enough, no doubt. But the statement needs qualification (which Williams effectively provided in performance), of the sort Charles Osborne makes, when he writes of the same sonata that it is 'in style, perhaps the most Beethovenian of [Schubert's] piano works, yet its personal utterance, its individual tone, is very much that of Schubert'. Yet, to quote Alfred Einstein, 'who could possibly write piano sonatas in 1828 without thinking of the great master of the sonata?'.
Williams certainly began D.958 in a thoroughly Beethovenian manner, finding in the opening Allegro a dramatic and heroic monumentality. Yet he did not entirely neglect the passages of Schubertian intimacy either. In the Adagio which follows (the very presence of the word 'Adagio', rather than 'Andante' has been taken a sign of Beethoven's influence), the dominant tone is decidedly Schubertian, lyrically intimate and poignant (there is something of that Schubertian poignancy which flirts – no more! – with sentimentality); when the tranquility is disturbed in this movement it is not by a transposition into a more Beethovenian mode, rather the emotional world remains characteristically Schubertian, the music reminiscent, indeed, of more than one of his songs. If there is a musical allusion in this movement it is not to Beethoven, but to Schubert's own earlier work; this movement, to quote Einstein once more, is 'as closely related to the 'Andante molto' of the E flat major sonata of 1817 as brother to sister: in both movements the character of the middle-section is almost completely identical'. Williams' reading didn't seem to me to be quite as convincing as it had in the initial Allegro, there being just occasionally an over-emphasis which was false to the innerness and implicit expression of Schubert's writing.
Any such minor misgivings disappeared with Williams' playing of the following Menuet and Trio and the closing Allegro. These two remarkable movements show every sign of having been written out of Schubert's awareness of his approaching death – he must have come, long before, to the realisation that his Syphilitic condition was a death sentence. These movements do not speak of anything as simple as the 'fear' of death, but rather, I would suggest, of something memorably expressed by John Keats (a near contemporary, some of whose greatest work was also written in the shadow of approaching death); the lines are from a sonnet, 'When I have fears':
When I have fears that I may cease to be
Before my pen has gleaned my teeming brain,
Before high-piled books, in charactery,
Hold like rich garners the full-ripened grain
Schubert's awareness both of his 'teeming' brain, of all that he still had to say, and of the nearness of his death, is something he shared with Keats, something which the two artists expressed in their different mediums.
The remarkable Menuet and Trio of this sonata retains the shape of a classical minuet and trio, but subverts the normal mood of such a movement, being dark, metaphorically 'diseased' (the etymology of 'disease'– 'lacking in comfort' – is relevant here) and death-haunted. The same epithets apply even more forcefully to the final allegro, a relentless tarantella that races towards exhaustion and 'death'. Williams played these two movements with very impressive power, conjoined to subtlety and intelligence. Rightly, there was little or nothing of the 'defiance' Beethoven would surely have brought to two such movements. Williams found here a ferocity that almost had the quality of possession, reminding one of the historic connections between the dance of the tarantella, and the manic 'death' dances of Dionysiac cults. Williams took the movement at a dazzlingly rapid tempo, with an unstoppable (save by exhaustion and death) momentum. It brought the recital to a spectacular, if disturbing, conclusion.
It had begun a world away, with the Sonata in G major (D.894); where turbulence and apprehension dominate D.958, here, in a sonata written two years earlier, such emotions, while present, are subordinated to a larger serenity. There is much in the whole sonata to which Schubert's first-movement marking ('Molto moderato e cantabile') might apply, by extension. The prevailing qualities of lyricism and simplicity are never far away, with extremes avoided. Indeed, the third movement has a decidedly rustic quality, being more of a Ländler than a Minuet. The closing movement, marked Allegretto, is permeated by implications of song and dance (though it is a far more 'comfortable' dance than the tarantella!).
Although there was much to admire in Williams' reading of D.984 (particularly in the Andante), it was, taken as a whole, a little less convincing and compelling than his superb account of D.958. In the first movement the use of rubato seemed, at times, a little excessive and rather at odds with the lyrical simplicity of the writing. The second movement, however, was played with great authority, a winning lyricism and sense of balance, with justice being done both to the prevailing tranquility and to the movement's stormier passages. The third movement was, again, sure-footed, having an attractive lilt as much like Haydn as Schubert. The last movement perhaps had a little too much that was forceful and fast (the marking, after all, is allegretto).
Between these two great sonatas, Williams played three of Liszt's transcriptions of Schubert's songs. The outstanding piece was the version of Auf dem Wasser zu singen, in which Schubert's beautiful melody is richly decorated, but is nevertheless allowed to sing out clearly; at the same time the gentle lapping of water, the sound of the reeds on the bank and the bobbing up and down of the boat are all vividly evoked, so that Llŷr Williams' performance painted a memorable aural picture. Nor was the song's sense of melancholy, of individual sorrow, lost amidst the greater number of notes. Not for the first time, Williams showed his gift for finding the balance between the voices of Schubert and Liszt in these transcriptions.
In Stänchen, however, Liszt seems to inflate (and, in the process, go some way towards distorting) the original. The result is a striking piece of keyboard music, which Williams played with technical certainty and a strong sense of engagement. Yet it is difficult to escape the sense that this is a transcription which impoverishes its original, while trying to enhance it. It was a very popular piece with the audience's which attended Liszt's recitals and he programmed it frequently, perhaps because it is a piece which is far more Lisztean than Schubertian.
What is commonly called Schubert's 'Ave Maria' was actually a setting, not of the Latin text, but of a lyric ('Ellen's Song') from Sir Walter Scott's The Lady of the Lake (Canto III, verse xxix). Liszt's transcription is a technically demanding piece, which Williams brought off very well, even if the famous cantabile melody was, once or twice, in danger of being submerged in Liszt's dramatic rewriting of the song.
Overall, this was a rewarding recital, with the concluding performance of the Sonata in C minor (D.958) being on a level (memorable and rich in insight) not quite matched elsewhere in the programme.
Glyn Pursglove