United Kingdom Tchaikovsky, Eugene Onegin: Soloists, Chorus and Orchestra of Welsh National Opera / Ainár Rubiķis (conductor), Venue Cymru (North Wales Theatre), Llandudno. 25.10.2017. (RJF)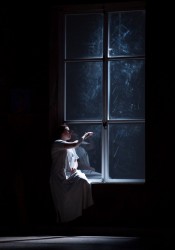 Cast:
Tatyana – Natalya Romaniw
Olga – Claudia Huckle
Mme Larina – Camilla Roberts
Filipyevna – Liuba Sokolova
Lensky – Jason Bridges
Onegin – Gareth Brynmor John
Captain – Laurence Cole
Zaretsky – Alastair Moore
Monsieur Triquet – Joe Roche
Streshnev – Gareth Dafydd Morris
Prince Gremin – Miklós Sebestyén
Choir Leader – Dimo Georgiev
Guillot – Philip Lloyd Holtham
Production:
Director – James Macdonald
Designer – Tobias Hoheisel
Lighting Designer – Andreas Grűter
Revival Director – Caroline Chaney
Choreographer – Stuart Hopps
Chorus Master –Stephen Harris
Following the rarely heard Mussorgsky opera Khovanshchina (click here), followed by the even rarer Janáček's From The House of the Dead in WNO's autumn tour themed Russian Revolution, it being the centenary year of the Bolshevik take over of the country, it seemed strange to be faced with a relatively more mainstream opera. However, as in 2008, the last time WNO brought the work to Llandudno, it was necessary to make a statement from the front of the stage for a major role, in this case that of the eponymous baritone who had become unavailable on the day and his cover seemingly having had to travel a considerable distance to be in Llandudno. It says much for WNO's stage rehearsals for covers that he slotted seamlessly into the production. His interpretation lacked nothing in elegance of tone and vocal expression and was only limited by his looking a little older than Onegin at twenty-five might have done. For those who had not the benefit of the information that came in later, with the Venue Cymru front of house staff not even being able to name him let alone have a brief biography available, Mr John had graduated from St John's Cambridge before further study at the Royal Academy and the National Opera Studio. A former Kathleen Ferrier Award winner he had previously sung Shaunard in La bohème for WNO.
Overall the somewhat turgid production was not helped musically by conductor Ainár Rubiķis' slow tempi in Act I as he felt his way into the unfriendly acoustic of Venue Cymru, his first appearance there. The slowness of the productions scene changes did not help either in what is a rather simplistic set. However, there were compensations present in the performances of a number of the singers. Although looking a little young,
Camilla Roberts sang an appealing and well-characterised Mme Larina with nurse the Filipyevna of Liuba Sokolova being notable for acting and walking like an older woman whilst singing with character and doubtless finding the language easier having trained at the Marinsky Opera, St Petersburg. Whilst her name might have indicated Slavic origins, Natalya Romaniw was born in Swansea, a fact that made her outstandingly sung and acted interpretation as Tatyana even more commendable, she looked quite stunning in the final act as Prince Gremin's wife. As her sister Olga Claudia Huckle sang with good tone and brought character to the role with her beau Lensky, the tall and handsome Jason Bridges making more of the role than is often the case.
Having impressed me as Dosifei in Khovanschina the previous evening, Miklós Sebestyén gave a fine vocal rendition of the only formal aria in the score in the first scene of the final act before Onegin eats humble pie and pleads with Tatyana to leave her husband and go with him. Substitute Gareth Brynmor John confirmed his vocal and histrionic qualities in this emotional scene. Earlier as Monsieur Triquet, Joe Roche had sung his aria and contribution with pleasing light tenor tone and exemplary French that I could follow without the titles, having recently returned from several weeks in that country. A plus for both of us!
Robert J Farr