Sweden Victoria Borisova-Ollas, Dracula: Soloists, Royal Stockholm Opera Chorus and Orchestra / Karen Kamensek (conductor). Stockholm Royal Opera 28.10.2017 (World Premiere). (GF)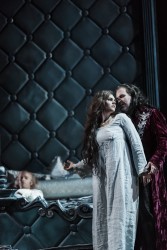 Production:
Libretto – Claes Peter Hellwig and Kristian Benkö
Direction – Linus Fellbom
Sets, Costumes & Masks – Dan Potra
Lighting Design – Linus Fellbom
Sound – Lars-Göran Ehn
Choreography – Lars Bethke
Dramaturge – Katarina Aronsson
Cast:
Mina – Elisabeth Meyer
Dracula – Ola Eliasson
Dracula's second guise – Lars Bethke
Jonathan – Joel Annmo
Lucy – Sanna Gibbs
Renfield – Jonas Degerfeldt
Elisabetha – Katarina Leoson
Van Helsing – Lars Arvidson
Dr. Seward – Johan Edholm
Holmwood – Kristian Flor
Quincey – Jon Nilsson
Mrs Westenra – Susann Végh
Three Vampires – Kristina Hansson Unander, Kristina Hanson, Olof LIlja
Maria – Louise Reitberger
The Priest – Henrik Hugo
The opera is based on Bram Stoker's classic novel of 1897, and most people know at least the essentials of the story. It has been filmed a number of times, including F.W. Murnau's unauthorized Nosferatu in 1922, Tod Browning's Dracula in 1931, starring Bela Lugosi as Count Dracula, Terence Fisher's Dracula in technicolor starring Christopher Lee in 1958 and Francis Ford Coppola's Bram Stoker's Dracula in 1992, with Gary Oldman as Count Dracula. This, however, is the first time the tale has reached the operatic stage, and it is a truly stunning and spectacular, visually and musically. The story is told in a number of consecutive episodes and ingeniously elegant scene shifts. There are moving beds, fighting swords without bearers, figures floating in the air, smoke (perhaps even too much for the oversensitive), rats running across the stage, flashing light effects and eerie sounds. It is a kaleidoscopic production, in particular during the first sprawling act. There is much more unity in the second act, where the attraction between Mina and Count Dracula is outlined more sharply and touchingly. At the premiere, the fire alarm went off toward the end of the first act and the audience were requested to vacate the premises – which they did in an orderly fashion. Out on the street I happened to bump into the opera director, who declared emphatically: 'This is not part of the show!' Fortunately it turned out to be a false alarm and the performance resumed after some twenty minutes.
Victoria Borisova-Ollas has created a colourful and highly atmospheric musical score for this drama, flexibly adjusted to the varied situation. Several powerful choruses left a strong impression, and the long and beautiful love scene in the second act, where Mina and Count Dracula finally abandon their inhibitions and touch and embrace each other, both physically and musically, must be one of the most emotional scenes in any Swedish opera. (Ms Borisova-Ollas grew up in Vladivostok in the easternmost part of Russia, but she has been living in Sweden for 25 years.) There are several other deeply expressive scenes, solo numbers as well as ensembles, but then there are also scenes with rather uninteresting recitatives mixed with spoken dialogue which could have been developed further. In an interview in the programme notes, the composer also says that in future she may put more emphasis on arias and would also like a libretto written in verse.
The characters are a motley crowd but there are many finely characterized portraits, even of relatively minor roles. Centre-stage are of course Elisabeth Meyer's Mina and Ola Eliasson's Count Dracula, as well as Lars Bethke's virtuoso impersonation of Dracula's second guise. Ms Meyer's development from a woman stuck in the middle-class values of Victorian England into a strong and independent character with self-esteem is graphically depicted, just as Eliasson's transformation from bloodthirsty vampire to human and rather reserved. Both are deeply committed to their roles. Joel Annmo, Mina's husband Jonathan, who is sick in bed most of the time, is suitably anaemic, while Sanna Gibbs is a Lucy full of zest for life – and her bright soprano is in wonderful shape. As Van Helsing, the scientist, who finally reveals that the well-behaved Count is in fact the vampire who killed Lucy, Lars Arvidson adds another insightful role portrait to his list of qualifications. And these are merely the most prominent characters.
With great pleasure I noted that there were more 'young' people in the audience than on any other premiere I have attended at the Royal Opera. Interest in Gothic tales is obviously great, which also showed at the dress rehearsal two days before the premiere, when more than one thousand visitors, mostly young people, came dressed up as vampires. Hopefully at least some of them will feel inspired to see other operas as well.
This Dracula is most certainly a production that has what it takes to become long-lived. It will run until December 7th, and several performances are already sold out or have only a limited number of tickets left. A second round next season would certainly sell well, too.
Göran Forsling
 For more about Swedish Royal Opera click here.