United States John Adams, Girls of the Golden West: Soloists, orchestra and chorus of San Francisco Opera / Grant Gershon (conductor), War Memorial Opera House, San Francisco. 21.11.2017. (HS)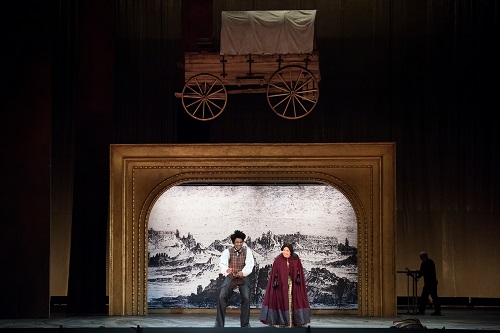 Cast:
Dame Shirley — Julia Bullock
Ned Peters — Davóne Tines
Joe Cannon — Paul Appleby
Ah Sing — Hye Jung Lee
Clarence — Ryan McKinny
Josefa Segovia — J'Nai Bridges
Ramón — Elliot Madore
Lola Montez — Lorena Feijóo (dancer)
Production:
Librettist/Director — Peter Sellars
Conductor — Grant Gershon
Set Designer — David Gropman
Costume Designer — Rita Ryack
Lighting Designer — James F. Ingalls
Sound Designer — Mark Grey
Chorus Director — Ian Robertson
Choreographer — John Heginbotham
So much effort, so much truly great singing, and some of composer John Adams' most direct writing in years went into his ambitious opera Girls of the Golden West, that it may be hard to fathom where the world premiere stumbles. But it's worth a try.
Tuesday night's opening performance, the first of eight capping San Francisco Opera's fall season, displayed a stunning cast of young singers (three of them making their company debuts) and robust conducting from Grant Gershon, leading here for the first time.
Adams and his long-time collaborator Peter Sellars thoroughly researched the history of the California Gold Rush. Sellars fashioned his entire libretto from the source material, especially The Shirley Letters, by Louise A.K.S. Clappe, a trove of contemporaneous literature treasured by California historians for its keen observations and literary merit. The rest uses writings of Mark Twain (from Roughing It), poetry by Chinese immigrants and Argentine poet Alfonsina Storni, a stirring speech by Frederick Douglass, excerpts from Shakespeare's Macbeth, and collections of miner's songs.
Therein may lie one reason for a dramatic inertness that drags down the opera's 3 hours and 20 minutes. As beautiful as all this writing can be on its own, it's mostly descriptive. As a result, the drama reaches the audience one step removed. Only when the source material soars with personal fervor, a relatively rare occurrence, does a memorable aria emerge from the long stretches of narrative.
From one scene to the next, the episodic dramatic structure shifts cinematically from one character's story to another. The entire first half is Dame Shirley's unflinching, tough, yet touching portrait of life around the mines as the 1849 Gold Rush starts to peter out. The second half traces one big dramatic arc—an actual event, the murderous Fourth of July riot in Downieville, in which white miners attacked and ousted Mexicans, Argentines and Chinese from their midst.
Set designer David Gropman's minimalist staging allows quick changes of scenery, and conjures some strong images, especially a stump of a felled giant redwood that dominates Act II. Flat brown tree trunks glide across the stage into different combinations, their bases also serving as doors for interior scenes.
As Dame Shirley, soprano Julia Bullock – in radiant voice and a compelling stage presence in her company debut – narrates the descriptive first half, while others in the cast act out her stories. It's more pageant than drama.
The big moments arrive when the content becomes personal. As Ned Peters, a fugitive slave, Davóne Tines is involved in two of them, in a scene-stealing company debut with his resonant bass and dignified demeanor. At the end of Act I, Tines serves an unexpected feast his character has prepared to Dame Shirley, in a scene of touching gentleness and simple majesty, a moment of beauty after all those rough textures.
In Act I, set mostly in a tawdry miners' bar, we meet the other key players. As the hard-luck miner Clarence, Ryan McKinny (the third debutant in the cast) sets the scene, singing Shirley's descriptive words in a manly buckskin jacket and resonant baritone. We watch the self-destructive miner Joe Cannon (Paul Appleby, whose sturdy baritone and increasingly disheveled appearance tell us all we need to know) throw away a fortune and a devoted lover—the prostitute Ah Sing. Hye Jung Lee, who wowed as Madame Mao in the company's 2012 staging of Adams' Nixon in China, travels in the soprano's stratosphere with often thrilling accuracy and point, to create an indelible character in Ah Sing.
We also encounter Josefa (mezzo-soprano J'Nai Bridges) and her lover Ramón (baritone Elliot Madore), who run the bar. They sing about how important having a 'beautiful girl' is to a hotel's success, and there's a nice little love scene as they recall how they met. Later the lynching of Josefa becomes the focal point of Act II. It's preceded by her fine musical lament, a setting of Storni's Spanish-language poetry. But by not developing the character until this moment, Sellars casts her death (seen from a remove) as a tragic random act. How much more powerful would that culmination have been if the audience had developed a personal relationship with the character?
The high point of the opera, both musically and dramatically, is not these scenes. It comes in the midst of the riot. Ned mounts the stump of a felled giant redwood, which has served as the stage for the Act II celebrations. To Douglass' searing speech 'What to a Slave is the Fourth of July?' he delivers a soaring moment of power to an empty stage, and we realize what has been missing for the rest of the evening: personal conviction, the passionate lingua franca of opera.
The chorus, all men representing the mostly male denizens of a Gold Rush town, delivers rhythmic, often repetitive music that accurately indicates their simplicity. But a chorus of agitated miners rhyming 'fury' with 'Missoury' whips up much less dread than a similar mob does in Peter Grimes.
Some colorful, but ancillary, scenes slow the pace of the second act. One is the 'Spider Dance' during the Fourth of July celebrations, in which dancer Lorena Feijóo accurately depicts the popular performer Lola Montez as the self-constructed, minimally talented creature she was. Similarly slowing the pace is an extended staging of an excerpt from Shakespeare's Macbeth. Is it necessary to set up a later moment when Clarence, contemplating mass murder, quotes Macbeth's 'Is this a dagger I see before me' speech? Also a lot of business involving a quartet of awkward prostitutes, such as too much shoulder-jiggling and butt-wiggling in the first scene in the bar, belabors the point.
One subtext running through the whole piece is the Gold Rush's rape of California's pristine beauty. An early scene plays on Dame Shirley's description of a pitiable Indian maiden; in a short epilogue Shirley describes what she sees from her window. Piles of gravel dug from the mines obscure the beauty, except for an expanse of blue sky. It's set to glimmering chords that fade into silence before the curtain falls.
The singers, all revelatory, do their darnedest to harness our interest. If Adams' vocal lines tend toward the static, the orchestral writing reveals a teeming swirl of rhythms and colorful sonorities – a more consistent thread than what I heard in the dress rehearsal. Unfortunately the well-intentioned, earnest libretto, so tied to original sources, leaves no room for the dramatic liberties that can produce great theater. This opera could have had such power.
Harvey Steiman
For more about San Francisco Opera click here.