United Kingdom Beethoven and Prokofiev: Yefim Bronfman (piano), Bavarian Radio Symphony Orchestra / Mariss Jansons (conductor), Barbican Hall, London, 24.11.2017. (AS)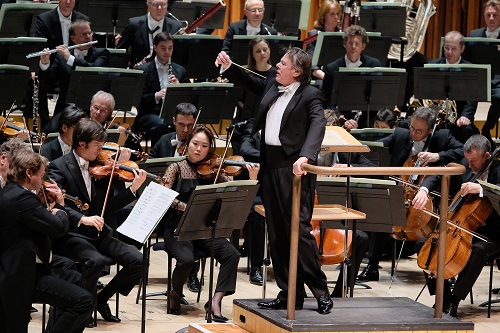 Beethoven – Piano Concerto No.4 in G, Op.58
Prokofiev – Symphony No.5 in B flat, Op.100
At the end of this programme Dame Mitsuko Uchida presented Mariss Jansons with the highly prestigious Royal Philharmonic Society Gold Medal, previously awarded to such musical luminaries as Brahms, Richard Strauss and Stravinsky. Details of Jansons's distinguished career are readily available on the internet, and a long list of admired commercial recordings exist. An audience member next to me knew nothing of all this, but this concert on its own told him just why Jansons is at the top of his profession.
The quiet solo opening of the concerto was played most beautifully by Yefim Bronfman, but attention was also seized by the exquisitely shaped response that Jansons secured from the orchestra, restrained in execution but also intensely expressive. It was a very measured account of the movement as a whole, full of delicate, elegant detail, with rich-toned playing from both soloist and orchestra. It was a fastidious partnership, and everything seemed perfectly in style, including Bronfman's account of the more familiar of the two cadenzas written by the composer himself.
Even more intimate in expression were the exchanges between piano and orchestra in the central movement. Here Bronfman's playing had a peculiar sense of stillness, even though the musical argument was quietly but powerfully maintained. In the finale both parties relaxed a little, the soloist bringing a playful element into the music-making, with a shimmering quality of tone, while Jansons's response was sharp and buoyant. Bronfman played the cadenza with utter seriousness, however, and then he and the orchestra realised the concerto's conclusion in a spirit of uplifting joyfulness.
Bronfman played Schumann's Arabeske, Op.18 as an encore, rather too smoothly as a whole, yet with some slightly strange agogic accents.
Both live and on record we are used to hearing Prokofiev's Fifth Symphony played in a lean, brightly exposed fashion, with a slightly acid-toned quality in the sound, and bluff, no-nonsense rhythms. The Bavarian Radio Symphony Orchestra is a superlative ensemble, and it has a very German, mellow-toned characteristic, with string sections that can produce an exceptionally warm quality of tone. It followed therefore that the general sound of the playing was a little different from that which we often hear in this work. It had a particularly broad, weighty nature, and under Jansons's inspired direction the playing in the first movement in particular had tremendous passion and grandeur of utterance. There was a mischievous, quicksilver quality of expression in the bounding second movement Allegro, which had plenty of energy but also displayed an unusual degree of warmth, with a deliciously phrased trio section. The Adagio was firmly built as a great arch of sound, its mysterious and highly serious atmosphere potently conveyed, and the introduction to the main part of the finale was embued with a particularly piquant note of expectancy. The movement as a whole had a bounding, lyrical nature, with less sourness and harshness of expression than is the norm, and the end of the work was delivered with an urgent combination of energy and precision.
After the presentation Jansons rewarded his audience with two encores, a most elegantly shaped 'Panorama' from Tchaikovsky's ballet The Sleeping Beauty, and a terse, violent rendering of the 'Death of Tybalt' from Prokofiev's ballet Romeo and Juliet.   
 Alan Sanders