SwitzerlandWeill, The Rise and Fall of the City of Mahagonny: Soloists, Dancers and Chorus of Zurich Opera, Philharmonia Zurich / Fabio Luisi (conductor), Zurich Opera 9.11.2017. (JR)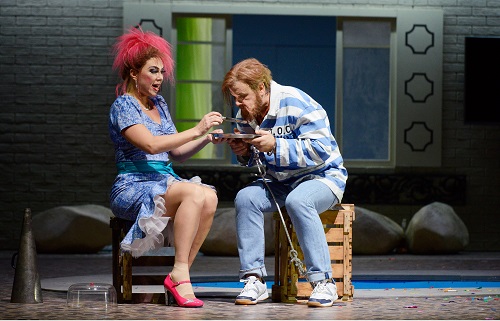 Cast:
Leokadja Begbick – Karita Mattila
Willy der Prokurist (Fatty, the Bookkeeper) – Michael Laurenz
Dreieinigkeitsmoses (Trinity Moses) – Christopher Purves
Jenny Hill – Annette Dasch
Paul Ackermann (Jimmy Mahoney) – Christopher Ventris
Jakob Schmidt (Jack O'Brien) – Iain Milne
Heinrich, Sparbüchsenbill (Bank-Account Billy) – Cheyne Davidson
Josef, Alaskawolf-Joe – Ruben Drole
Toby Higgins – Jonathan Abernethy
Production:
Director – Sebastian Baumgarten
Set – Barbara Ehnes
Costumes – Joki Tewes, Jana Findeklee
Lighting – Elfried Roller
Video-Designer – Chris Kondek
Choreography – Kinsun Chan
Chorus Master – Janko Kastelic
Dramaturgy – Claus Spahn
This opera was clearly not to all tastes, judging from the large number of empty stalls seats after the interval. Seasoned subscription-ticket holders, used to a diet of Italian and German mainstays, probably found Weill's score repetitive, the plot thin and the goings-on on stage hard to stomach. I loved it.
I must admit, however, that there are only one or two catchy tunes, most famously the 'Moon of Alabama' song, and much which sounds like an unmemorable prequel to 'Cabaret'.
Premièred in 1930, one year after the Wall Street Stock Market Crash, this was the first major collaboration between Kurt Weill and Bertolt Brecht. It is certainly in the mould of a conventional opera, with arias, choruses (even chorales) and recitatives, a full-scale orchestra complete with saxophones, guitar, banjo and a bandoneon (a type of button accordion). But is it for professional voices (as Weill requested) or Broadway voices? The latter would certainly have given the show more pizzazz; however, we heard the former. It was a bit like hearing Carreras and Kiri Te Kanawa in West Side Story.
The plot is easy to follow: three criminals, fleeing from the police, break down in the middle of nowhere in America and decide to found a town, Mahagonny. Prostitutes arrive first, followed by four lumberjacks down from Alaska. The city supplies every pleasurable need, but at a cost. The citizens enjoy gluttony, sex, boxing and booze – all to excess. A hurricane approaches but miraculously, with seconds to go, misses the city. One lumberjack eats himself to death (vomiting into the swimming pool, blood gushing out of his belly, entrails of a dead cow being flung across the stage), another dies in the boxing ring. Jim (or Paul) cannot pay for the alcohol he and his large party consume and is condemned to death. Brecht wanted to use the opera to highlight the emptiness of capitalism.
I was much taken by this Sebastian Baumgarten production, strengthened inordinately by constantly inventive and witty video projections. The opera has not had a good performance history – Hitler hated it, of course, but even the Salzburg Festival and the ENO had trouble with it. I think Zurich Opera's production will meet with commercial and artistic success.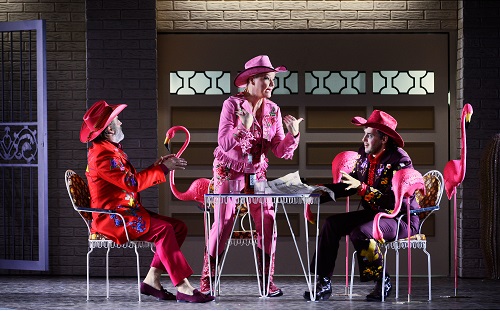 There is much to admire visually on stage. The set is a suburban bungalow complete with up-and-over garage door (which malfunctioned on the evening I saw the opera). The bungalow serves as a brothel, backdrop to a large swimming pool (complete with gallons of – hopefully for the singers – warm water), courtroom, bar and boxing ring. Brecht wanted each scene introduced, and this is achieved with the aid of titles, which intersperse with the surtitles. Costumes are colourful, especially for Trinity Moses and the prostitutes (much shiny latex), make-up is splendid (the prostitutes' big eyes), choreography is slick. I suspect the National Theatre or Broadway could have delivered more precise slickness, more glitz, but it is a minor grumble.
The vocal stars were, without a doubt, Annette Dasch as Jenny Hill and, above all, Christopher Ventris with his burnished Wagner/Britten tenor (when he was sentenced to death, in his prison smock, I thought I spotted Peter Grimes waiting forlornly for his fishing boat). Ventris has had this role in his repertoire for over 20 years and it sits well with his voice. Dasch also showed off her thespian skills. Michael Laurenz's strong tenor impressed, as did Christopher Purves with his mellow and firm baritone – who can also be proud of his dapper footwork.
In more minor roles, Cheyne Davidson looked uncomfortable throughout, especially with his sunglasses, but the role suited him vocally. Iain Milne clearly enjoyed his over-eating and sang extremely well. Ruben Drole showed off his comic skills in the boxing ring and sang commendably, as did Jonathan Abernethy as Toby Higgins.
Sadly, Karita Mattila was miscast. She looked the part in pink embroidered blouson, cowboy hat and jeans but her voice was often drowned out by her male colleagues and occasionally the orchestra. Her acting seemed forced and unnatural; the role needs more sardonic bite, she is after all a whore-house madam.
Early in his tenure as General Music Director of the opera, Fabio Luisi stated this was one opera he wanted to conduct, and this was evident from his conducting, even though the orchestra had some timing problems and was not at home in this style of music. The chorus sang their contributions with polish, especially the men in their humming chorus.
Those who stayed to the end were appreciative of all concerned; even if not a great opera, I thought – given the staging – it was a great show.
John Rhodes