United Kingdom Mendelssohn: Catherine Hamilton (soprano), Alison Kettlewell (mezzo-soprano), James Way (tenor), Darren Jeffery (bass-baritone), Dartington Community Choir and Dartington Sinfonietta / Simon Capet (conductor), Great Hall, Dartington, 10.12.2017. (PRB)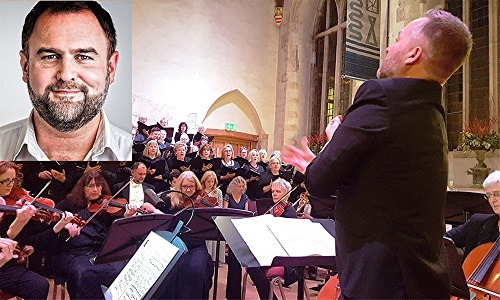 Mendelssohn – Elijah
Less than six months ago, I had the privilege of reviewing Mendelssohn's oratorio in the imposing surroundings of Truro Cathedral, in Cornwall's only city. In my review, I commented that Elijah made a powerful impression at its first performance in Birmingham in 1846, but that this overtly Victorian oratorio has not always found favour since. That Truro performance back in June certainly helped to heighten my enjoyment and appreciation of Mendelssohn's work, and the price he in fact paid in creating it. It was his last major work, but could, as Dartington's succinct yet equally informative programme-note suggested, actually have contributed to the composer's final demise. Exhausted by intense composition and rehearsals, Mendelssohn died just a year after the premiere, at the young age of 38. Elijah could therefore also be seen as his Requiem, especially as he identified to a considerable degree with the biblical character himself—a man troubled by the apparent decadence and emptiness in contemporary society. As the note concludes, Mendelssohn's music has not escaped criticism for sentimentality and possible lack of depth at times, but this has done little to diminish its lasting popularity overall.
The grandeur and spaciousness of Truro Cathedral is one thing, and on that occasion, it was a full-sized orchestra assembled to accompany not just one, but two large choirs who had combined for the performance. But the medieval Great Hall at Dartington is just as impressive, on a smaller scale, where everything is necessarily so much more compact, and intimate in an almost chamber-music sense, in order to fit everyone in—and, of course, still leave sufficient room for the audience. Though just sitting there, waiting for every singer and player to file in, one by one, through the rear door, and take up their allocated position either on the raised choir staging, or as part of the orchestra, simply adds to the increasing sense of pure anticipation.
Conductor Simon Capet had assembled a fairly condensed orchestral accompaniment drawn from his Dartington Sinfonietta, which, while still keeping the essentials, was not large enough ever to drown the voices. Even so, the judicious use of a small organ comfortably filled in any gaps in the harmony. This is a necessary process logistically, since audience provision is never massive, which restricts the vital income from ticket-sales revenue. It does mean that every player has to perform at their highest level, and this they certainly did, without exception. Mendelssohn's score is not easy, and there are some quite ferociously rapid passages for strings, but, under the outstandingly-assured leadership of Mary Eade, these were all negotiated with great élan.
The choir, as ever, was on top form, and it was clear just how rigorously they had been prepared for what is a very long and exacting sing. Entries were well rehearsed, and diction clear. Whether in the mightiest fortissimo or quietest pianissimo, the 130 or so voices sang with great articulation, and, most important, with a true feel for what they were actually singing about. In this Capet gave them the greatest lead, not only by virtue of his abundantly clear beat, his constant attention to bringing voices in, but more so by his actual characterisation of the text through gesture and body language. Yes, the choir needs more men (which choir, in fact, does not?) but those present on the night could not have given more. Sopranos and altos were true in pitch, and always on top of the note. Intonation was equally well considered, and, if 'Lift thine eyes' did need a little extra uplift to stop it sagging, it did not compromise the musical sense to any significant degree. In any case, it is just one of those female choruses in the repertoire that seems to encourage a little waywardness.
If you look for a definition of oratorio, it usually makes the distinction that, unlike opera, which is musical theatre, oratorio is strictly a concert piece, with generally little or no interaction between the characters. In most examples, this makes perfect sense as, like in Elijah, the soprano soloist is variously cast as the Widow, the Youth and Angel II, the mezzo-soprano often sings Angel I and the Queen, while the tenor is often responsible for Obadiah and Ahab. Mendelssohn actually relied on using several soloists, to cater for two separate sopranos, and similarly two altos respectively during a performance, though today a maximum of four soloists is the norm.
The bass-baritone's contribution is different: he is restricted solely to utterances by the eponymous prophet. His is definitely a part in musical theatre parlance. He assumes the role of Elijah, the moment he takes up his position on stage, and should keep in character right until the performance is over. In Darren Jeffery, there could have been no finer candidate for the role. He sang superbly throughout, bringing his warmly-rich-toned voice to the part, highly expressive in his arias, and so positive and informative in his recitatives. He is blessed with exactly the right physical stature, too, and it was just another of the performance's many fascinating pastimes to observe his facial expressions, not just when up and singing, but when also listening, something he maintained with consummate professionalism the whole time. It did help, of course, that his fellow male soloist was considerably less tall, which emphasized Jeffrey's presence even more. In the sort of hype that usually inhabits the world of film and television, it would be fair to say that Jeffery was Elijah, in as much as he played the role with such theatrical, as well as musical conviction.
As noted in my previous review, Mendelssohn actually created the soprano part for the 'Swedish Nightingale', Jenny Lind, but she was devastated by the composer's premature death in 1847, and did not feel able to sing the part for a year afterwards. In Catherine Hamilton, the Dartington performers were so lucky to have a soprano who could bring the same agility to the role, while singing with great expression, too, across the whole range, and in any dynamic situation. Likewise, Alison Kettlewell was also on great form, adding such a rounded tone and richness, especially in the lower register, which perfectly complemented Hamilton's naturally lighter timbre. Tenor James Way completed the soloists' line-up, and did not disappoint in any way, either. Each soloist delivered their familiar lollipop numbers with expected class and poise, while combining perfectly as a quartet, when required, particularly just before the work's close.
Once again, this quite outstanding performance was the successful summation of many parts. Everyone involved deserves great credit. But never mind whatever might have gone on before in rehearsal. What finally brings everything together so memorably on the day is the conductor's indefatigable drive, sheer determination, and, of course, musical expertise and imagination. Both Dartington Community Choir and Dartington Sinfonietta are incredibly blessed to have Simon Capet in charge.
If I still needed convincing about the merits of Mendelssohn's oratorio, then this heartfelt and sincere reading has finally clinched it for me. Indeed, in the words of Elijah himself: 'It is enough'.
Philip R Buttall