United States Various composers: Dancers of Malpaso Dance Company and Musicians of The Afro Cuban Jazz Ensemble, Dorothy Chandler Pavilion, Los Angeles, 2.12.2017. (JRo)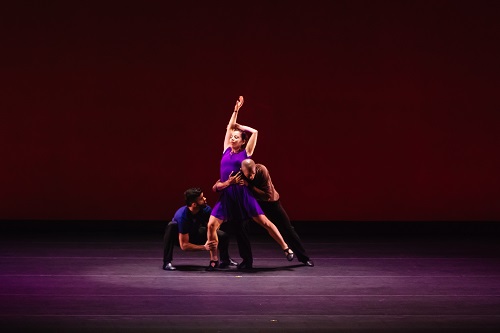 Dancers – Osnel Delgado, Daileidys Carrazana, Dunia Acosta, Esteban Aguilar, Maria Karla Araujo, Fernando Benet, Manuel Durán, Beatriz Garcia, Abel Rojo, Lisbeth Saad
Production:
24 Hours and a Dog
Choreography – Osnel Delgado
Music – Arturo O'Farrill, Abelardo Valdes, Astor Piazzolla
Lighting – Al Crawford
Costumes – Eric Grass
Face the Torrent
Choreography – Sonya Tayeh
Music – Colette Alexander
Lighting – Nicole Pearce
Costumes – Karen Young
Indomitable Waltz
Choreography – Aszure Barton
Music – Alexander Balanescu, Michael Nyman, Nils Frahm
Lighting – Nicole Pearce
Costumes – Fritz Masten
Vivid, musical and enthralling, the Malpaso Dance Company delivered a program that showed off their dancers' abundant gifts. Established in Havana in 2012, this young company has the seasoning of a long established troupe with a high level of skill and an absolute commitment to the choreography.
Artistic director Osnel Delgado's 24 Hours and a Dog was especially delightful. It presented a rich tapestry of the antic life of animals, whether of the human or canine variety. In costumes resembling street attire in deep purples, warm browns, Prussian blues and black, and set against a beautifully lit backdrop of changing colors, the dancers frolicked, sniffed, crouched, rolled and kicked to the infectious music of Arturo O'Farrill and members of the Afro Cuban Jazz Ensemble. A disciplined playfulness prevailed in the music and choreography.
Led by the elegant and elastic Delgado, these winning dancers have both balletic and contemporary dance chops. Whether legs were raised in arabesque or torsos wiggled, they proved themselves time and again. Choreographic invention abounded. Dancers positioned in downward dog jutted one leg out to the side with heel flexed, then, rotating from the hip socket, circled the leg, creating an engrossing spatial pattern. In another sequence, Delgado created a ballroom-like atmosphere with complex partnerings at once natural and stylized. A pas de deux for Delgado and the commanding Dunia Acosta had a delightful quotient of sex appeal as they petted and fawned over each other in joyful abandon.
In stark contrast was Sonya Tayeh's premiere of Face the Torrent, a dance centering on suffering and grief – the grief of victims and survivors struggling to retain their humanity in moments of crisis. Eight dancers in black in a line standing before a black backdrop moved relentlessly forward to the front of the stage. They walked with their feet parallel and a shoulder-width apart, staring unblinkingly at the audience. One of their ranks, Abel Rojo, in a fascinating performance, dropped out of the line, hunched over in pain. It was a slow-motion, detailed analysis of suffering. Evoking a person dealing with PTSD, Rojo contorted and torqued his body into an embodiment of human pain that was startling to behold. The other dancers kept walking backwards and forwards, seemingly indifferent; then suddenly, one comforted Rojo, revealing a touching compassion. Later, female dancers in an upright position were carried on the backs of their male partners who slowly and deliberately made their way across the stage from left to right, evoking the movement of Indonesian shadow puppets. On the whole, the piece was an interesting combination of the theatrical, literal and minimal.
Concluding the program, Indomitable Waltz by Aszure Barton was an idiosyncratic dance of birdlike movements, reminiscent of Israeli choreographer Noa Eshkol's movement notation chronicling the motions of animals. Plaintiff music set the tone for this soulful and tender creation, beautifully danced by the members of this outstanding company.
Jane Rosenberg