United States Puccini, Turandot: Soloists, Chorus and Orchestra of Lyric Opera of Chicago / Sir Andrew Davis (conductor), Chicago. 8.12.2017. (JLZ)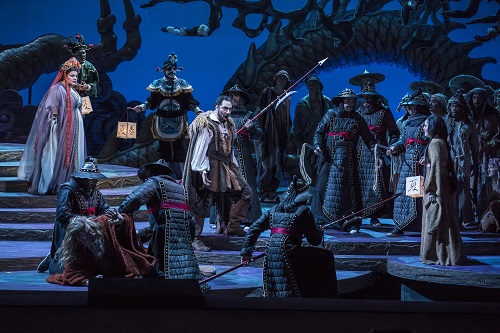 Cast:
Turandot – Amber Wagner
Calaf – Stefano La Colla
Liù – Maria Agresta
Timur – Andrea Silvestrelli
Ping – Zachary Nelson
Pang – Rodell Rosel
Pong – Keith Jameson
Production:
Director – Rob Kearley
Set & Costume Designer – Allen Charles Klein
Lighting Designer – Chris Maravich
Chorus Master – Michael Black
Allen Charles Klein's new production of Turandot — with its fairy tale-inspired design — created an evocative space at Lyric Opera of Chicago. The horizontally-oriented set features a prone dragon, which conveyed the folk tales of Grimm or perhaps an imaginative version of Wagner's Siegfried, and costumes and props added to the Orientalism that sometimes overtakes less well-conceived productions. Puccini keeps the challenges coming, given the size of the vocal and instrumental resources required, but Sir Andrew Davis deftly shaped the cast and orchestra for maximum excitement. While a few missed notes might have been audible to those familiar with the score, the execution was laudable for both pacing and nuance.
Tenor Stefano La Colla used his strong voice to deliver Puccini's densely scored lines, all the while maintaining even pitch and tone. Never strident or forced, La Colla brought intimacy, such as the first-act exchange with Liù and the interview with Turandot in the final act. The tenor's bravado and burnished sound in the iconic 'Nessun dorma' was part of a scene that benefited from the well-textured off-stage chorus, and Davis's leadership. A formidable performer, La Colla showed both stamina and flexibility as Calaf, emphasizing the character's earnestness.
Amber Wagner was a convincing Turandot, delivering the sometimes-demanding lines with consummate ease —her sense of pitch made her a pleasure to hear. In Act II, while the libretto offers a somewhat static and unyielding characterization of the character, Puccini includes some adventurous harmonies and turns of phrase that Wagner brought out with style, such as her compellingly shaped 'In questa reggia.'
The other roles were well-cast, with Maria Agresta's winning Liù evident from her first notes, especially the passages in which she urges the prince not to seek Turandot's hand ('Signore, ascolta! '), and her clear delivery brought out the composer's delicate phrases. In the third act, when Turandot interrogates the resolutely silent Liù, Agresta showed powerful command, and her death was presented with appropriate dignity.
As the Mandarin, Patrick Guetti offered a rich bass, in a role that does not always receive his clarity. Baritone Zachary Nelson gave Ping a leading edge not always found in other productions. Together with tenors Rodell Roselle and Keith Jameson, Nelson made the second act's opening trio quite memorable. Likewise, Andrea Silvestrelli was a resonant and sympathetic Timur.
The chorus was nicely rehearsed by Michael Black, with both the onstage and off-stage passages executed with fine musical precision. Sir Andrew gave the orchestra excellent leadership, bringing out the scoring in Puccini's final opera, which continues to have strong appeal almost a century after its premiere.
James L. Zychowicz