United Kingdom Mascagni, Cavalleria rusticana & Leoncavallo, Pagliacci: Soloists, Chorus and Orchestra of the Royal Opera House, Covent Garden / Daniel Oren (conductor). Royal Opera House, Covent Garden, 2.12.2017. (JPr)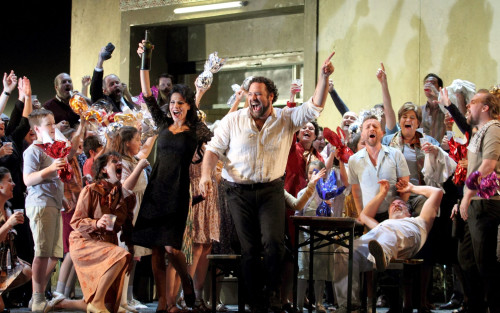 Production:
Director – Damiano Michieletto
Set designer – Paolo Fantin
Costume designer – Carla Teti
Lighting designer – Alessandro Carletti
Cavalleria rusticana
Cast included:
Santuzza – Elīna Garanča
Turiddu – Bryan Hymel
Mamma Lucia – Elena Zilio
Alfio – Mark S. Doss
Lola – Martina Belli
Pagliacci
Cast included:
Canio – Bryan Hymel
Tonio – Simon Keenlyside
Nedda – Carmen Giannattasio
Silvio – Andrzej Filończyk
Beppe – Luis Gomes
Whether the Royal Opera has really been energised by the arrival of Oliver Mears as director of opera will be confirmed – or otherwise – in future seasons. However, with every new visit to Covent Garden it certainly seems like it! Following their premieres in 2015, Damiano Michieletto's Olivier Award-winning productions of Cavalleria rusticana and Pagliacci are splendidly revived (by former Jette Parker Young Artist Rodula Gaitanou) for the first time and definitely – on this viewing – justifies that Olivier!
The nineteenth century was ending, and audiences turned from Wagner's gods and heroes to embrace post-Verdian verismo with its stories that reflected real-life happenings. The birth of this movement came with the première of Mascagni's Cavalleria rusticana in Rome on 17 May 1890. It was soon twinned with Leoncavallo's 1892 Pagliacci and together they caused verismo to sweep Europe influencing many diverse art forms. To digress slightly, Leoncavallo wrote his own libretto for Pagliacci, and in trying to find a suitably tragic and realistic story he could use, was reminded of something his father, a judge, had been involved with. It seems he had presided at the trial of an actor who had murdered his wife in a fit of jealousy. It suited Leoncavallo's needs, and the rest is opera history.
Before their current 2015 productions Cav & Pag (review click here) had not been performed together by the Royal Opera for more than 25 years. From around that time I have some (remaining) exhilarating memories of Plácido Domingo (Turiddu/Canio), Jon Vickers (Canio) and Piero Cappuccilli (Alfio/Tonio). It was at a performance I saw in 1989 that Simon Keenlyside was Silvio: in 2017 he was an excellent Tonio, even if he could never remember which hand to have his walking stick in.
Cav & Pag were once as popular as the regularly performed Puccini operas or genuine Verdi masterpieces (Rigoletto, La traviata, Un ballo in maschera, Aida etc.) in the affections of opera lovers. Recently they have fallen somewhat out of favour and perhaps a reassessment of them is overdue; perhaps Michieletto's stagings makes this possible. Modern audiences are overdosed on naturalism whenever the houselights dim in a theatre or opera house, and so these operas with their tales of love-triangles and bloody revenge, can be easily written off as mere lurid melodramatic potboilers. That they are of course, but they also provide opportunities for singers with big voices to give 'heart on their sleeve' can belto performances, which remind us why coming regularly to the opera can be such a relief from the humdrum same old-same old of everyday life.
According to the original libretto for Cavalleria rusticana (rustic chivalry) we are in a Sicilian village where the soldier Turiddu is sleeping with Lola, the wife of the local cart-driver Alfio, while he is away. He is also cheating on his girlfriend Santuzza, who begs him to give Lola up. When he refuses, she tells Alfio the situation and he kills Turiddu in a knife fight. After an opening when nothing much happens for about 20 minutes; for the remaining hour Mascagni rarely wastes a second of his one-act opera of almost symphonic beauty.
As for Pagliacci, there is a prologue from Tonio the crippled clown in a travelling commedia dell'arte troupe which stops for a night in Calabria. There Nedda, the beautiful and unhappy wife of Canio (the troupe's intensely jealous leader) is reunited with her secret lover, Silvio, and they make plans to run off together after the evening performance. Tonio, whose advances Nedda has scorned, overhears their plans and tells Canio. While they are performing a stage farce – that is coincidentally about a wife's betrayal and mirrors the offstage love triangle – Canio stabs to death both Nedda and her lover Silvio, who has leapt on to the stage to save her, leaving Tonio to announce 'the play is over'.
Like Mascagni, Leoncavallo possessed the basic essentials for writing a successful opera; a strong sense of colour, the feeling for melody, dramatic force, declamatory power, and musical characterisation. This time there are no longueurs and the action of the drama never flags. This is not to say everything is perfect since Leoncavallo has his faults. His music often recalls other composers, Wagner included, and his emotional gear changes are occasionally over-exaggerated and the orchestration a bit noisy. On the other hand, his dramatic grip is greater than Mascagni's, as is his power of characterisation as revealed by the fine cast for this revival. Perhaps it could not match the star-power of those names from the 1970s and 1980s, but it was a hark back to that level of performance.
Damiano Michieletto had an enviable reputation when audiences sat down in 2015 for Cav & Pag because he was infamous for the rape scene in his William Tell at Covent Garden (review click here). Those expecting a similar controversy were left disappointed. Yes, he does update the action of both to sometime in the late twentieth century and treats – what can seem like two disparate operas – as a true coupling. In Cavalleria rusticana – after a static opening showing the dead Turiddu being mourned – the walls of the bakery (Panificio) are soon plastered with posters for the performance of Pagliacci that is coming to town. This bakery scenario with its bread ovens initially seems a misstep, but we get used to it. At least it allows us to see a first(?) encounter between the lovers in Pagliacci; Silvio is one of the bakers, and Nedda is putting up those posters and during the Intermezzo they share a kiss. Later in the Intermezzo of Pagliacci, it is Santuzza (and a priest) who features as she is reconciled with Mamma Lucia when it is revealed she is pregnant with her dead son's child. Alfio is just a wheeler-dealer and Turiddu will be shot not stabbed.
This Cav setting somewhat cuts down the space on stage and – in the increasingly modern way – crowd scenes are often restricted to near the footlights. Other intriguing ideas include the statue of the Virgin Mary coming to a (sort of) life during the Easter Hymn and pointing accusingly at Santuzza; also, the young choir boys and girls in Cav will appear in a passion play in Pav's school hall. Michieletto almost seamlessly interweaves Pagliacci's drunken delusions with the supposed performance for a viscerally engaging denouement to Pav as the stage audience flees in terror and bright lights are trained on the theatre audience. Chilling. There is so much more you can get out of this Cav & Pag; I am sure this double bill will stand up to repeated viewings, assuming the current standard of casting can be maintained.
Bryan Hymel was initially to make a role debut only as Turiddu, but at the last moment was also required to sing Canio for the first time. He has one of the best tenor voices of his generation. If his Turiddu was rather stentorian and steely to begin with, he quickly settled and by the time he sang Canio's lament 'Vesti la giubba' he totally embraced the heartbroken clown persona and it was a wonderfully impassioned performance. Elīna Garanča is a famous mezzo whose voice is heading upwards to full soprano and I thought I heard Wagner in her forthright voice. It was a towering performance – despite her singing lacking some sensuous beauty – and her Santuzza seemed almost on the brink of insanity at Turiddu's cruelty. I hope Mark S. Doss will not mind me saying how much he reminded me of Barack Obama and he was a potent Alfio. Elena Zilio emoted captivatingly in her glorious vignette as Mamma Lucia. Zilio and the sultry Martina Belli were the only ones who sang these roles in 2015.
Simon Keenlyside set the tone for Pagliacci with 'Si può? Si può?' and I haven't heard this daunting solo sung so compellingly since those days of Cappuccilli. Carmen Giannattasio – the sole 2015 survivor – as Nedda acted her character's longing for freedom and desire for Silvio (the youthfully ardent Andrzej Filończyk) better than I heard it from her voice. Luis Gomes – another former Jette Parker Young Artist – was a concerned and likeable Beppe.
Daniel Oren is a regular visitor to Covent Garden and this evening perhaps explained more than ever why that is. He embraced Cav & Pag's (shameless?) vulgarity whilst embracing all the lyricism and subtlety the two scores contain. He brought a certain breadth and rumbustiousness to the music and let it organically build to its frequent impassioned climaxes. Under Oren's baton Cavalleria rusticana sounded like a symphonic poem, especially in those opening moments when not much else is happening. He was supported by superlative playing from his orchestra, and the Royal Opera Chorus was firing on all verismo cylinders throughout. I didn't on this occasion experience any issues of coordination between pit and stage, and this testifies again to the careful preparation of this must-see revival.
Jim Pritchard