Michael Cookson Meets Omer Meir Wellber
Earlier this year during a reporting trip to Munich I was fortunate to secure an interview with charismatic and hardworking conductor Omer Meir Wellber whose burgeoning career has taken him to the world's greatest opera houses and working with the finest orchestras.
Probably best known for his work in the opera house in 2014 I first came across Omer conducting, when reporting from a Staatsoper Dresden performance of Andreas Kriegenburg's staging of Mozart's Così fan tutte at Semperoper (review click here).
Whilst reporting from Dresdner Musikfestspiele 2016 I was able to see Omer conducting outside the opera house in concert with Israel Philharmonic Orchestra held at Frauenkirche featuring the Tchaikovsky Violin Concerto (soloist David Garrett) and Shostakovich Symphony No.6 (review click here).
A potted biography of Omer Meir Wellber reads: Born in Be'er Sheva in 1981, Omer began studying accordion and piano at age 5. He took composition lessons with Tania Taler starting at age 9, then continuing under Michael Wolpe until 2004. Omer graduated from the Be'er Sheva Conservatory in 1999 and received a music scholarship from the America-Israel Cultural Foundation, which he used to study Conducting and Composition at the Jerusalem Music Academy from 2000-2008 with Eugene Zirlin and Mendi Rodan. Omer's compositions have been performed and broadcast both in Israel and internationally.
The evening of my interview, held in the large conductor room of the magnificent hallowed halls of Nationaltheater Munich, I was reporting on Omer conducting a performance of Giordano's Andrea Chénier in Philipp Stölzl's production for the Bayerische Staatsoper starring Jonas Kaufmann and Anja Harteros (review click here). That day prior to the interview my flight into Munich had been delayed and coincidentally Omer was behind schedule too. This meant a limited time than my usual one-hour interview, yet it didn't seem to matter as the conductor was in engaging form and speaking remarkably frankly too. Given the clock was ticking for Omer to enter the pit and I had to get to my seat, this served only to add to the openness of the exchange. (Illness has meant that I am unfortunately several months later than I intended in transcribing and publishing this interview.)
Michael Cookson: Omer would you say your career was gradual or did you have a 'big break'?
Omer Meir Wellber: It was both ways really. I'll tell you why because if you had looked at my last seven years you might think my career was going pretty fast and going well etc. But, I had already started out twelve years earlier. I was with the Israeli Opera at Tel Aviv starting out as an assistant aged 20 or 21. In fact the big success came when I was around 29, which is quite early, but I had in fact been working inside the opera house for eight years.
MC: What was the break you had?
OMW: Well the first was unquestionably going to Daniel Barenboim for three years as an assistant at both the Berliner Staatsoper and Teatro alla Scala, Milan, which were of course most significant events. Then there was working as music director at Palau de les Arts Reina Sofia in Valencia and a number of other things. My first big success in the opera house was in 2008 with Aida that I did at Teatro Verdi in Padua when I jumped in at short notice for a conductor who cancelled. Everyone told me not to do it, but I did.
 MC: So, it shows that big breaks can happen!
OMW:  Oh, yes. Several of the things I did have been down to someone who cancelled. You see in 2010 I once again jumped in to conduct Richard Strauss's Daphne when the conductor cancelled just two weeks before, because of a fight. This was my debut production at the Semperoper, Dresden. [MC: A fight?] Exactly, it was Fabio Luisi, he was the music director at Staatsoper Dresden (at the time of appointing Christian Thielemann) who for some reason said he didn't want to do the opening night. [MC: You mean a disagreement. Not a fist-fight!] That's right, not a fist-fight that I know of. For me it was a big thing because no one knew this opera Daphne. So, I went and since then I have this really wonderful relationship with Staatsoper Dresden. It really is a special orchestra!
MC: I first saw you conduct at Semperoper, Dresden with Così fan tutte in 2014. You were directing the recitatives from the harpsichord plus an occasional accordion passage; I recall snippets from The Beatles' song Yesterday and Edith Piaf's La vie en rose being played.
 OMW: Yes! That's right.
MC: I'd like to ask you about the differences you find between conducting an orchestral concert and conducting an opera?
OMW: Well there are differences. I'm interested in bringing qualities from the symphonic world into the pit, and bringing qualities from the pit into the symphonic world because most of the time one lacks the other. For example, the most obvious factor is that no orchestra that plays only symphonic music will have the flexibility that pit orchestras have. This is because of technical reasons because for a pit orchestra every evening in the opera house is different.
On the other hand, taking the most obvious example, sometimes the pit orchestra that is used to being hidden away there under the singers doesn't have the same attention to detail as the symphonic orchestra. So actually, if a conductor can somehow manage to combine the two qualities of each type of orchestra it can be most interesting. Some orchestras can do this. For example, in Dresden with the Staatskapelle this orchestra is able to play this flexible way because it has achieved excellence in both qualities of the pit and the symphonic orchestras. Another example is the London Philharmonic Orchestra who plays opera at Glyndebourne each year, that does help the orchestra greatly. I can do a rehearsal with the orchestra and then at a performance I can change many things and it will follow and do it perfect. This is because of its operatic experience. Yes, there are differences, but I strive to somehow combine both qualities. What I personally like in opera is the dialogue with the pit orchestra and soloists that I sometimes miss with the symphonic orchestra. Yes, with symphonic music I have dialogue with the orchestra and sometimes a soloist of course, but basically interpretation wise the dialogue is between me and the composer. Here tonight in the Nationaltheater, Munich doing Andrea Chénier I have to liaise with many others involved in the production; the stage director, the light designers, the set designer.
MC: All the creative team?
OMW: Oh yes, the soloists, chorus, the orchestra of course, all these integral parts of the entire production. It is the communication aspect of my work I enjoy so much. You know even here at the Nationaltheater, as you will see tonight, I have to get something from the production. Even if I learn the score, even if it is specifically written by the composer, if it doesn't match what is happening on the stage, for different reasons, we have to change it. I have to be flexible enough to say, for example, that if the set and lighting designers have made the stage dark and the music is light then I have to make the music sound dark because it is my job. This aspect of my work I like very much actually.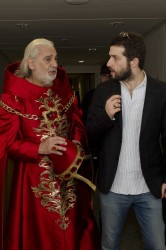 MC: How do you deal with the star singers you encounter in opera? For example, we have Jonas Kaufmann tonight in the title role as Chénier?
OMW: I know exactly what you mean. One might be mistaken when one is working with the star singer, or stars in the cast generally, that he lacks the curiosity to do new things or attempt things, which is a mistake. If you come with this disposition, then you might not enjoy what they can actually give. For example, here tonight they are all stars [MC: Jonas Kaufmann, Luca Salsi & Anja Harteros] but also, we know each other very well as we have already worked together. It's a rather unique situation as we trust each other very much, which means when I call them they come, I'm talking conducting wise. It's a really nice dialogue because they of course give me what they want, but during the five weeks of rehearsal we managed to find our own version. It's a trust thing, because they know they can trust me and I know I can trust them. We never leave each other in the battlefield as they say. If Jonas needs me to go faster tonight – because for example he takes a wrong breath – I will give it to him and if I put my hand down in a wrong place he will follow. We are watching each other all the time. You see I really need this dialogue with the soloists, I want it, otherwise it becomes uninteresting for me. The one thing that I don't want to have is the same thing happening every evening, this is not for me I'm afraid. In order to make this 'jazz' possible you have to be aware what's happening on stage otherwise it would be artificial.
MC: Tantrums from soloists. I was wondering Omer if you have had this happen?
OMW: Ah, behaving badly! Yes of course. In five weeks of rehearsal, seven days a week everyone has their moods and their moments. I think it's part of the creative process. You see as we get to know each other better, the music that we make becomes more genuine. It is not about being better or worse, it's about being genuine, being true to ourselves, and for this we need to know each other. I'm in this profession really because of that. I relish this kind of human contact, flexibility and knowing each other, and yes, it's important if we as artists are having a good or a bad day. It's important if you had had a row with your wife yesterday. It affects our relationships with others. This is all part of our lives.
MC: I realise that many conductors will not be like this. So, it's important for you to empathise with your colleagues?
OMW: You know sometimes it would be easier for me just to say stop it, and that's it. But I find this approach too dogmatic for what I feel about life. I don't like this kind of situation. This is art and I need to feel alive when I work.
MC: I would like to ask if you have a favourite opera house to work and if there is one that you haven't worked in yet.
OMW: Honestly, beside Covent Garden at London, which remains an interesting prospect and I'm sure I will get there, I've conducted everywhere that I've ever wanted to. Now I find it best to only work at opera houses that I really want to work at. [MC: So now you are able to choose.] Yes, I am. So, at the moment I'm working at the opera houses that have both chosen me and those I have chosen. You see time is so limited and I cannot do everything I would like to, so I must choose.
[At this point the tall imposing figure of Nikolaus Bachler intendent (director) of the Bayerische Staatsoper enters the conductor room to wish Wellber well for the performance, which is now just over half an hour away.]
MC: Renowned conductor Zubin Mehta has been on the Israeli music scene for some 55 years. As an Israeli conductor yourself I was wondering if Mehta has had any influence on your career?
OMW: Personally no. I have never actually worked with him closely, for instance, as his assistant as I did with Barenboim. But because of his relationship with the Israel Philharmonic, I would say Mehta is the most important music figure in Israel. Then in Valencia at the Palau de les Arts Reina Sofía – when I was music director there – Zubin was president of the annual Festival del Mediterrani that we used to do there, and we had a lot of contact with each other, communication and other things. But purely regarding music, it was not a relationship anywhere like I had with Barenboim.
MC: I last saw Zubin Mehta in Berlin at Musikfest 2015 conducting the Israel Philharmonic. I recall him walking gingerly onto the stage with the aid of a walking stick to conduct Mahler Ninth Symphony sitting down; having recently had surgery.
OMW: Yes, its tough to see him like this because Zubin is an Apollo-like figure, no? I worked with him one year ago and I saw him a month or two ago and yes, it is really difficult to see him like this.
MC: I'm conscious of the time remaining before you leave for the pit. I keep looking at my watch, but you seem so very cool and collected.
OMW: Well actually I'm much more nervous with my colleagues in rehearsals. You see in this case all the preparation work for Andrea Chénier is now done. You see in rehearsals I'm looking more for concentration, and I get angry because I want this and I want that, I want this to be perfect and so on. But now in actual performances I have to change my attitude and focus on the job in hand. It's much more fun now that all the preparation work is done, I assure you.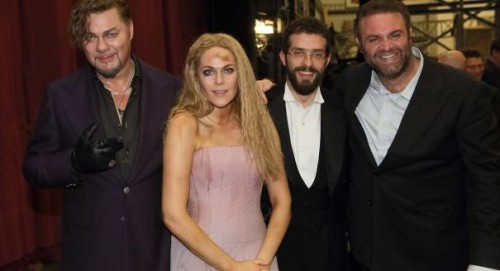 MC: I recently reviewed your recent DVD/Blu-ray conducting Arrigo Boito's opera Mefistofele from 2015 for the Bayerische Staatsoper, Munich in 2015. It made a mightily powerful impact on me and I made it one of my 'Records of the Year' (review click here).
OMW: Oh, I believe in Boito's Mefistofele so much. I've done the opera before for Israeli Opera and it took me several years to persuade the intendent here to do this opera. I was really passionate about doing it. And when you have such a top cast we have such a great success every evening.  In my opinion Gounod's Faust is not as good as Mefistofele. I love this music so much and I really believe in this work.
MC: What is it about Mefistofele that draws you to it?
You see I tend to like genius works written by amateurs. This is always interesting. We have some people in history like this, for example, someone who just wrote a single book. Boito was a professional writer and not really a composer, but he was a music lover. Yes, music was his big passion, but composing was not really his thing. But eventually if you look at his score it is actually more modern, more controversial, more experimental than the music that was being written then by the famous composers. In a way Boito could try out things that well-known composers could not. You see he just wrote the music that he wanted, and this approach I completely adore. In effect this is an amateur composer who had a genius moment and consequently it is so interesting for us to experience this. I believe this is the best version of Mefistofele from the Faust story.
MC: Boito's opera is regarded as uneven in parts by many, with some glorious highlights.
OMW: That's true, but what music he has written!
MC: What do you have in the pipeline?
OMW: My project here in Munich for the Bayerische Staatsoper is to complete all three operas that have never been done here. The first was that Mefistofele – never done before in Munich – and tonight's Andrea Chénier is the first production here too. Next in March 2018 I'll be doing Verdi's Les vêpres siciliennes for the first time here, directed by Romero Nunes.
MC: On a lighter note are you able to tell me about anything amusing that has happened to you on stage?
OMW: Oh, I have a lot of things to choose from. Mmm, probably the number one incident is the one that concerns a pizza delivery man. It was at the Israeli Opera house at Tel Aviv during a production of Un ballo in maschera. It was before one of the tenor arias during the preceding orchestral passage before he enters. You see at the Israeli Opera house there is an elevator that you can use that brings you out almost on stage. If you don't know this, in the dark, you can find yourself on stage. You see all the stage was dark and the pizza delivery man walked in. I was concentrating looking at the stage and the tenor is on stage about to start and I can see in the background this guy walking across the stage. That is my number one incident and it was so funny. One of the most beautiful moments to happen in our opera house. There was huge laughter, but my mother who was in the audience didn't notice! I think it depended on where you were seating. Looking back, it was wonderful!
MC: Anything else?
OMW: Certainly! There are lots of things that happen with the actual music. For example, one time I had to play the introduction music five times for a singer who did not appear. This happened in Valencia. I kept saying to the orchestra 'and again' but they couldn't find him to send him on. Yes, five times we played his introduction before he finally appeared on stage. They had lost him, and I believe he had left the building and gone to a bar for a drink. He must have miscalculated and thought he had another 15 minutes or something before he was due to go on. Really crazy stuff, but these things happen.
MC: Thank you Maestro, time has finally caught up with us and I am going to have to dash to find my seat.
Michael Cookson