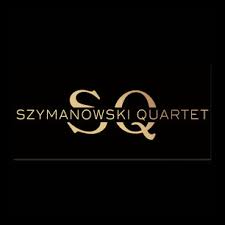 The Polish SZYMANOWSKI QUARTET, a former BBC New Generation ensemble, returns to the Wigmore Hall 7 January on for a coffee concert of Schubert and Mozart. They also appear on In Tune on 4 January.
Founded in Warsaw in 1995, the quartet became known for its uniquely sophisticated and well-balanced sound and for the warmth of its performances. Appointed BBC New Generation Artists in 2001, they have performed throughout the world and in many major international concert halls, including the Musikverein, Vienna, and Wigmore Hall. A range of recordings attests to their broad musical interest and to their commitment to contemporary music as well as the standard repertoire. They founded the Lvov Chamber Music Festival in 2008, demonstrating their deep commitment to their Polish/Ukrainian roots.
In recent years there have been some changes to the members of the quartet. Since 2014, they have been led by Agata Szymczewska, a distinguished, prize-winning Polish violinist. More recently, they have been joined by Robert Kowalski as second violin and Monika Leskovar as cellist. Volodia Mykytka, the founding viola player, remains. Keen to emphasise their identity as a central European string quartet within the great quartet traditions of this part of the world, this Wigmore Hall concert will be their first UK performance with their new personnel and they look forward to this opportunity to offer their style and interpretation of Mozart and Schubert to an informed chamber music audience.
The Wigmore Hall programme is:
Schubert – String Quartet in G minor D173; String Quartet D18
Mozart – String Quartet in C major K465 'Dissonance'
On 4 January, the Szymanowski Quartet will be appearing on BBC Radio 3's In Tune programme. In this programme, they will be playing pieces from their recent recording Les Vendredis, a collection of miniatures.
More information can be found on their website www.szymanowskiquartet.com.