United Kingdom Massenet, Cendrillon: Soloists, Chorus and Orchestra of Royal Northern College of Music / Martin André (conductor). RNCM Opera Theatre.6.12.2017. (RJF)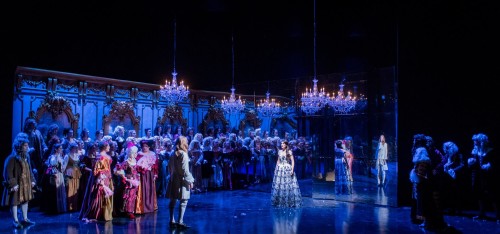 Cast:
Cendrillon – Fiona Finsbury
Noémie – Eliza Boom
Dorothée – Lucy Vallis
Madame de la Haltière – Rebecca Barry
La Fée – Daniella Sicari
Pandolfe – John Ieuan Jones
Le Prince Charmant – Michael Gibson
Le Roi – Timothy Bagley
Le Doyen de la Faculté – Michael Jones
Le Surintendant des Plaisirs – Edward Robinson
Le Premier Ministre – Patrick Relph
Production:
Conductor – Martin André
Director – Olivia Fuchs
Set and Costume Designer – Yannis Thavoris
Lighting Designer – Matt Haskins
Massenet is still mainly remembered for his version of the Manon story (1884) and Werther (1892). Whilst his music seemed to fit the Paris of the period that followed the dramatic collapse of the 'Second Empire', the 'Siege of Paris and the burnings', there were intellectual elements in France who were derogatory, referring to the composer as grossly inferior to Gounod. Paris itself, with its new boulevards, became the cultural and elegant glory of Europe until its untimely demise following the advent, and literal decimation of France's manhood, along with its cultural core, in World War I. Add the evolving musical directions and tastes in Europe and Massenet's near sentimental melodic music never really recovered, despite the transient popularity of Esclarmonde (1889), promoted by Joan Sutherland and Thais (1894) by Renée Fleming. Cendrillon also suffered by the comparison, in some eyes at least, to Rossini's La Cenerentola. More recently the shared production of Cendrillon seen and filmed at Covent Garden (review), New York's Metropolitan Opera as well as Gran Teatre de Liceu, Barcelona, Théâtre de la Monnaie, Brussels and Opera de Lille has significantly altered that previous jaundiced view. This splendid staging and performance at Manchester's Royal Northern College of Music should further enhance that view.
The stage set for the first two acts was a simple two-sided affair, one mirrored, that gave illusions of size, whilst that for Acts III and IV involved the mirror as a room separator, very effective albeit I was not fond of the pseudo hospital treatment involving an intra-venous drip that followed Cendrillon's attempt to take her own life. The lighting effects involving, at one point, the lowering of chandeliers was pleasingly apt at all times, not always so in some opera performances I see. The costumes were outstanding, especially that for Cendrillon to go to the ball. In summary, the whole set and direction produced a cohesive framework for the evolution of the story with its mixture of sleep experiences and domestic cruelty, albeit Massenett and its dream sequences underplays the later in comparison to Rossini's opera.
If I found the staging and production satisfactory, it was as nothing compared to the quality of singing and acting to be seen and heard. Matters started well with John Ieuan Jones sonorous tones and good acting as Pandolfe, Cedrillon's father. As the heroine herself, Fiona Finsbury's acted assumption was outstanding. Her singing perhaps needed a little tempering at the top of the voice to avoid a little flutter, but she has that indefinable attribute of stage presence. This latter quality was also evident in the portrayal of Madame de la Haltière, Cendrillon's stepmother, well sung and acted by Rebecca Barry with plenty of verve and facial expression. Daniella Sicari as La Fée as well as Eliza Boom and Lucy Vallis as her daughters came over well in acted portrayal and their sung contributions.
Of the men I was most taken by the French tenor style of Michael Gibson as Le Prince Charmant. Promoted from the second cast his voice seemed to be ideally French in timbre even if his intonation failed a couple of times. If the RNCM has another tenor of that quality in Kamil Bień, who he replaced, they have riches indeed. The other male roles were well sung and acted.
Elsewhere my evening was satiated to the full by the chorus of vibrant young voices, so vigorous and obviously involved and enjoying themselves. On the rostrum Matin André paced the work to perfection whilst also bringing out the French character of the music. A word also about the use of the original language, very welcome here and as always in French opera in particular. The quality spoke well for the coaching in French of all the participants, soloists and choristers alike. The only hiccup of the evening was that the titles, in English, were barely visible to the discomfort of many of the audience who did not know this version of the famous story reasonably well or had not had time to read their programme synopsis.
Robert J Farr