United Kingdom Total Immersion: Esa-Pekka Salonen: Various artists. Barbican Centre, and Milton Court Concert Hall, London, 10.12.2017. (CC)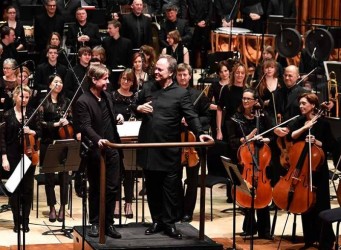 This was an unmissable opportunity to experience the 'other' side of Esa-Pekka Salonen, so beloved of London audiences via his conducting activities with the Philharmonia Orchestra (most recently a wonderful Mahler Ninth). He did not raise a baton on this particular day, however: it was all about Salonen's own music.
Esa-Pekka Salonen: Anti-Maestro (a film by Emmanuelle Franc. 54 mins, Cert PG): Barbican Cinema 3
The day began at 11am with a showing of Emmanuelle Franc's film Esa-Pekka Salonen: Anti-Maestro. It was introduced by Ann McKay, Chief Producer of the BBC Symphony, and Salonen himself. Those in attendance were, I am sure, like myself, patting themselves on the back for having made in in the snow that had crippled London Transport overnight: something which amused Salonen greatly (he is from Finland, after all) – he laughingly referred to the snow as 'dandruff.'
The film is an incredible portrait of this magnetic maestro. We see him in rehearsal, dissecting scores with laser vision and a Boulez-like ear, we hear his history (stepping in for Michael Tilson Thomas with the Philharmonia for Mahler 3), his thoughts on conducting, his thoughts on composing and his thoughts on balancing a life that includes both. How he had to take a year out to compose and 'just sit'. Tantalising snippets of pieces are included along the way, the perfect appetiser, one might say, for the first concert.
As to the day itself, the wonderful realisation was that Salonen has a voice all of his own, one well worth getting to know. His own ability to create alternative realities (imagined folksong in the Piano Concerto, heard at the Proms in its European premiere a few years back, for example, or the imagined procession of Karawane) is refreshing. He does so with a lightness of touch; certainly, now, he is at the stage when he can realise whatever is in his head effectively on paper and, thence, to our ears.
Salonen: Musicians from the Guildhall School of Music & Drama, Milton Court Concert Hall, 1pm
Salonen – Dichotomie (2000); Second Meeting (1992); Yta I (1982); Memoria (2003)
Those that only came to the final concert of the day missed out on a golden opportunity here. Second Meeting in the version for oboe and piano was the earliest piece heard in the Immersion Day (it was written in the year Salonen took charge of the LA Philharmonic); in the evening it was heard in its expanded version of exactly a decade later, Mimo II, played by Nicholas Daniel and the BBCSO under Oramo. The comparison was fascinating, not least in the difference between the more objective sound of piano against the far more technicolour orchestra. Bernice Lee was the lunchtime performer, tackling Salonen's challenges with aplomb, the final super-high note piercing and memorable (it was rather more drowned out by the orchestra in the evening). The piece sounded more characterful in Lee's hands, too. Pianist Ljubica Stojanovic was the eloquent, sensitive pianist at lunchtime; the two performers found a delightful timbral equivalence between high oboe and piano. Delicate and expressive, this was the high point of the lunchtime recital.
In an introduction (with Andrew McGregor of BBC Radio 3), Salonen talked about chamber music being the 'sorbet in a seven-course meal' and that it is 'good for discipline': there is nowhere to hide. And Salonen's writing in this genre is indeed incredibly focused
The concert began with a piano piece from 2000, Dichotomie (in two movements: 'Mécanisme' and 'Organisme'), a piece that Yefin Bronfman has recorded for Deutsche Grammophon. Here, it was the talented pianist/composer Ben Smith who took up the mantle. The first movement is technically challenging, perhaps indebted to minimalism at first but finding its own voice, the toccata-like busy-ness of surface heard here in a wonderfully fluent performance. The second panel, 'Organisme' provides the contrast while maintaining a vital, continuously shifting surface. Salonen sees the piece as like a small tree wafting in the wind but always returning to its original position; Smith's performance was beautifully shaded.
The word 'Yta' (pronounced 'oota') is the Swedish work for 'surface' and refers to the way the surface changes determine the structure of the work as opposed to this being determined by deeper layers. Written for alto flute, Yta I dates from 1982 and was stunningly performed by Simon Williams, who actively embraced all the challenges (lots of pure blowing, percussive noises, etc) Salonen did say it was 'meant to be difficult'; later in the day in an extended interview with Andrew McGregor, Salonen paid tribute to the abilities of these Guildhall musicians: what was at the time of writing seen to be at the edge of what was technically possible is now today's bread and butter.
Finally, Memoria for wind quintet of 2003. Originally, Salonen had intended to create a 'hyper-instrument'; he extends the timbral palette of the players by having flute double alto flute, oboe double cor anglais and bassoon double contrabassoon. The work ends with a homage to Berio in the form of a chorale. It is a lovely work, in fact, its hypnotic, revolving beginning moving towards more decidedly playful plateaux before that final, Stravinsky-like chorale.
Meet the Composer: Esa-Pekka Salonen in conversation with Andrew McGregor: Fountain Room, Barbican Centre, 3pm
This was a chance to see just how affable and intelligent Salonen really is, with affectionate stories of his teacher (Einojuhani Rautavaara), the difficulties of juggling composing and conducting, the music in his house as he grew up, his journey to California ('people find themselves in California') via brushes with Darmstadt composers. Given a day off from conducting, he seemed delighted to be able to spend a day in the company of his own output. He was also effusive in his praise for the Guildhall musicians who performed at 1pm. There's an honesty to the man which, to my ears, at least, is matched in his music.
Salonen, Rautavaara: BBC Singers / Nicholas Chalmers (conductor), Milton Court Concert Hall, 5pm
Salonen – Two Songs from 'Kalender Röd' (2000); Dona nobis pacem (2010); Iri da iri (2014)
Rautavaara – Our Joyful'st Feast (2008); Missa a capella (1972/2011)
Pieces by teacher and student in the expert hands of the BBC Singers here, a joyous choral celebration centring on Salonen. Again, Salonen appeared in conversation with McGregor prior to the pieces. The Two Songs from 'Kalender Röd' for mixed choir a cappella sets two poems by Ann Jädersund. Salonen admires Jädersund's 'enchanting' poetry for its 'sensual intensity and lack of sentimentality' (the first is entitled 'Kyss min mum': Kiss my mouth). First performed by the Swedish Radio Choir in 2000, the exultant, angular lines of the first (superbly performed by the BBC forces) led to the softly ululating accompaniment of the gentle 'Djupt I rummet' (Deep in the room).
Rautavaara's Our Joyful'st Feast, appropriately a Christmas piece, sets English words: Shakespeare (from Love's Labours Lost V/ii and Hamlet I/i) plus a text by George Wither (1588-1667). Rautavaara enjoyed what he called the 'robust Renaissance joyfulness' of the texts. And it is robust at its opening, allowing itself a delicious rhythmic swing later (a swing heard more in this performance than in the performance on the Ondine label by the Latvian Radio Choir under Sigvards Klava). How wonderful that Salonen and Rautavaara complement each other so beautifully when heard like this; the former's Dona nobis pacem (which sets only those three words) is for high voices only, Salonen's setting having a tissue fragility as undulating 'lower' voices underpin a more florid upper line. It was in fact almost a palette-cleanser for Rautavaara's Missa a Capella. Begin in 1972 (a Credo was published as a separate piece in that year), there is a vein of mysticism that runs throughout Rautavaara's work. The gentle restraint of the 'Kyrie' is contrasted with the light, bright but stately 'Gloria' (fabulous control from the BBC Singers here). Although composed some 40 years before the rest of the work, the Credo fits snugly. Interestingly, the Gloria is more restrained than the Credo, possibly the reverse of what one might expect. The work moves towards the warm sonorities of the concluding 'Agnus Dei'. An astonishing piece, it just exudes power.
Fittingly, Salonen had the last word, though – it was his day, after all – with a setting of Dante, Iri da iri, a recent work dating from 2014. A grinding dissonance in the basses underpins syllabic incantation, providing the basis for the work, each element seemingly vying for priority in our listening experience. Performances throughout by the BBC Singers were exemplary.
Salonen: Anu Komsi & Piia Komsi (sopranos), Nicholas Daniel (oboe), BBC Symphony Chorus & Orchestra / Sakari Oramo (conductor). Barbican Concert Hall, 7.30pm
Salonen – Gambit (1998); Wing on Wing (2004); Mimo II (1992); Karawane (2013/14, UK premiere)
 And so to the 'big' event; one which was so much more enhanced if one had experienced the whole day. There were more interviews between McGregor and Salonen, the composer affably introducing the pieces. Dating from 1998, Gambit is essentially an overture. As it was composed as a 40th birthday present to Magnus Lindberg (the two are great friends, and Lindberg in fact composed a reciprocal piece), Salonen allows himself the odd quote from Lindberg's music. Attacked with great verve by the BBC Symphony, the performance nevertheless held true gentleness in its opening. The sonorities there, as so often with Salonen, seem to glow with an inner light; others glittered in an imagined sun.
Wing on Wing is an intriguing work. Dating from 2004, it features two wordless sopranos, spatially distant until the final portion of the piece. They echo each other like callers from a distant world: initially at each end of the stage, they expanded the distance until they were at opposite sides of the balcony. There is a hint of Debussy's Sirènes here. In total contrast to Gambit, Wing on Wing is lush; we also hear the sound of the voice of Frank Gehry who designed the Walt Disney Concert Hall in Los Angeles. The title refers to how from one vantage point the hall looks like a sail boat with its sails at a 180-degree angle – wings, in other words. Anther non-present contributor is the sound of a fish called the Plainfin Midshipman, a fish found in the waters of Southern California. All credit to Ian Dearden of Sound Intermedia for effecting the electronic components of the piece. The work includes a Bacchanalian dance, superbly performed here.
The second part of the concert brought Mimo II, that 1992 expansion of Yta I. It was interesting to hear the orchestral garb: comparisons were made onstage to Ravel's habit of having two versions of a piece, one for piano and one for orchestra. The orchestration is predictably imaginative: a tuba underpins the harmony at one point; much is filigree. We were spoilt to hear both versions: Daniels' last note effectively got swamped by the orchestra, but the character of the performance was undeniable.
Finally, to end a long but utterly rewarding day, Karawane of 2013/14, featuring the BBC Symphony Chorus with the orchestra. The piece was intended for first performance in Zurich, the city in which the Dadaist movement was born in 1916. The text is the Dada poem 'Karawane,' in a 'synthetic language' intended to act as a linguistic 'hard reboot' after the First World War. There are hints of languages there, but no real sense of sense itself, just the impression of a caravan of animals in another reality parallel to ours. Choral chant is an important part of the expressive palette of this 28-minute piece, and yet there is a Romanticism underlying it as well; surprisingly given the archetypically modernistic opening from low grumblings. A police whistle acts to underline proceedings at one point.  It will reward extra hearings, I am sure. Oramo guided his forces with a sure hand, and they responded with refreshing zeal.
On the topic of repeated hearings, the 1pm concert will be broadcast on Radio 3 on Friday 5th January 2018 at 8.45pm, the choral concert on 5th January at 7.30pm and the orchestral concert on Wednesday 3rd January at 7.30pm.          
Colin Clarke
For more events at the Barbican click here.