United Kingdom Schubert, Mahler, Handel and Rameau: Magdalena Kožená (mezzo-soprano), London Symphony Orchestra / Sir Simon Rattle (conductor), Barbican Hall, Barbican Centre, London, 11.1.2018. (AS)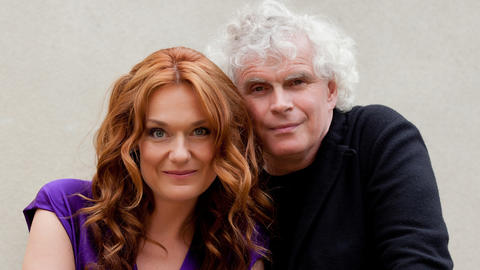 Schubert – Symphony No.8 in B minor D759 ('Unfinished')
Mahler – Rückert-Lieder
Handel – Agrippina: 'Pensieri, voi mi tormentate'; Ariodante: 'Scherza infida', 'Dopo notte'
Rameau – Les Boréades – Suite
It used to be the case that some conductors dawdled rather romantically in the first movement of Schubert's Unfinished Symphony and the work thus became rather a sequence of two slow pieces of music. Now it's more likely that we shall hear the first movement driven forward brightly and briskly, in a presumed quest after authenticity, with expressive nuances firmly squashed. On this occasion Rattle faithfully followed the score's Allegro molto indication, so that a certain degree of urgency emerged. Yet this approach was tempered with a degree of lyrical ebb and flow in the phrasing, so that a most unusual and satisfying balance was struck between the music's natural momentum and its inherent warmth. Rattle took the second movement at a seemingly ideal flowing tempo, the expression again lyrical but delivered with a light touch, to create an interpretation of the symphony as a whole that seemed absolutely perfect.
Magdalena Kožená then joined her conductor husband in Mahler's song cycle, the Rückert-Lieder. The LSO's string section was slightly reduced from its normal strength for this work (as it had been for the Schubert), and Mahler's scoring throughout the five Lieder is relatively spare. This seemed just as well, since – heard on this occasion at least – Kožená's voice did not seem to be a very large instrument and her tone quality rather lacked any great depth. Nor did Rattle seem to explore the emotional depth and intense atmosphere in the orchestral writing very adequately. One continually expected somehow that the performance would open up and assume a higher level of communication, and things did improve in the last three songs, but there was still a slight lack of passion in the singing, and not a great deal of magic in the orchestral playing.
After the interval Kožená returned in a different and striking green dress for her performance of three Handel arias. Not only was the dress different, but so was Kožená's singing. With the LSO reduced still more to baroque dimensions (the strings doing their best to eschew vibrato and wind instruments cultivating a very pure and direct tone quality), Rattle achieved some strikingly dramatic playing to support his soloist. Kožená's silvery tone quality now seemed entirely apt for baroque music, and she sang with remarkable expressive force and technical control: the second aria from Ariodante was an outstanding display of vocal virtuosity.
The orchestral suite from Rameau's Les Boréades, which had been put together by Sir Simon himself, was a delight, with fresh bouncy rhythms, deliciously piquant scoring and melodic invention of high quality. The brief penultimate movement, entitled 'Borée et choeur de vents souterrains' was a most strange, forward-looking piece entirely unlike anything else in the suite. So much so that Sir Simon paused to address the audience, saying that no, a piece of Stravinsky hadn't been slipped in, and this really was the music and things hadn't gone astray in the orchestral playing, as had been suggested after previous performances. He then repeated the piece, saying that it should sound exactly the same as before, which indeed it did. The final movement, 'Contradanses très vive' was certainly very lively and brought the evening to an apt conclusion. On paper this concert had seemed to be a back-to-front concoction, but in fact it all worked out very satisfyingly.
Alan Sanders