United Kingdom Bach, Franck, Barber: Inon Barnatan (piano). Wigmore Hall, London 22.1.2018. (CC)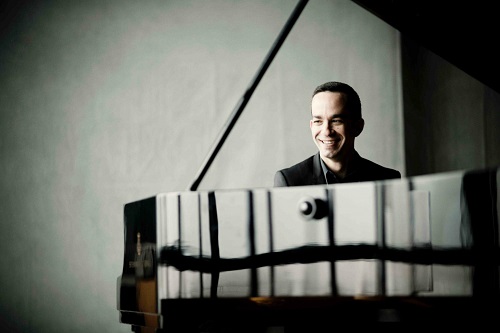 Bach – Toccata in G, BWV 916 (c1770)
Franck – Prélude, Choral et Fugue (1885)
Barber – Piano Sonata in E flat minor, Op.26 (1949)
While my last encounter with Inon Barnatan was a rather mixed-virtue performance of Beethoven's 'Emperor' at the Royal Festival Hall with the LPO in 2017 (review), this recital by the Israeli-American pianist was far more positive. Barnatan has recently finished a three-year spell as Artist in Association with the New York Philharmonic, the first artist to hold the post.
The BBC announcer told the audience that Barnatan considers the Wigmore 'his favourite hall in the World'. The Bach Toccata in G, BWV 916 began with a leisurely, quasi-improvisatory leading into a placid fugal passage. Barnatan had a creditably clear bass throughout (playing on a Steinway), the active counterpoint later also a model of clarity.
The choice of repertoire was superb. Franck's piano music does not receive the platform time it deserves; neither does Barber's magnificent Piano Sonata. Franck's Prélude, Choral et Fugue was written in Bach's two hundredth anniversary year, and the reflection of Bach in Franck's highly chromatic mirror was clear here. Barnatan obviously understands Franck's harmonic world perfectly, the heart-felt suspensions of the opening speaking eloquently. Phrases were moulded affectionately, yet the grandeur and integrity of Franck's utterance was maintained throughout. Rolled chords provided perfect textural contrast, and the Fugue was perfectly prepared. Bachian touch and textural elucidation cemented the link between the first two pieces.
Finally, we heard Barber's magnificent Piano Sonata. The piece exists in fewer recorded performances than one would have hoped, although versions by Van Cliburn, Horovitz and John Browning exist, each worth hearing for its own merits. Barnatan's performance revealed a strong understanding of the work's granitic structure and mode of expression, the opening resolute. Emotions can turn on a sixpence in this piece, and Barnatan walked the tightrope excellently. He understands the importance of gesture, particularly important in the first movement. Barnatan's technique enabled the Scherzo to scamper with a glassy touch, while the sense of fantasy mixed with weighted sadness of the Adagio mesto (a wonderful darkly tolling bass) led to a finale that, despite its velocity, was superbly delineated. Barnatan clearly enjoyed the references to jazz idioms. This was a splendid performance of a piece that really, really needs greater exposure. Given this was a live relay, Barnatan certainly did his bit.
One encore, the tranquillity of Bach/Busoni's Nun komm der Heiden Heiland, beautifully and evocatively pedalled, rounded off the recital.
Colin Clarke
This recital was broadcast live on BBC Radio 3 and is available to hear for 30 days here.