United States Staud, Mahler: Cleveland Orchestra / Franz Welser-Möst (conductor) Severance Hall, Cleveland, 11.1.2018. (MSJ)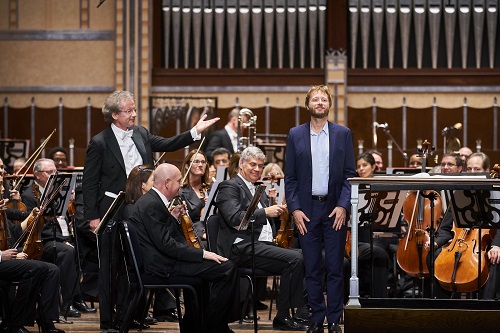 Staud – Stromab (2017)
Mahler – Symphony No.9 in D major
There are at least two different kinds of dread. One is very physical, based on immediate peril. The other is much more conceptual, based on a cessation of all meaning, not just existence. These two works covered both bases.
As much as I enjoyed Johannes Maria Staud's new piece (and it is very good), it may not have been the ideal mate for the Mahler. For much of its impact, the Mahler Ninth depends on opening radiance eventually being overcome by a sense of doubt and loss. But Mahler's weird textures hardly seemed strange at all, coming after the adventurous sonic structures of Stromab (Downstream), a co-commission by the Cleveland Orchestra, the Royal Danish Orchestra, Vienna Konzerthaus, and Carnegie Hall, and given its world premiere in Copenhagen last September.
The work is simply — but quite effectively — a horror story for orchestra. At about fifteen minutes, it is the concert equivalent of a tale by Poe or Lovecraft, though here the specific inspiration came from Algernon Blackwood. In his short story The Willows, adventurers canoeing the Danube River are terrorized by ominous sounds and their own growing fear when they are stranded on a small, unpopulated island. In his introductory note, Staud said that he was not attempting a programmatic portrayal, but an exploration of the story's mood of slowly building dread.
The United States premiere was played brilliantly. Starting with calm, mysterious tonal centers, the textures slowly twisted like vines into thickets of dissonance, the tuba reiterating a knotty gesture. In addition to a vast array of percussion, the keyboard and harp players were pressed into service with tambourines and slap sticks.
At first, Stromab seemed an effective, if standard, bit of modernism. But somewhere near the middle, the string textures began warping with extensive use of sliding pitches, and more and more instruments used extended techniques: rubbing the edge of tambourines to make a raspy whisper, or smacking the mouthpieces of brass instruments to make a hollow pop. Welser-Möst was in unflappable control the whole way.
The dread grew to a climax, which died off at the end with a soft question mark on the clarinet. Though utterly serious, Staud's horror story was entertaining and visceral, and the audience cheered the composer when he joined Welser-Möst on stage.
However, the new work made the start of Mahler's Ninth seem positively comfortable in comparison. Welser-Möst kept the opening very cool, almost chaste, with very little warmth. Subsequent accents and interjections stood out, yet that description does not do justice to Welser-Möst's approach. Compared to the cerebral interpretations of Boulez, Dohnányi, and others, Welser-Möst set a base level that was even more restrained and tense, with contrasting gestures standing out vividly from the textures.
Despite the interesting concept, the conductor's determination to keep things moving along kept the result from accumulating much weight. That was obviously his intent, though, shifting emphasis to the shorter middle movements.
And those middle movements were intense, cut from the same cloth as Welser-Möst's Mahler Sixth. The scherzo was vivid and boisterous, with the whirling waltz that interrupts it three times starting at a wild tilt, and getting dangerously faster on each reappearance. Its last visit was at a careening clip, with Welser-Möst pushing his fastidious orchestra to their absolute limit, which seems exactly what Mahler's score requests but rarely receives.
If anything, the third movement Rondo-Burleske was even more daredevil-ish, zooming along at breakneck speed, but never descending into empty brilliance. Instead, the conductor paid attention to the fugal dimension, sorting out textures so that the movement cohered, even as it raced to the guillotine-like final bars. The riveted silence at the end of the coda was broken only by a few audible gasps in the audience.
Welser-Möst's finale was much warmer than the first movement, an unconventional but very interesting choice. Again, the tempo was on the fast side, more flowing than most, but well-shaped with tiered dynamics. Others have found more desolation in the end, but he held the silence at the end for several seconds before releasing the audience to applaud.
In short, Welser-Möst continues to show his strength in Mahler, a composer who in the past has been along the fringes of his repertory. Ideally, this Ninth would be stronger either programmed on its own, or with a more subdued companion, to allow its remarkable strangeness to bloom sooner. But as it was, the electric middle movements contributed to a bold interpretation.
Mark S. Jordan