United Kingdom Puccini, Madama Butterfly: Chorus and Orchestra of Opera North / Martin Pickard (conductor), Leeds Grand Theatre, Leeds, 19.1.2018. (JL)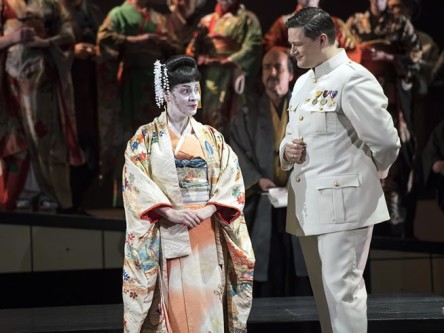 Cast:
Cio-Cio-San – Anne Sophie Duprels
Pinkerton – Merūnas Vitulskis
Sharpless – Peter Savidge
Suzuki – Ann Taylor
Goro – Joseph Shovelton
Kate Pinkerton – Katie Bird
Bonze – Dean Robinson
Prince Yamadori – Christopher Nairne
Production:
Director – Tim Albery
Set Designer – Hildegard Bechtler
Costume Designer – Ana Jebens
Lighting Designer – Peter Mumford
The theme of betrayal has always been the stuff of serious operas and of all of them that place the theme centrally, surely Madame Butterfly is the non plus ultra example. Opera North's revival is fortunate in retaining, for the third consecutive time, a soprano who is supreme at betrayal. Anne Sophie Duprels was last seen in Leeds as the eponymous Sister Angelica in Puccini's one-acter where her betrayal credentials were on full gut-wrenching display.
It is ten years since she sang the lead role in the premier of this Tim Albery production which was unanimously greeted ecstatically by critics. In 2007, many seasoned Butterfly aficionados thought that they had, for the first time, witnessed a performer in the role of Cio-Cio-San convince as a teenage girl only recently out of puberty. The opera makes it clear that she is fifteen at the start, having been sold to Lieutenant Pinkerton for 100 yen, something that gives the opera a painful topical resonance with its implication of child trafficking.
'I am different now to how I was 10 years ago', says Anne Sophie Duprels, yet she still conveys the innocence of a young girl, subtly combined with the sense of inner strength that Puccini surely intended, aided by a pure and supple voice. Her revival performance is honed to perfection, steadily building through the evening from childish optimism through loving motherhood to world weary acceptance ending in tragic denouement.
Having sung the role in several other productions in the last decade, she has intimated that she perhaps feels most at home in this one. Veteran director Tim Alberry has a reputation for creating productions that, although striking, are not fussily distracting nor over-laden with obscure, pretentious symbolism, a common directorial curse. He recognises the obvious: the narrative must always be the focus. His sets by Hildegard Bechtler have that feel of Japanese delicacy, simplicity and purity of design that helps to throw the emotional brutality of the story into relief.
An element of team work is assured in that Ann Taylor as Suzuki and Peter Savidge as Sharpless have been together with Anne Sophie since the 2007 premiere. Both fulfill their roles to perfection in displaying the better side of human nature in the story. Peter Savidge is outstanding in conveying an avuncular compassion which he does through body language and facial expression as much as through singing.
Offsetting their experience, young Lithuanian tenor Merūnas Vitulskis supplies a Hunky Pinkerton having a good shot at providing ammunition for those who adhere to the 'all men are bastards' school of thought. Testimony to his success were the pantomime boos he got at curtain call. He has a splendid Puccini tenor that helped to make the Act I climactic duet with Butterfly—one of the highlights of the evening.
Conductor Martin Pickard supplied energy from the pit, but with well controlled pace and clarity of texture. The orchestra was sometimes too loud for the singers, and the wonderfully scored, subtly restrained moments were sometimes less restrained than they could have been; but when decibels were demanded, the players were not found wanting. Balance problems are common on first nights and usually sort themselves out in due course.
I have, in my time, seen performances of this opera, one of the most popular in the repertoire, fall flat. Opera North's revival has a perfection that proves the work a masterpiece of musical theatre.
John Leeman
For more about what Opera North are doing click here.